Matt C. Abbott
Who killed Father Kunz?

By
Matt C. Abbott
March 12, 2018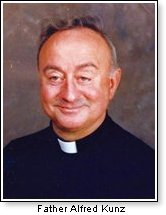 March 4, 2018 marked the 20th anniversary of the death of Father Alfred Kunz, a traditionally-minded priest-canonist of the Diocese of Madison, Wis. Father Kunz was murdered – his throat cut. His body was found the morning of March 4, 1998 in the hallway of St. Michael School in Dane, Wis.
The murder remains unsolved, but police have initiated a social media campaign in an effort to generate additional tips that could lead to a break in the case.
Click here
to see the Dane County Sheriff's Office's public Facebook posts pertaining to the investigation.
Click here
to see a news report from WISC-TV Madison (CBS), featuring text and video, which includes an interview of me.
Click here
to read a pertinent article by
Church Militant
, which also features quotes from me.
(I sent a link to the WISC-TV report to Cardinal Raymond Burke, who responded, "Dear Matt, Thank you so much for remembering me with the news clip about the unsolved murder of Father Alfred Kunz. It is very well done, in my judgment. Thank you especially for your faithful dedication to the resolution of the case. I will pray that these latest efforts to obtain leads to the resolution of the mystery regarding the murderer may be successful. May God bless you.")
Father Kunz was known to have a good sense of humor. On one occasion, Susan Gorski of Illinois was having a phone conversation with him regarding matters Catholic. She half-jokingly told him, "Every time I meet a guy at church who's interesting, he always joins the priesthood." To which Father responded, "We need you out on the front lines!"
Attorney and author Peter Kelly, who had regularly featured Father Kunz on his Catholic radio program, wrote (from a previous column of mine):
Father was always giving of himself and he gave of everything he had. He gave up his rectory and made it available for people who needed a place to stay temporarily. Father would bunk in a small room off the main hallway of his school – just a few feet from where his body was found in a pool of his own blood after his life was so brutally taken from him.

I try not to think of how his life ended any more. Rather, I try to remember how he lived. That is because, as a Catholic, I realize how short our lives are. We all will come to an end...sooner or later. What really matters is what we do, in keeping with God's plan, while we are here on this planet. Father Kunz knew that. He knew why he was here on earth and he made an eternal difference.

Investigators have been looking at several possible motives for the murder. They reportedly are scrutinizing a handful of persons of interest, but need additional information from the public to make an arrest.
Father Kunz was a staunchly pro-life priest who met a tragic end. Pray for justice in this case.
© Matt C. Abbott
---
The views expressed by RenewAmerica columnists are their own and do not necessarily reflect the position of RenewAmerica or its affiliates.
---