Matt C. Abbott
'Jesus speaks to Faustina and you'

By
Matt C. Abbott
April 1, 2020
Below is the foreword to Catholic author Susan Tassone's latest book,
Jesus Speaks to Faustina and You,
published by Sophia Institute Press. The book has been endorsed by Cardinal Robert Sarah, Bishops Donald J. Hying and Joseph N. Perry, Fathers Ramil E. Fajardo, Dan Cambra and Edward Looney. The book's foreword was written by Father Joseph Roesch, M.I.C.
Click here
to order a copy of
Jesus Speaks to Faustina and You
at SpiritDaily.com.
––––––––––––––––

Foreword

Father Joseph Roesch, M.I.C.

Vicar General, Rome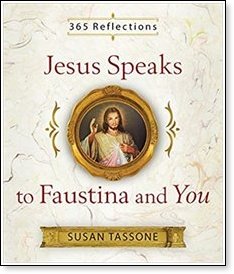 I have had the great privilege of living in the Eternal City of Rome for the last fourteen years. For the last seven years, I have been blessed to participate in a monthly meeting at our house in Rome with a few of our neighbors. We read over several pages from the
Diary
of St. Faustina Kowalska,
Divine Mercy in My Soul
, each month in advance and then we discuss the passages during the meeting. Each person brings his or her personal perspective, particular doubts and struggles. The words in the
Diary
never fail to speak to our hearts. Obviously, St. Faustina was a great mystic and she received extraordinary graces which most of us never will. So we might think that her holy life could shed very little light on our own, often mediocre existence.
However, apart from the extraordinary revelations, her lived experience was not terribly far from our own. She had doubts and fears, and she was often misunderstood and judged by the members of her community. She experienced all of the emotions and feelings that we all do. When we look at how God worked in her heart, we can catch a glimpse of how He wishes to work in each of our hearts.
In her beautiful new book,
Jesus Speaks to Faustina and You
, Susan Tassone demonstrates that Jesus wants to speak with each of us and to lead us to holiness. One of the ways that He does so is through the words in the
Diary
of St. Faustina. Susan has discovered many beautiful themes in the
Diary
that Jesus wants to convey to all humanity that she unpacks in her daily reflections. She shows how Jesus walks the path of holiness with us. Susan also explains many of the teachings of the Church through her reflections on the
Diary
. She includes key Scripture passages to help clarify the Diary message, references from the
Catechism of the Catholic Church
, the Church's teaching on purgatory, and quotes from many saintly ones.
St. John Paul II canonized St. Faustina on the Second Sunday of Easter in the Jubilee Year 2000. That day, he also gave a second name to that Sunday, the Sunday of the Divine Mercy. He said in his homily: "What will the years ahead bring us? What will man's future on earth be like? We are not given to know. However, it is certain that in addition to new progress, there will unfortunately be no lack of painful experiences. But the light of divine mercy, which the Lord in a way wished to return to the world through Sister Faustina's charism, will illumine the way for the men and women of the third millennium." St. John Paul II spoke prophetically that day of the problems that we would be facing today. However, he pointed out that our loving Father will never abandon us. Rather, He will always give us the "light of divine mercy" to show us the path to follow. St. Faustina had a special charism, or gift from God, to remind the world of God's great mercy.
St. John Paul went on to say in that homily: "Sister Faustina's canonization has a particular eloquence: by this act, I intend today to pass this message on to the new millennium. I pass it on to all people, so that they will learn to know ever better the true face of God and the true face of their brethren." Popes Benedict and Francis have echoed the words of St. John Paul II that the message of the Divine Mercy is essential for the world of today. It is the heart of the Gospel. We can only come to know ourselves and our true identity if we come to know God and His mercy. God has used St. Faustina, a simple religious sister who only was able to attend school for three winters, as His secretary of mercy. God wanted her to remind us of the depths of His love and mercy. Through the centuries, many people have become confused about who God really is. They have an abstract concept of Him and many people think that God is out to get us. Nothing could be further from the truth. The
Diary
of St. Faustina reflects the Gospel and reveals the merciful face of God the Father in His Eternal Son, Jesus Christ. In Jesus Speaks to Faustina and You, Susan shows you the amazing depths of Jesus' infinite and unfathomable love for you that is available for you day by day, each day of the year.
Although Sister Faustina didn't have an extensive formal education, she was quite bright. Her teachers lamented the fact that she wasn't able to study longer in school. She had to return home to help her family on the farm. She read books and she often prayed for the grace to be able to understand what the Lord asked of her. She wrote her notebooks that became the
Diary
in obedience to Father Michael Sopocko, her confessor. When he came to hear the confessions of the Sisters, he couldn't spend hours offering spiritual direction to St. Faustina because of the extraordinary graces that she was receiving. So by reading her notebooks at his leisure, he had time to discern what the Lord was doing in her heart.
The
Diary
of St. Faustina has now been translated into over twenty languages. Our little group in Rome reads it in Italian. The Roman Breviary states that Sister Faustina's
Diary
is "among the outstanding works of mystical literature." There is a professor at Providence College in Rhode Island who uses the
Diary
as a manual to teach spiritual theology. There are examples in the
Diary
of everything that God could do to work in a soul and to assist it to grow in holiness. That spirituality professor states that St. Faustina covers the whole process of growing in sanctity using very simple language. There are many concrete examples in the
Diary
that demonstrate every stage of spiritual growth in the experiences of St. Faustina. Another author, Michael P. Riccards, writes that, "despite her meager education, her published
Diary
is a major work in mystical literature – rivaling even the works of St. John of the Cross. One can see the stages of the soul's ascent in these pages." God knew that not everyone would be able to understand the writings of St. John of the Cross. Since God desires the growth in holiness of everyone, He gave us the beautiful and simple
Diary
of St. Faustina.
When St. John Paul II first asked a famous theologian, Father Ignacy Rozycki to look over the
Diary
of St. Faustina to be certain that it was free from theological errors, the priest didn't want to bother. He thought for sure that it would be a waste of his time. He put the book on his desk, and then he never touched it for a long time. Finally, he picked up the
Diary
one day, with the intention of finding a theological error in it so that he wouldn't have to read any further. However, the first passage that he read touched him deeply. He felt drawn to read further. He then spent two years carefully analyzing the Diary and writing a 400-page analysis of it in French. He never came across a theological error. He asked pardon from God for having ignored his archbishop's request for so long. He then spent eight more years studying the
Diary
to gain deeper insights.
Having said all this, I have no doubt that you will grow in holiness by reflecting on the
Diary
of St. Faustina through this beautiful new book by Susan Tassone. As she did in her last book, she cites a passage from the
Diary
of St. Faustina on each day of the liturgical year. She then writes a beautiful reflection and a short prayer to help us to dwell on the "lesson of the day." We can continue to reflect on what we have read throughout the day to help us to know God and His mercy better and to follow that path that He wishes to illuminate for us.
I loved Susan's last book,
Day by Day with St. Faustina: 365 Reflections
, and I love this one,
Jesus Speaks To Faustina and You
, as well. Her simple daily format allows us, in the midst of our busy lives, to dip into the spiritual treasure that is the
Diary
of St. Faustina.
May you each be blessed through your reading Susan's inspired reflections praying with her and St. Faustina to become the person God has called you to be!
© Matt C. Abbott
---
The views expressed by RenewAmerica columnists are their own and do not necessarily reflect the position of RenewAmerica or its affiliates.
---