Matt C. Abbott
A deacon's miracle

By
Matt C. Abbott
March 19, 2021
The following short story was written by Deacon Peter Robinson of Christ the King Catholic Parish in Lombard, Ill., published in this column with his permission.
––––––––––––––––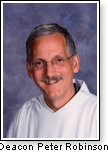 On a snowy highway in Ohio on April 4, 1971, a 1961 white Ford Falcon two-door hit a guard rail at a high speed on bald tires. The car was not equipped with seat belts or safety glass.
The straight six cylinder engine came through the firewall between the Catholic driver and his Protestant 16-year-old friend.
When the dust settled, a truck happened by. The driver of the truck helped the bleeding driver out of the car. Then he went in for the boy but didn't find a pulse on his already cold neck.
He called the police on his CB radio. An officer came and also checked the boy, but found him dead.
While waiting for the ambulance, a plain sedan stopped and a Catholic priest got out. Finding the driver was Catholic, he anointed him. The good Father then asked the officer if he could climb in and anoint the boy.
"Kid's dead Father, don't waste your time" was the answer.
Again the merciful priest asked if he could anoint the boy. With permission, he climbed over the cold engine and blessed the boy with the Sacrament of Anointing of the Sick. Then he climbed out, got into his car and left the scene.
Ten minutes later, the boy climbed out of the crushed car to the amazement of all.
I was that boy—and I still pray for that saint who anointed me.
© Matt C. Abbott
---
The views expressed by RenewAmerica columnists are their own and do not necessarily reflect the position of RenewAmerica or its affiliates.
---