Matt C. Abbott
George Halas and 'Sportsmanship'

By
Matt C. Abbott
April 14, 2021
Below is an excerpt from the book Sportsmanship, by Patrick McCaskey. Thanks to Larry Norris of Sporting Chance Press for allowing me to publish this excerpt in my column. Click here to visit the SCP website to purchase a copy of the book and other products.

"Patrick McCaskey began work for the Chicago Bears Organization in 1974 and he serves as a Vice President and he is on the Chicago Bears Board of Directors. Pat works on many Bears' community outreach programs. He works with the players and staff to continue the faith stewardship programs that have a long history with the team. Pat is chairman of Sports Faith International an initiative, which recognizes people who are successful in sports while leading exemplary lives. Sports Faith International has a Catholic radio station, WSFI, 88.5 FM, which broadcasts in northern Illinois and southern Wisconsin. Pat is a speaker recognized for his moving and humorous presentations on sports, community and faith."
––––––––––––––––
My grandfather, George Stanley Halas, a founder of the Chicago Bears and the National Football League, was born on February 2, 1895, to Barbara and Frank Halas in an apartment on 18th Place and Wood Street in Chicago. He was the youngest of eight children, but of those eight, only four survived infancy: George, his brothers, Walter and Frank, and his sister, Lillian.
In the fall of 1914, Grandpa set out for the University of Illinois and hoped to impress the freshman football coach. He enrolled in civil engineering, and the fraternity got him a job as a waiter. However, Grandpa's freshman season on the gridiron didn't turn out quite as well as he had hoped it would. He ended up being a reserve halfback. He then turned his attention to baseball and he made the freshman team.
Grandpa returned to Chicago for the summer and he resumed working for Western Electric. On July 24, 1915, Western Electric was holding its annual picnic in Michigan City, Indiana. So like many of the other employees, Grandpa purchased a ticket to cross Lake Michigan on the excursion ship, called the Eastland, for the trip to Michigan City.
Fortunately for Grandpa, he overslept. Then his brother Frank asked him to step on the scale and check his weight just as he was about to leave the house to get on the Eastland. Grandpa checked in at 163 pounds, and the delay ended up saving Grandpa's life. When he got to the dock, he learned that the Eastland had capsized. The loss of life was appalling; 844 people died when the Eastland went down….
Halas could have been one of those passengers had he arrived earlier. This life-saving event spoke volumes to Grandpa about his future prospects. Halas sensed that he was destined for achievement. He said a Rosary in thanksgiving.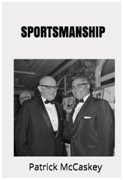 In his senior year at the University of Illinois, Halas was in the midst of his final stretch of his academic career when the United States entered World War I. He joined the Navy to destroy German submarines—a relatively new weapon at the time. He was assigned to Great Lakes Naval Training Station and entered Officer Training School. He played on the Great Lakes football team. Halas was chosen MVP in the 1919 Rose Bowl when his Great Lakes team beat the Mare Island Marines, 17–0. Orders never came for duty overseas. The sports program was not the duty he wanted, but it was what he was told to do and it turned out providential. Grandpa got extra exposure to many of the stars of the day.
When Pearl Harbor was bombed and World War II began for the United States, the Bears were in their final regular season game. Halas went to Great Lakes and asked an old friend, Captain T. DeWitt Carr, for a new Navy Assignment that would allow him to fight the Japanese. The Navy was slow to respond. Grandpa was 46 years old and many discouraged his pursuing another stint in the service for the middle-aged engineer. The Navy was building a new base in Norman Oklahoma where Halas was sent as a Lieutenant Commander. Grandpa awaited his fate and wrote letters for combat action. When Captain Carr was assigned to MacArthur's Seventh Fleet in Brisbane, Halas was reassigned Welfare and Recreation Officer to what was the staging area for the Fleet's operation in the Pacific. By this time in his life, Grandpa had proven himself to be a great organizer. If he could keep the unwieldly NFL on its feet through The Great Depression, he could accomplish great things for the Navy during the war.
Halas expanded services, had sports facilities built, and helped tens of thousands become better, healthier sailors. When "red tape" was in the way, Grandpa hopped on a plane and negotiated his case with his superior officers for better equipment and supplies. He was good at his job.
At the same time, the military was never shy about using men like Halas to bolster their PR efforts. General MacArthur sent for Grandpa and had him escort Bob Hope and his entourage on their Pacific tour of forward military operations. Halas was then made Commander. After Douglas MacArthur's famous return to the Philippines, Grandpa was moved to Pearl Harbor with a new assignment for the American invasion of Japan. But again, no direct combat duty. More appeals for military duty followed and then the War ended.
© Matt C. Abbott
---
The views expressed by RenewAmerica columnists are their own and do not necessarily reflect the position of RenewAmerica or its affiliates.
---