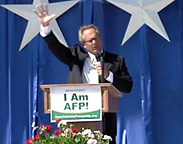 Jake Jacobs
Election 2014--Governor Walker, education & the WAR on our kids & country!

By
Jake Jacobs
November 3, 2014
In today's Appleton Post Crescent it showed this picture below with this description "In this Feb. 17, 2011 Appleton West High School students protest in support of their teachers in Appleton, Wis. Fed-up teachers in Wisconsin and across the country are working to oust first-term Republican governors that took dramatic steps to stabilize state budgets and enacted policies that angered educators."
As an educator I was "angered" by the one sided-ness to the teacher initiated student protests. Yes, they have a right to assemble and express their viewpoints within proper context and legal means BUT the teachers did not encourage the students who supported Governor Walker and a Balanced Budget to express their viewpoints-that is not balanced teaching & shows how Educators self centered & vested interest over ruled their jobs as professionals. Many teachers lied & called in sick violating the law at taxpayers expense and they encouraged students to do the same, they were ALL over Madison with the MOBOCRATS- Middle School, High School & College aged students carrying signs calling Governor Walker Hitler, Stalin, Mussolini and many other derisive names.
Wisconsin School Districts across the State were closed do to this illegal activity and once again "We the People" of the State of Wisconsin paid for their dereliction of duty. Liberal Doctors were writing illegal and bogus sick notes in an attempt to cover up the liberal teachers illegal activity.
When I went to Madison our great Capital, on the weekends I would talk to a number of teachers and students about their reasoning that Governor Walker's attempt to balance our Budget was morally equivalent to the mass murderers of Adolph Hitler, Joseph Stalin and Sadaam Hussein. With vitriol and hatred for Republican Scott Walker and the Republicans of the Senate and Assembly I knew then that our Government run schools have so indoctrinated the worldviews of our youth with Liberalism that Wisconsin was a micro example of the MACRO "cultural and political war to destroy our Republic under God."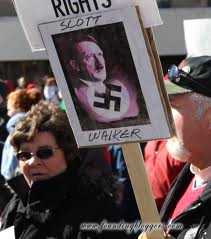 I could see this problem way back in the late 1980's when I left the "Right To Work State" of Arizona and started working for Wisconsin Government- Union run schools in 1988 and they without my consent confiscated my money for their Liberal, Democrat and Union causes. I have been fighting the "Eine Partei" Liberal Fascism of the National Education Association and the Wisconsin Education Association since day one of my teaching career.
It was President Thomas Jefferson who wisely stated:
"To compel a man to furnish contributions of money for the propagation of opinions which he disbelieves is sinful and tyrannical."
When Democrat Governor Doyle mandated that Union History be taught in Wisconsin Social Studies classes without the opportunity to teach the "other side" I knew the Lefty take over of our Schools was complete.
The Democrats, Mobocrats, Unioncrats defied the election of 2010 by calling for thankfully an unsuccessful recall of our great Governor Walker in 2012 who made American history by beating the MOB! They have been at it again this year by pumping in millions of dollars from across America and propagating lie after lie in an attempt to once again take Governor Scott Walker down.
Thousands of dedicated Wisconsinites and I have been working hard to keep Scott in office so we can preserve his fantastic fiscal legacy versus the insanity of Mobocracy!
Godspeed on November 4, 2014 to Governor Walker and Wisconsin!
© Jake Jacobs
---
The views expressed by RenewAmerica columnists are their own and do not necessarily reflect the position of RenewAmerica or its affiliates.
---