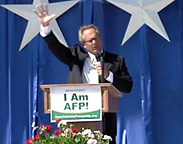 Jake Jacobs
There is a specter haunting America; it is the specter of LEFTISM!

By
Jake Jacobs
November 27, 2020
Not only are the "Radical Leftists at our Doorsteps" they have permeated our culture, classrooms, churches & even the halls of Congress.
They mean to destroy our Republic under God.
They are anti-Catholic and they hate the fact that Popes from Pius IX to Benedict XVI have condemned Socialism-Marxism.
They tried to destroy Catholic Supreme Court Justices Brett Kavanagh and Amy Coney Barrett.
They are violently pro-abortion and demand our money to kill babies.
They are at war with Evangelical Christianity and want to end the American Christian celebrations and traditions of Thanksgiving, Christmas and Easter.
Their heroes are Marxists like Vladimir Lenin, Mao Zedong, Ernst Thalmann (founder of Antifa). Angela Davis (Communist Party VP Presidential candidate) , Assata Shakur (hiding from justice in Communist Cuba), Jalil Mantaqim (member of the Communist Black Liberation Army and Cop killer in prison), Herbert Marcuse, Fidel Castro, Cornell West, Howard Zinn, James Cone (founder of Marxist Black Liberation Theology) and Derrick Bell (Barack Obama's Law professor at Harvard and creator of Marxist-Critical Race Theory.)
They hate our Police & want them dead and gone.
They burn American Flag's and Bible's as they riot in our streets.
They hate black, white, brown police men and women and businesses and attack them and burn them down in the name of "social justice."
They hate our God centered Declaration of Independence and our Federal Constitutional Republic and want it dead and gone.
They hate our 1776 War for Independence from tyranny and they want to pervert our US History and distort and destroy our good and glorious story of the fight for Liberty, Equality and Prosperity by men and women of all colors and backgrounds!
They lie to our children and have indoctrinated millions of them with hatred of America and God.
LEFTISM's historical roots go back to the Anti-Christian bloody reign of terror during the 1789 French Revolution.
They helped create men like the God hating Karl Marx whose 1848 satanic book the Communist Manifesto first sentence shouts to the world:
"A specter is haunting Europe-the specter of Communism."
That specter is responsible for the death of over 100 million people in the 20th century!
They have become the advocates and teachers of pigmentation politics, melanin Marxism, and thought police and demand we bend the knee before their godless tribunal.
They have become the Marxist-Mobocrats that rioted all over America from California to New York during the Summer of 2020 and they demand control of the Party they play like a Stradivarius.
They want MOB RULE. We must not let them.
As we fellowship with family and friends during the wonderful Christian Holiday of Thanksgiving and we thank God for all our blessings in America let us "Trust in God and keep our powder dry!"
I cover all these topics in my book:
MOB RULE: Unmaking the Radical Leftists at Our Doorsteps.
© Jake Jacobs
---
The views expressed by RenewAmerica columnists are their own and do not necessarily reflect the position of RenewAmerica or its affiliates.
---