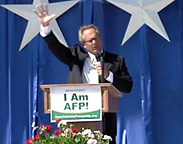 Jake Jacobs
Democrats furious their dirty tricks didn't stop Kavanaugh

By
Jake Jacobs
October 7, 2018

Oh, the difference a day makes. On Friday, Sept. 28, members of the Senate Judiciary Committee faced off against one another with some uncivil words and tense moments. That Saturday two of the members, from opposite political parties were on stage talking about bipartisan leadership.
Sen. Jeff Flake (R-AZ) attended the Global Citizen Festival in New York City with Sen. Chris Coons (D-DE) with the stated goal of bringing bipartisan support on foreign aid. Sen. Flake attempted to win over the predominately leftwing audience, saying people should "
feel free to join me in an elevator any time
." Expecting a rapturous response of love and affection, the senator was instead met with thousands of boos and declarations of "f – you."
Sen. Flake made the fatal error of not understanding his audience. Under the guise of eradicating poverty by 2030, the Global Citizen Festival is "designed to make the U.N. into a world government to manage a transition to a new worldwide
economic system
." This is a system of global socialism that calls for the redistribution of wealth in the United States to the rest of the world. Any true conservative would not associate with such an organization.
This is not the first time Sen. Flake has been manipulated by radical lefties, and not even in the most recent history. About 24 hours prior, Sen. Flake was cornered in a congressional elevator by two feminist activists, who verbally harassed him, yelling "Look at me when I'm talking to you! You are telling me that my assault doesn't matter... Don't look away from me. Look at me!" Shortly thereafter Sen. Flake said that unless there is a FBI investigation he would not vote for the moving out of committee to confirm Judge Brett Kavanaugh as the next Supreme Court justice.
The two radical activists who attacked Flake were Ana Maria Archila and Maria Gallagher. Archila, who had been in Washington the previous week to participate in protests against Kavanaugh, is the co-executive director of the radical leftwing
Center for Popular Democracy
. Gallagher is an activist with the group. As with other groups involved in attacks on President Trump and Judge Kavanaugh, the Center for Popular Democracy is funded by George Soros'
Open Society Foundations
, a society hell bent on destroying President Trump and the conservative political agenda. It is clear the necessity for Americans to take seriously the aggressive, militant, and violent nature of leftwing politics in the country today. They have no respect for the Constitution, especially the First Amendment, which calls for the protection of peaceful speech and assembly. The Left hates Kavanaugh's conservative constitutional originalism which puts into jeopardy their progressive agenda.
Through rude, crude, and violent means they attempt to stop speeches, interrupt congressional committees, and disrupt peaceful assemblies. They attack private lives in homes, restaurants, grocery stores, sporting events, and airports.
Due to vociferous protests by graduates of Harvard Law School, Judge Kavanaugh has decided that in the interest of keeping the peace at his alma mater he would no longer teach a winter course he planned. Georgetown Prof. Christine Fair went on "an unhinged tirade" on Twitter, where she called for supporters of Kavanaugh, especially the white men, to be
murdered and castrated
.
Following USA Today's insinuation that Kavanaugh was a
pedophile
who should stay away from children, Illinois Times cartoonist Chris Britt published a wicked
cartoon
that mocked Kavanaugh's 10-year-old daughter for praying for Christine Blasey Ford. In the cartoon, titled "Kavanaugh's Daughter Says Another Prayer," his daughter is seen asking God to forgive her "angry, lying, alcoholic father for sexually assaulting Dr. Ford."
Castrated corpses fed to swine. Charges of pedophilia. Gang raping. Alcoholic father. This leftwing Democrat diatribe is not only a sad commentary on the evil nature of their political worldview today, but it is a harbinger of worse yet to come, and should serve as a wakeup call for those who love America, civility, decency, and liberty.
© Jake Jacobs
---
The views expressed by RenewAmerica columnists are their own and do not necessarily reflect the position of RenewAmerica or its affiliates.
---