Frank Maguire
Listen to your nose: the ABCs of smuggling

By
Frank Maguire
December 15, 2010
"Man has such a predilection for systems and abstract deductions that he is ready to distort the truth intentionally — he is ready to deny the evidence of his senses only to justify his logic."
Dostoyevski, 'Notes from the Underground' (1864)
"Nothing awakens reminiscence like an odour."
Victor Hugo, "Jean Valjean"
You'll have to be a bit patient with me, here, because I preface my primary topic with a bit of political philosophy and "logic." Eventually I will get to my topic which is the transporting of illegal workers, guns, and money into, around, and out-of the United States.
When someone says "I saw it but I don't believe it," it's reasonable for the hearer to ask himself "Did he really see what he believes he saw?" and "If he really did see something that his reason and experience tells him is unbelievable, then he is better off if he doesn't believe it." (
Faith, however, is definitely "real" and transcends the mortal senses
.)
The American journalist and humorist Peter Finley Dunne (pen name "Mr. Dooley") might have made an observation about the trustworthiness of our senses thusly:
"Your eyes might see things you can't believe you saw, and your ears hear things that you can't believe you heard, but you can always trust your nose. When your nose tells you 'something stinks' it should be listened to."
In reasoning, you should start with that which you know, not things you only think you know. Surely, when you are told things that you know are highly unlikely and questionable from some person or institution with a history of paltering, you should check it out.
In the matter of the citizens' right to keep and bear arms, we know without any doubt that there is a deliberate and concerted effort by certain elements within the government circle and tangential to that circle determined to outlaw personal ownership of firearms.
It is also known that powerful political/ideological entities conspire to create a single world government controlled by an oligarchy determined to obliterate all national sovereignties and boundaries.
We also know that there is clear evidence that such oligarchs who desire single world government measure their chances for success as being greatly enhanced by the disarming of the civilian populace.
These conspirators, whether formally associated or in loosely-allied auxiliaries of true-believers, are obsessed in their belief that the progress of the human race can only be guaranteed if they, in ardent fealty to their Progressivist faith, are successful.
Disciples of faith-in-the-fanciful are zealots to the degree of monomania. Their eyes can provide them with no evidence that they can succeed, neither can their ears provide such evidence. Where their nose might save them from their delusions, they prefer to not inhale of the miasma.
In order to disarm — seize citizens' armaments — oligarchs' strategy is to "disarm" linguistically. Oligarchs will employ placative phraseology and mollifying metaphor. Mark Twain observed, wittily, that if it serves your purpose better, use the pleasant imagery of "lightning bugs" instead of the fear-producing image of "lightning."
Saul Alinsky, in his revolutionary gospel
Rules for Radicals
, is more honest than are the Nice-Nelly politicians and media-crats who try to trick the nose with false-scents. In his chapter
"A Word about Words"
Alinsky honestly preaches that it is never productive of the intended goal to "detour around reality." He means, of course, that reality held, in faith, by the revolutionist.
Alinsky writes
"First, by using combinations of words such as 'harnessing the energy' instead of 'power' we begin to dilute the meaning; and as we use purifying synonyms, we dissolve the bitterness, the anguish, the hate and love, the agony and triumph attached to these words, leaving an aseptic imitation of life.... To pander to those who have no stomach for straight language, and insist upon bland, non-controversial sauces, is a waste of time."
Alinsky's commandment of revolution is reasonable. It is reasonable for a prophet of revolution to rally the regiments. Those in the ranks of the revolutionary faithful are encouraged to openly pursue power. At the same time, those who are "infidels," by Alinsky's definition, should be encouraged to combat the power of the enemy with equivalent legal/democratic power of their own. We should, however — we infidels — beware because Alinsky resorts to pragmatic rhetorical pandering when that best suits his purpose. Alinsky preaches openly that any and all means are moral if they bring about an end one believes is moral. The nose-test is required when studying Alinsky.
"Listen to your nose
."
Da capo
! Back to the topic about which I write.
I am an Arizonan and live in the front-line trenches, in the zone the Border Patrol calls "the pipe line." Almost every night I hear the Border Patrol helicopters searching our desert, the local hills, and the massive Tohono O'Odham Nation land for illegal alien and drug smugglers, guns and money smugglers. I cannot dismiss reality. I must be attentive.
National Geographic has produced a series entitled "Border Wars." Over-all, it is representative of actuality. Sometimes, however, they do not go into sufficient depth. Without belaboring the issue, I offer one example that really tries logic. It has to do with that which is representative of how things operate in Mexico and how things operate in the United States. I ask you to consider the logic of that which follows.
We are told by some that the great abundance of weapons used by drug-cartel killers are purchased in the United States. This is absolutely unreasonable. Why would those intent on smuggling guns out of and then into the United States — guns used to create murderous chaos in Mexico and to be used by drug-gangs in the United States — establish such a system laden with dangerous complications?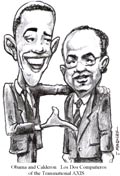 Consider! The U.S. Border Patrol, INS (Immigration and Naturalization Service) and ATF (Alcohol, Tobacco and Firearms) are highly skilled in policing U.S. borders. There are some bad-apples in the crop, but they are quickly picked and disposed of.
We know there is pervasive corruption in Mexico. Some police, military, and politicians are corrupt because they are greedy. Some are corrupted from fear of the terrorizing, vicious drug gangs. Smugglers are more successful in their efforts in Mexico than they are in the United States. Still, not all of the Mexican border watchers are corrupt. Some are courageous. There still exists some risk in smuggling guns into Mexico, even if by some small chance the gun smugglers can get past U.S. border personnel. And the penalties for smuggling guns into Mexico are severe; those who are caught in the act are looking at lengthy jail-time in less than salubrious Mexican prisons.
There are many places along the border between the U.S. and Mexico that are very difficult to police. Those who smuggle guns are much more likely to succeed when they privately fly the guns into Mexico directly, use the thousands of miles of ocean access, and exploit the pandemic corruption in Mexico.
I was recently discussing the gun smuggling allegations with a senior Border Patrol Agent. It was clearly a topic which prompted an exasperated agitation.
"Look, the cartel people do not buy their guns in the U.S. They bring them into Mexico from foreign suppliers. Anyone who tells you different is lying because they have an agenda."
The most recent National Geographic film I watched was very telling. In Laredo, TX, the Border Patrol/ATF stopped a vehicle that contained two adults and three children. Our border personnel are familiar with every method used by those who are leaving the U.S. and entering Mexico. They have heard every lie, and experienced every scam, and are always suspicious. But they never underestimate the adversary. The cartel folk are clever and inventive. Always innovating! Our border agents are not affected by the standard emotional, sometimes tearful appeals that they witness every day of the week. These men and women are fair, just, and compassionate, but they are also dedicated professionals with a sworn duty to perform.
In examining the "family" vehicle, they employed high-tech equipment and found that the vehicles' spare-tire was packed with some alien material. Very seldom illegal drugs are transported into Mexico from the U.S.; the agents suspected that the tire contained either firearms ammunition purchased in the U.S., or money.
When they ripped open the tire, they found $635,000 in U.S. currency. The ATF supervisor explained that the money was unquestionably the take from cartel drug sales. The most telling comment by the supervisor was,
"They use the money that they smuggle from the United States into Mexico to buy guns."
What can we logically conclude? It is quite plain that the weapons bought by the drug cartel people do not come, in large numbers, from the United States. The money gained from drug sales in the U.S. is taken back into Mexico, and the cartels buy their weaponry in Mexico — weaponry transported into Mexico that comes from nations that are supplying the cartels with sophisticated weapons. It is reasonable to deduce that such nations are enemies of America.
This issue is complex. But revelations such as that which I saw in the National Geographic film does make one question the real intentions of those in our government and press who use the
"guns bought in America"
propaganda to re-interpret the Second Amendment to the Constitution.
One further caveat
! I learned from reliable sources that there are "political" promotions that are placing some supervisors, who "owe their jobs to the 'company store,'" in positions where they are able to get very creative with statistics. The "company" line is to push selected stat's which "prove" that everything is getting better — that policies in place have proven that our border efforts are now "90%" effective. One source told me in plain and simple language,
"This is (expletive),"
adding that
"there are more drugs in the desert now than ever."
It is crucial that we ask ourselves this unpleasant question: are there ambitious weasels in the proverbial henhouse? It is equally crucial that we know how they got there and to what purpose. Roman satirist Juvenal, born c. 55 AD, asked a question that is timeless:
"Quis custodiet ipsos custodes?"
"Who is watching the watchers?" Basically, who is watching those who are supposed to be watching the hen house?
If the
WikiLeaks
scandal has produced anything good it is this: the American citizen can not rely upon a government or political party to put the people first. If we are to know
who, what, when, where, why
, and
how
, we can have little confidence in a politicized news media. The burden is upon each of us. It will take action. It will take determination. It will take diligence. We must listen to our nose.
http://www.renewamerica.com/columns/klayman/101211
http://www.americanthinker.com/2010/12/the_third_war_on_terror.html
© Frank Maguire
---
The views expressed by RenewAmerica columnists are their own and do not necessarily reflect the position of RenewAmerica or its affiliates.
---