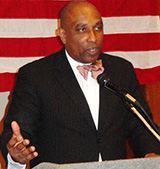 Ellis Washington
On Aquinas first principles: ethics, natural law and truth

By
Ellis Washington
September 6, 2014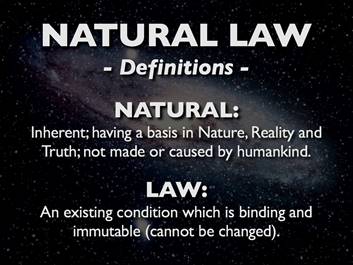 The natural law is nothing else than the rational creature's participation in the eternal law.
~ Aquinas
. . . [T]he Law of Nature and of Nature's God.
~ Thomas Jefferson,
Declaration of Independence
(1776)
Biography
Aquinas, Saint Thomas (ca. 1225 – d. 1274), was a priest and Dominican friar born in Roccasecca, Italy. He was a leading philosopher and theologian in the Medieval Age following the tradition of scholasticism. Aquinas was primarily a philosopher and theologian and though he wrote on scientific subjects, he was not a scientist in the modern sense. He was most noted for his fusion of Christian revelation with Aristotelian science which has had an enduring and lasting influence on all areas of knowledge – including the early development of modern science.
Thomas's ethics are established on the ancient understanding of
first principles
or what he called "first principles of action." He was the leading classical champion of natural theology, natural law and natural rights. His effect on Western thought is extensive, and most of modern philosophy originated in improvement or opposition of his ideas, especially in the subjects of ethics, natural law, natural rights, metaphysics, and political theory. Confronting many controversies in the Church during that period, Aquinas synthesized many ideas Aristotle championed from antiquity – which he referred to as "the Philosopher" – and tried to unify Aristotelian philosophy with the principles of Christianity.
Aquinas on Ethics and Natural Law
Regarding the differences between natural and positive law Aquinas does not define the condition of man in a state of nature as compared with civil society (e.g., Hobbes, Locke, Rousseau, Kant). Nevertheless, he finds the main difference between the natural law and the positive law is in their originating foundations. Natural law originates from God, positive law originates from man. "The natural law," Aquinas writes, "is nothing else than the rational creature's participation in the eternal law." It is God's eternal law in regards to humanity as that is established and is evident in human nature. First principles of ethics from a natural law perspective means that it exists in man as the consequence of his practical reason and contains all the principles which can be learned by reasoning. Therefore, for Aquinas as for Locke, the law of nature is not only the law of reason but "the law of nature's God" a phrase made famous by Jefferson in the Declaration of Independence which he borrowed from Locke.
Aquinas magnum opus is the
Summa Theologica
(1265-74) and the
Summa contra Gentiles
(1270-73). His commentaries on Sacred Scripture and on Aristotle are a significant aspect of his body of work. In his
Summa Theologica
, Aquinas wrote:
Virtue denotes a certain perfection of a power. Now a thing's perfection is considered chiefly in regard to its end. But the end of power is act. Wherefore power is said to be perfect, according as it is determinate to its act.

Aquinas emphasized that "Synderesis is said to be the law of our mind, because it is a habit containing the precepts of the natural law, which are the first principles of human actions."

According to Aquinas "...all acts of virtue are prescribed by the natural law: since each one's reason naturally dictates to him to act virtuously. But if we speak of virtuous acts, considered in themselves, i.e., in their proper species, thus not all virtuous acts are prescribed by the natural law: for many things are done virtuously, to which nature does not incline at first; but which, through the inquiry of reason, have been found by men to be conductive to well living."

Therefore, Aquinas declared that we must determine if we are speaking of virtuous acts as under the aspect of virtuous or as an act in its species.
Aquinas listed prudence, temperance, justice, and fortitude as the four cardinal virtues. The cardinal virtues are natural and revealed in nature by God, and are therefore binding upon all humanity. There are, however, three theological virtues: faith, hope, and charity (love). These are to a certain extent divine and are different from other virtues in their essence, namely, God. "Now the object of the theological virtues is God Himself, Who is the last end of all, as surpassing the knowledge of our reason," Aquinas writes. "On the other hand, the object of the intellectual and moral virtues is something comprehensible to human reason. Wherefore the theological virtues are specifically distinct from the moral and intellectual virtues."
"Greed is a sin against God, just as all mortal sins, in as much as man condemns things eternal for the sake of temporal things," Thomas Aquinas wrote. Also, he distinguished four kinds of law: eternal, natural, human, and divine.
Eternal law
is the command of God that rule over all creation. It is, "That Law which is the Supreme Reason cannot be understood to be otherwise than unchangeable and eternal."
Natural law
is the human "participation" in the
eternal law
and is discovered by reason.
Natural law
is based on "first principles" – this is the first precept of the law; that good is to be done and promoted, and evil is to be avoided. All other precepts of natural law are based on this concept and was adopted by America's founding fathers including the Pilgrims, the Puritans and later the constitutional Framers – Washington, Franklin, William Penn, Jefferson, Hamilton, Adams, Mason, Madison, Webster, Witherspoon, etc...
Concerning the Human Law, Aquinas concludes, "...that just as, in the speculative reason, from naturally known indemonstrable principles, we draw the conclusions of the various sciences, the knowledge of which is not imparted to us by nature, but acquired by the efforts of reason, so too it is from the precepts of the natural law, as from general and indemonstrable principles, that the human reason needs to proceed to the more particular determination of certain matters. These particular determinations, devised by human reason, are called human laws, provided the other essential conditions of law be observed...." Human law is positive law: the natural law applied by governments to societies.
Natural and human law is not sufficient alone. The necessity for human conduct to be controlled made it essential to have Divine law. Divine law is the especially revealed law in the Bible. Aquinas quotes, "The Apostle says (Hebrews 7.12): The priesthood being translated, it is necessary that a translation also be made of the law. But the priesthood is twofold, as stated in the same passage, e.g., the Levitical priesthood, and the priesthood of Christ. Therefore the Divine law is twofold, namely, the Old Law and the New Law."
In summary, Aquinas viewed law as an ordinance of reason originated from God and therefore synonymous with truth. "Truth," according to Plotinus, "cannot apply to something conflicting with itself; what it affirms it must also be." Others like Augustine, Aquinas, Descartes, and Spinoza understood truth as an agreement between the mind and reality. Following this tradition, Aquinas wrote, "Any intellect which understands a thing to be otherwise than it is, is false."
Aquinas influence in modern times
A number of prominent legal scholars and ethicists both inside the Catholic Church and in the academy (particularly C.S. Lewis, G.K. Chesterton, Richard Posner, John Finnis, Robert P. George, Charles P. Nemeth, Philippa Foot and Alasdair MacIntyre) have commented on the probable use of Aquinas natural law and his theory of virtue ethics – which emphasizes the role of one's character and the virtues that one's character embodies for determining or evaluating ethical behavior – as a method to combat against utilitarianism or Kantian "sense of duty" (deontology) – which does not regard the consequences of an act as a cause of its moral value.
The intellectual champion of liberals and progressives including judges, legal scholars, Democrat politicians, and leftist intellectuals writing about law is Justice Oliver Wendell Holmes (who served on the Supreme Court from 1902-32); nominated by Progressive Republican, Theodore Roosevelt! In 1881 Holmes wrote is famous book,
The Common Law –
a radical book that undermined the original intent, legal and moral philosophy of the constitutional Framers and replaced it with a legal philosophy based on Charles Darwin's evolution atheism. One of the most famous aphorisms to be drawn from this book occurs on the first page: "The life of the law has not been logic [God, morality, natural law]; it has been experience [humanism, evolution, positive law]."
In the context of the history of American law, Holmes's words are both a paraphrase and distortion of the famous seventeenth-century English jurist Sir Edward Coke's maxim that "Reason is the life of the law." America's constitutional Framers adopted Coke's natural law to all of our founding documents including – the Declaration of Independence, the U.S. Constitution and the Bill of Rights, additionally it characterized Natural Law as the moral theory which established the original jurisprudence of the U.S. Supreme Court, which mandated that there is no separation of law from morality and therefore all just laws must be based on biblical precepts, morality and ethics. The Supreme Court as late as the 1950s affirmed this natural law credo in
Zorach v. Clauson
, 343 U.S. 306 (1952):
"We are a religious people whose institutions presuppose a Supreme Being. We guarantee the freedom to worship as one chooses
."
The Natural Law of Aquinas holds that the law is based on what's "correct." Natural Law is "discovered" by humans through the use of reason and choosing between good and evil. Therefore, Natural Law finds its power in discovering certain universal standards in morality and ethics. This is why the Progressive Left (primarily through the efforts of the Democrat Socialist Party) has since the 1860s and the advent of Charles Darwin's evolution atheism, tirelessly worked to replace America's original Judeo-Christian ethics and traditions given to us by Aquinas, with the diabolical ideas of Karl Marx (communism, socialism), Charles Darwin (evolution atheism), Friedrich Nietzsche ('God is dead' movement), Sigmund Freud (normalized the psychosis of sexual perversion), Oliver Wendell Holmes (established evolution into the law), and many, many other enemies of Reason.
*N.B.: This essay is based in part on ideas from
Great Books of the Western World,
Robert Maynard Hutchins, Editor-in-Chief (University of Chicago, 1952), Vol. 2, Chap. 46 – Law (Ethics); Chap. 94 – Truth and Vols. 19-20 – Aquinas.
---
Book Notice
Please purchase my latest opus dedicated to that Conservative Colossus, Supreme Court Justice Clarence Thomas. Here are the latest two new volumes from my ongoing historical series –
THE PROGRESSIVE REVOLUTION: History of Liberal Fascism through the Ages
(University Press of America, 2015):
Please circulate
this flyer
to all your email contacts & Facebook/Twitter followers who may be interested in purchasing this opus which will serve as a ready apologetic against the rampant Marxist-Progressive propaganda taught in America's public schools, colleges, universities, graduate schools, and law schools. Thanks in advance to all my friends, associates and colleagues for your invaluable support! Law and History Blog:
www.EllisWashingtonReport.com
---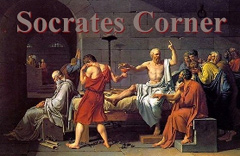 Invitation for manuscripts
I am starting a new a program on
my blog
dedicated to giving young conservatives (ages 14-35) a regular place to display and publish their ideas called
Socrates Corner.
If you know of any young person who wants to publish their ideas on any subject, have them send their essay manuscripts to my email at ewashington@wnd.com.
© Ellis Washington
---
The views expressed by RenewAmerica columnists are their own and do not necessarily reflect the position of RenewAmerica or its affiliates.
---