Stella Lohmann
Rep. Michelle Bachmann's national Tea Party

By
Stella Lohmann
November 2, 2009
Representative Michelle Bachmann (R-MN) has mobilized a national Tea Party
of her own with just one a few words with Sean Hannity on Fox News Friday night. Buses are being filled as we speak to join her on the steps of the nation's Capital on Thursday, November 5th at noon. Then Rep. Bachmann wants to walk the halls of Congressional offices with those who answer her call to stop the most recent healthcare reform bill set for a vote by next week.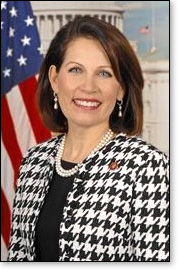 Tea Party activists in Atlanta are already hosting a
One Year to Judgment Day Tea Party
at the gold dome Capitol on November 2nd at the state Capitol to give notice that Americans are willing to use their voting power as never before to rid Congress of those who will compromise conservative values — fiscal responsibility, strict Constitutional adherence, and traditional values that have framed this republic since inception.
Many of those returning to Atlanta's Capitol for yet a third Tea Party there since February will be boarding buses organized by two Facebook friends, Harriet Carter and yours truly, who then contacted organizations to join forces. Not a unique idea but the result was a combined effort of forces between
Resist.net
,
Tea Party Patriots
,
Freedom Works
,
9/12 Project
and
Smart Girl Nation
to fill as many buses as possible on short notice.
Rep. Bachmann's call gives Americans just five days to organize and to join her in D.C. for face to face meetings with her colleagues. Fox News show host, Glenn Beck, gave a six month notice for
9/12 Project
organizers to drew 1.5 million that would march down Pennsylvania Avenue and rally at the Capital for hours the day after 9/11. As it stands now, organizers predict that there will be a least two or three buses or about 150 people leaving Atlanta on Wednesday for a ten hour trek to Washington. For some, it was just six weeks ago that they sacrificed money, time away from work, home, and loved ones to protest in D. C.
Harriet Carter of north Georgia is ready to join other activists on Wednesday calling the group
Minutemen/women
— those ready to respond on short notice to defend this nation. How many will answer Bachmann's request is uncertain but what is certainly remarkable is the resolve to which they have responded so quickly.
© Stella Lohmann
---
The views expressed by RenewAmerica columnists are their own and do not necessarily reflect the position of RenewAmerica or its affiliates.
---