Stella Lohmann
Brown could rock Obama's healthcare world and much more!

By
Stella Lohmann
January 18, 2010
President Barack Obama's agenda to 'remake' America may be derailed should Republican Scott Brown win in Tuesday's special election to fill the Senate seat once held by the late Ted Kennedy who passed away last fall following a bout with brain cancer. Now Massachusetts voters are at the center of what could be the most critical race the President and his party could imagine.
"I have voted in every election since I became of age in 1991, but I have never felt like my vote has mattered so much. Tuesday's vote can truly rock the current system!" Amy Kelly is a 36 year old mother of two and was out on Sunday campaigning for Brown in Quincy. "It is important to always vote, but this time we are so close to bringing about huge change and change that can have such positive results for our future. Scott Brown can be the voice which puts our country on the right track! Currently this country is heading down the wrong road."
Kelly isn't alone in her resolve to keep up the pressure on Massachusetts voters. Both parties are running ads around the clock, some sponsored by conservative organizations like the
Tea Party Express.
Supporters on Facebook posted links to help raise funds and to help make phone calls in the last days of the campaign, many from other states.
Meanwhile in Washington, Senate Majority Leader Harry Reid and Speaker Nancy Pelosi are in 'hurry-up' offense mode promising to pass the President's all important healthcare legislation
before the winner of the Massachusetts election can be seated
, possibly disrupting their 60 vote-filibuster proof majority. A win for the Republicans would be yet another vote in the Senate against the President's overall agenda.
So while the
President and Coakley spoke to less than capacity crowds in Massachusetts
on Sunday, Brown drew record crowds, the likes some say have never been seen for a Republican candidate, much less during a special election.
"All of these photos were taken at the Thomas Crane Public Library in Quincy for The Scott Brown "Bold Leadership Rally in Quincy," said
Kelly, a professional photographer
. "Those in attendance were pumped! People were so happy and enthusiastic to be there to support Scott. His message is clear and I am proud to support him and cannot wait to call him my senator!"
On Tuesday, the eyes of the nation will be watching, anticipating a possible upset win for Scott Brown who trailed almost 30 points in the polls only to surge in the last weeks to make this special election a real race to the finish!
The last time a Republican won a Senate seat in the state was in 1972.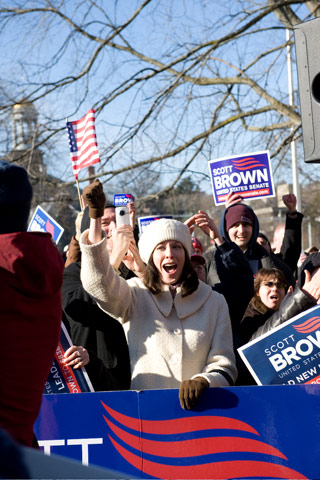 Photos taken by Amy Kelly.


© Stella Lohmann


---
The views expressed by RenewAmerica columnists are their own and do not necessarily reflect the position of RenewAmerica or its affiliates.
---