Audrey Ignatoff
Governor Christie has been "Trumperized"

By
Audrey Ignatoff
March 15, 2016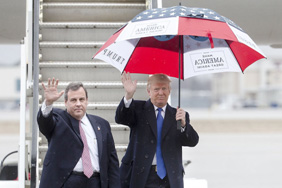 Today was the funeral of Sean Cullen, a New Jersey State Trooper who was killed in the line of duty. Instead of attending, Christie was campaigning with Donald Trump for in North Carolina as part of his campaign to be the next president of the United States.
Christie ran on his history of putting criminals away and his strong value system. He did some good things for New Jersey, such as pass the strongest anti bullying law in the nation, and also extend Medicaid to cover more low income people. However, somewhere along the way, his interest in New Jersey went away, as he sought bigger and better opportunities. This is turning many New Jersians off.
It is very ironic that Christie ran for governor based on his war against criminals and corruption, yet he is strongly supporting a man who has a very questionable past. Not only did he make a practice of hiring illegal aliens which he usually didn't bother to pay, but he abused the HUD Section 8 Program by harassing long term tenants to vacate so that he could rent more apartments under Section 8 to immigrants.
It is obvious that Christie wants a government appointment under the Trump administration, such as Attorney General. However, he may come up the loser in several ways. New Jersians are not happy with his chronic absenteeism, and if Trump does not win, all of his efforts will be in vain. Personally, I don't think Trump will win when all is said and done because his past is too shaky to be vetted, and he has not even disclosed his tax statement. And, he is becoming known as a "pathological liar."
None of this matters to the Governor of New Jersey because he has seemingly been "Trumperized." Let's hope that the people of New Jersey and the nation have not!
© Audrey Ignatoff
---
The views expressed by RenewAmerica columnists are their own and do not necessarily reflect the position of RenewAmerica or its affiliates.
---