Frank Maguire
Nevada's Sharon Angle: can Reid read the tea leaves?

By
Frank Maguire
June 16, 2010
I just read Lloyd Marcus' piece on Nevada's Sharon Angle. It caused me to recall something that I had read in David McCullough's book
Truman
.
FDR had died and the farm-boy haberdasher with a will that turned out to be stronger than steel was president pro-tem. The big election was imminent, and Harry S. Truman was said to be out of touch with reality if he thought he had a chance at nomination and election. Truman was an old-school Democrat, but not "progressive" as the concept was and is understood.
But, ol' "Give 'em Hell, Harry" Truman had a history of never letting the odds discourage him. He was a scrapper.
With virtually all the world against him, Harry went to the people — and the people liked him and listened to him. He stumped from town to town, often from the caboose of a train. He was a "common" man and he appealed to the common men and women — those who live in what the
literati
, the
clase culta
, the
gliterati
smirkingly refer to as "fly- over country."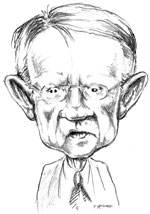 Well, we all know what happened. Perhaps, however, many don't know what happened, because there has been 60 years of public education between then and now. Here's what happened.
On election night, the mainstream press — the biggies — interpreted the voting trends and awarded, publically, in big, bold headlines, the victory to Truman's opponent Thomas Dewey.
Ooops
! As so often happens when the arrogant interpret, Truman actually won the election. "How could such a thing have happened?" I went to McCullough's book, to pps. 716-717.
The major media, after having discovered that they were the south-end of a Missouri mule that was heading north, actually...confessed, repented, and performed some breast-beating
mea culpas
. (
O tempora, O mores
! My, how the manners and morals of America's mainstream media have changed.)
Here is how the management of Time-Life responded.
"I think the press has been pretending to much more wisdom (or is it smartness?) than it had the right to claim, and has been getting away with murder for some time. The plain fact now appears to be that (as far as politics is concerned, at least) the press hasn't known what time it is for years
." Managing-editor of
Time
, T. S. Matthews
The managing editor of
Life
, Joseph J. Thorndyke, Jr. put it this way:
"Of course, we did not intentionally mislead our readers. But, I do think that we ourselves were misled by our bias. Because of that bias we did not exert ourselves enough to report the side we didn't believe in. We were too ready to accept the evidence of pictures like the empty auditorium at Omaha and to ignore the later crowds. We were too eager to report the Truman 'bobbles' and to pass over the things that were wrong with the Republican campaign.... I myself had many misgivings about these things but thought that what the hell, the election was already decided, we could get after the Republicans later...."
How telling is this? How relevant to today? What an indictment of today's advocacy partisans in the mainstream media — those fourth-estate, fifth-columnists who never question their omniscient, power-broker righteousness! What an indication of the political decay that has taken place because for more than half a century ideologues — remember John Dewey, Progressivism's
Pater Familias
? — have controlled public education in America.
Well, could it be in Nevada
"Welcome back Harry T.
...
goodbye Harry R
.!"?
(
Artwork by Thom Maguire
)
© Frank Maguire
---
The views expressed by RenewAmerica columnists are their own and do not necessarily reflect the position of RenewAmerica or its affiliates.
---