Frank Maguire
Dispatch from Yarnell: There is, still, an Honorable America "Esse Quam Videri! Better to be than to seem!"

By
Frank Maguire
July 16, 2013
Wildfire Hot Shot Brendan McDonough was strategically placed to observe the progress of the fire and to get the equipment to safety. Which he did!
But, what he didn't know, because there were delayed communications that did not apprise the 19 that there were thunderstorms – the "initial storms of the season...that often pack very strong winds, with frequent lightning strikes and little rain – were moving southwest from the Flagstaff area.
"The fact that the National Weather Service knew of a line of thunderstorms was bearing down on Yarnell Hill hours before the Granite Hot Shots marched to the front line is counter to the story that has been generated all week and echoed by the Associated Press, the Los Angeles Times and other media outlets that firefighters were caught in a 'sudden thunderstorm.'"
"'This is just not true, 'University of Washington meteorologist/professor of atmospheric science Cliff Mass said 'A lot of people were tracking that storm.... Hours before the incident it was clear there was a real threat...satellite and radar showed developing convection to the north that was moving south toward the fire.'
"Mass writes (that) 'High-resolution models showed a threat. Were there any meteorologists working the fire? If not why not? This terrible tragedy needs to be reviewed carefully.'" (quoted material taken from
"Slow Response, Predictable Path of Thunderstorms, Were precursors to Yarnell Hill Firefighters' Deaths," by
John Dougherty, July 6, 2013)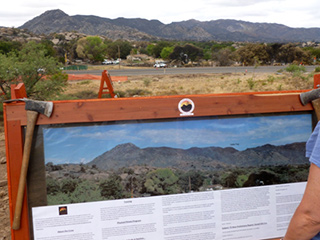 Mass is certainly correct, and there is an investigation underway. It is clear, however, that public will be kept out of the loop. As I discovered, consistent with what others have experienced, is that the only answer received from the Prescott Fire Department, the Yarnell Fire Department, and the Arizona Forestry division is, officially, "no comment."
One decision that begs questions is why did a federal multi-agency team take control of the fire the day after the firefighters died, and why have they taken jurisdiction from the State and County agencies whose responsibility is to investigate and report?
Rep. Paul Gosar, R-Prescott, Rep. Raul Grijalva, and other Arizona politicians are speaking about bureaucratic behavior inside forest-management agencies. Grijalva made the interesting statement (confession?) about the investigations taking place "I didn't want the lost lives of these brave men to become
part of a tired and predictable debate."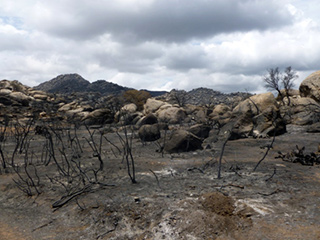 Helen and I visited her cousin Carmen who had been evacuated from her home when the fire was within a couple of hundred yards away. Carmen and her husband returned home eight days later find that their home had been saved. The Hot Shots, who had saved Carmen and her home earlier actually died less than one mile from her home, as the crow flies, and a mile from the main highway through Yarnell. AZ Rt. 89.
I was able to approach the site of their death within one-half mile. All the imagining in the world is inadequate for understanding what occurs during such a conflagration.
"The Hot Shot's Prayer"
(Recited by Brendan McDonough)

"When I am called to duty, Lord, to fight the roaring blaze,
Please keep me safe and strong; I may be here for days.

Be with my fellow crew members, as we hike up to the top;
Help us cut enough line for this blaze to stop.

Let my skills and hands be firm and quick; let me find those safety zones, as we hit, and lick.

For if this day, on the line I should answer death's call, Lord, bless my Hot Shot Crew – my family, one and all."

© Frank Maguire
---
The views expressed by RenewAmerica columnists are their own and do not necessarily reflect the position of RenewAmerica or its affiliates.
---