Marielena Montesino de Stuart
Francis rolls out the red carpet for Obama, the most extreme pro-abortion president in U.S. history

The Apostolic Palace, March 27, 2014

By
Marielena Montesino de Stuart
March 29, 2014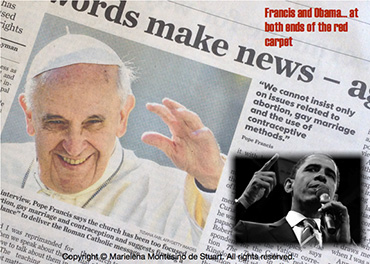 At one end of the red carpet stood Barack Obama, the most extreme pro-abortion president in U.S. history.
At the other end stood Francis, the most... let us say, "progressive" and "enlightened" man ever elected to sit on the Throne of Peter. His
delicate
touch on issues such as abortion and homosexual "marriage" is legendary.
This red carpet scene took place today at the Vatican's Apostolic Palace. Not even Cristina Fernández de Kirchner, the President of Argentina – Francis's native country – has received such a welcome. Kirchner's receptions have been held down the street at the hotel where Francis lives, the Domus Sanctæ Marthæ.
As the historic doors of the Vatican opened, a
grand reception
waited inside – the type designed for a Christian warrior coming home victoriously.
But it was not a Christian warrior.
It was Obama – whose shoes dragged in the dust from dark political chambers, where the rights of the unborn are denied – and homosexual "marriage" is celebrated. In spite of this, Obama walked away with two bronze medals, as a celebratory gift from Francis.
Saint Peter, please help us.
Vatican Radio issued the following report [excerpt]:
"President Obama arrived at the meeting through the Hall of St. Ambrose – a bright, high-ceilinged rectangular room decorated with allegories of Felicity, Prudence and the Virtues, Rest and Security. He was preceded by a column of the Gentlemen of His Holiness, and accompanied by the Prefect of the Papal Household, Archbishop Georg Ganswein, who walked at his side. Pope Francis made his way briskly from the library to the Sala dei troni – the Hall of Thrones – to greet the President."

So, today the world's cameras were turned with fascination toward the ancient city of Rome, waiting for something earth-shattering to happen.
And then there was nothing to report.
The Holy See issued
this antiseptic statement
– while the White House issued
a similar version
. This was followed by conflicting commentaries of what was really said during the meeting between Francis and Obama – with the press reporting that The Vatican said one thing, while Obama said another.
Meanwhile, no public information has been issued by the Holy See concerning any comments made by Francis to Obama about the thousands of innocent babies who are murdered through abortion each day in the United States and throughout the world. Nor about homosexual "marriage."
Neither was there a word about the Marxist persecution and murder of Catholics in Cuba, China, Laos, Vietnam, North Korea, and other satellite socialist countries in Africa and Asia.
Oh... forgive me. For a brief moment I forgot that Francis recently stated
"I have known many great people who professed Marxism
."
I must open the window and let the fresh air bring me back to my senses – and back to the persecution, torture, imprisonment, and death suffered by members of my family under Fidel Castro's Marxist regime.
But you see, the dreamer in me sometimes tries to forget that humanity refuses to see the consequences of such a statement by Francis. Because humanity has descended into an abyss of materialistic atheism.
As such, champagne glasses were raised today for Francis and Obama – by Catholic hippies, lovers of relativism, homosexuals, "intellectuals," communists, disordered architects of modernist churches, and materialistic opportunists – who are all in absolute ecstasy. But ask yourselves, why?
There is absolutely nothing remarkable to celebrate nor contemplate – other than the fact that we just witnessed the world's diplomatic center
extraordinaire,
the Vatican, show how it has plunged into
mediocrity
under the administration of modernists at the Holy See.
Statesmanship is dead.
But mediocrity is expensive – because it requires a big show, in order to cover up the fact that nothing is really going on. It's the difference between theatrics and a real performance. Consequently, obscene amounts of money were spent by both sides, in order to put together today's sad event.
Yet, Greg Burke, a member of Opus Dei and senior communications adviser with the Vatican's Secretariat of State (referred to by BBC News as
"the man behind the Pope's PR success story"
) stood in St. Peter's Square speaking to Katty Kay of BBC News, and repeatedly referred to Francis as a
"very hot commodity"
– comparing him to Michael Jordan, the American basketball star, and Messi (Lionel Messi), the Argentinian soccer player.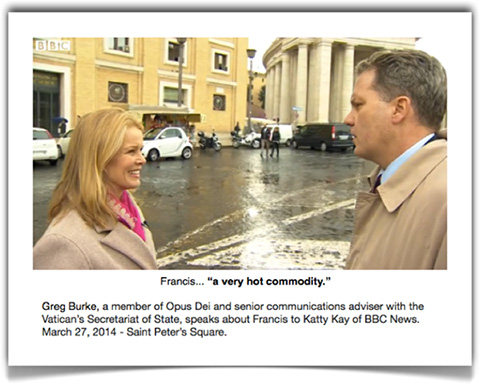 Audio:
http://romancatholicworld.files.wordpress.com/2014/03/22francis-is-a-hot-commodity22-greg-burke-speaks-to-katty-kay-of-bbc-news.mp3
We are living in a world where humans no longer think. They go along...and they get along to "feel better about themselves" (typical modern psychological brainwashing rhetoric). Then, when they finally wake up – because reality hit their wallets – it is often too late.
It's called ignorance, materialism, opportunism, willful delusion – or simply plain complacency.
Like the moon, human beings have their dark side.
It is no wonder that during the last twenty-four hours Ecclesiastes 1:15 continues to ring in my ears... "the perverse are hard to be corrected, and the number of fools is infinite."
Someone has to say the truth...

|||||||
RELATED READING:
"Who said..."
The Francis Archives
... for more on Francis and socialism disguised as "social justice."
Please click
HERE
for important copyright terms and conditions, and instructions for quoting excerpts.
Please click
HERE
to send a comment and to read reference material.
© Marielena Montesino de Stuart
---
The views expressed by RenewAmerica columnists are their own and do not necessarily reflect the position of RenewAmerica or its affiliates.
---