Stone Washington
President Trump: Year 2

By
Stone Washington
December 26, 2018

"In less than two years, my administration has accomplished more than almost any administration in the history of our country."

"In other words, the United States is stronger, safer, and a richer country than it was when I assumed office less than two years ago."
~President Donald J. Trump
Background to President Trump's phenomenal 2nd year in office
With the Christmas holiday of 2018 coming to an end, the Trump Administration has unarguably accomplished more in its first two years than any other Presidency in American history. Following a triumphal
first year in office
, President Trump's second year was one marked with unprecedented achievements that surpassed expectations and broke records. Since being elected to public office on Friday January 20th 2017, President Trump and his Administration have highlighted virtually every major achievement fulfilling the many bold campaign promises made during the historic 2016 Presidential election. Despite the habitual persistence of the Fake News media outlets (CNN, ABC, MSNBC, New York Times, Washington Post, Huffington Post, etc) and obstructionist Democrats to portray the Trump Presidency in a negative light,
or the Machiavellian efforts of the Federal Reserve to arbitrarily raise interest rates
, the American economy has ascended to its highest levels and more Americans have entered the workforce now more than ever before in history.
Despite being abused, ignored and belittled by many of our global enemies in recent years, the United States now stands as a greater threat to our foreign adversaries and a far greater defender of our real and faithful allies. Thankfully, the
Washington Examiner
is one of the few newspapers to compile an updated list detailing most of Trump's greatest accomplishments since taking office nearly 2 years ago; a list of incredible achievements entirely overlooked by the mainstream liberal media. I will examine the Washington Examiner's findings and categorize the greatest of Trump's historic second year achievements and how they have impacted the United States economy, national security, budget, immigration reform, and more during 2018.
Trump Year 2 Achievements
GDP Growth: In August, the Commerce Department announces that U.S Gross Domestic Product (GDP) surges to a
record 4.2% growth
for second quarter earnings. This milestone marks the first time in over a decade that growth exceeds more than 3%.
Consumer Confidence: Consumer Confidence rises to its highest level in 18 years. The Conference Board revealed that its Consumer Confidence index increased to a reading of 137.9 in October, the highest reading since September 2000.
Stock Market: The U.S stock market crashed multiple records throughout 2018, especially in October when the Dow Jones Industrial Average on Wednesday finished at a record high for the 15th time this year as investors were cheered even greater economic success. The Dow reached its highest level in October 2018, with Treasury yields rising at its highest since the day after President Trump was elected in 2017.
American Jobs: An enormous 4 million new jobs have been created since Trump took office. More people are employed than ever before in the nation's history, while the U.S faces its lowest levels of unemployment since 1969. Job openings in the country reached an all-time high and outnumber job seekers for the first time on record. Black (5.9%), Hispanic (4.5%), and Asian American (2%) unemployment levels have plummeted to its lowest numbers in history. In addition to this, female unemployment dropped to its lowest levels (3.6%) in May 2018 since October 1953 and youth (18 years and under) dropped to its lowest unemployment in 50 years.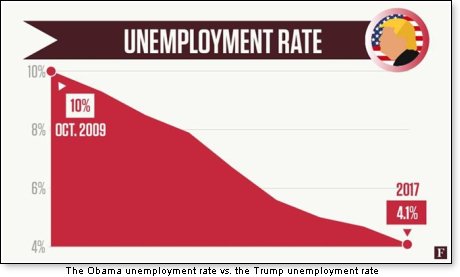 The unemployment rate for Americans without a high school diploma reached a record 18-year low 3.5%. Rate for disabled Americans recently hit a record low. Optimism for finding good available jobs climbed 25% in May. President Trump has reopened America's factories, with the rate of manufacturing jobs surging to a record high in two decades. In August, wages arose to its fastest rate since June 2009, with the Council of Economic Advisers discovering that real wage compensation has grown by 1.4 % throughout the year. Homeownership reached its highest levels for Hispanic Americans in history, while the poverty rate for Hispanics along with Blacks have reached all-time lows. Small-business optimism has reached its highest in history. 95% of U.S manufacturers have rated the economy at its highest levels in history. This year, retail sales surged, up another 6% over the last year, with 0.5%in July 2018, an increase of 6.4% from July 2017. More companies are choosing to invest in the American economy now more than ever, taking advantage or President Trump's lower tax rate. Since Trump was elected, over $450 billion has already flowed back into the U.S. economy, including more than $300 billion in the first quarter of 2018. In addition to rising optimism, workers have never been so pleased to invest into the economy. To counter the many Obama era regulations, Trump launched massive deregulation at a rapid pace, signing 22 deregulatory actions in eliminating every one regulatory action during his first year in office. To accomplish this, Trump took advantage of the Congressional Rule Act to repeal more regulations than any other sitting President in history. Tax cuts and Worker development: Following the historic Tax cuts and Jobs act, signed into law on December 22nd, 2017, the American economy has surged to record heights of success. The act provided more than $5.5 trillion in gross tax cuts in 2018, with nearly 60% benefiting American families. The tax cut nearly doubled the standard deductible which allowed for most households to file taxes on only one page instead of two as in years past, along with increasing Child tax credits to financially assist developing families. As a master of industry , President Trump personally lowered America's corporate tax rate from what was the highest in the world, allowing American businesses to compete with companies overseas and win. Fulfilling a key promise of his
first 500 days plan
, President Trump removed dozens of tax-breaks for special interests while terminating loopholes for the wealthy. 9 in 10 Americans now see an increase in their wages according to the U.S Treasury Department. And thanks to this Act, nearly 100 electrical, water and heating companies have agreed to lower rates for their services. In a unified effort, the President worked with key members of Congress and the Executive, including Senator Tim Scott and HUD Secretary Ben Carson, who spearheads the endeavor, to create the interagency
White House Opportunity and Revitalization Council
. Created on December 12, 2018, the Council will, "encourage public and private investment in urban and economically distressed areas, including qualified opportunity zones."
Healthcare and Drug abuse: Thanks to the passage of the Tax cuts and Jobs Act, the Obamacare Individual Mandate (regarded as the core of the failing healthcare plan) was
officially terminated
. This marks a major victory in minimizing the financial woes inflicted by exorbitant insurance premiums and a blow to Obama's legacy health plan after Republicans failed to pass a repeal-replace plan in the Senate last year. In addition to this, President Trump did away with Obamacare's Independent Payment Advisory Board, also known as the "death panels." On May 30th 2018, President Trump signed into law the Right-to-Try Act, expanding healthcare benefits and options to terminally ill patients. Trump made much needed revisions to the flawed Medicare 340B program, saving senior citizens an estimated $320 million on drugs in 2018 alone.
The Department of Health and Human Services proposed to revise the Title X rule, which would withhold tax payer dollars to elements in the abortion industry that violates the law. In addition to this, the department extended and reinstated the Mexico City policy in refusing any aid to oversea abortions. To combat the Obama-era policies that favored abortion clinics, President Trump overturned one of the Obama administration's
midnight regulations
(one of the final traitorous acts to stab Trump in the back before he assumed office), which prohibited states from defunding certain abortion facilities. Trump also signed a major order to ensure that Christian organizations are not forced to choose between violating their religious beliefs in complying with Obamacare's suppressive contraceptive mandate or close down their establishment.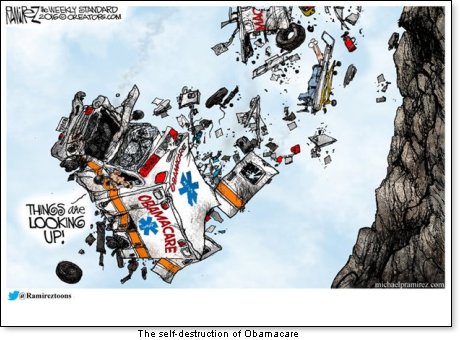 Under President Trump, $6 billion in funding were spent to combat the global opioid abuse epidemic through passing the Initiative: Stop Opioid Abuse and Reduce Drug Supply and Demand, introducing new measures to keep dangerous drugs out of American communities. In April 2018, the DEA launched a massive search and arrested 28 medical professionals revoking147 registrations for prescribing too much opioids for patients. First Lady Melania Trump and CRTV host Eric Bolling were hosted by Liberty University in a special discussion on the harmful effects of opioid abuse and how to better prevent its harmful spread. The Trump Administration reformed the Medicare program to block hospitals from overcharging low-income senior citizens on their drug prescriptions – saving seniors hundreds of millions of dollars this year alone. The Department of Justice recently secured its first indictments against crony Chinese fentanyl manufactures, which sell hundreds of pounds of the deadly drugs to troubled inner-city communities.
Law, Order and the Courts: Since assuming office in 2017, President Trump has appointed over two dozen U.S Circuit court judges, the most confirmed in such a short time. In addition to this, after a contentious series of hearings and false accusations of sexual assault, President Trump nominated Brett M. Kavanaugh to the U.S Supreme Court. This following Trump's major accomplishment in confirming Neil Gorsuch to the court in 2017, the quickest nomination of a Justice in Presidential history. Earlier this year, President Trump signed an executive order focusing more federal resources on dismantling transnational criminal organizations such as Mexican drug cartels. Trump has encouraged federal prosecutors to enforce the death penalty when possible in cases involving illegal drug trafficking. He also signed into law legislation that made it easier to target websites that enable sex trafficking while strengthening penalties for demented individuals who promote or facilitate prostitution. A newly created interagency task force assists in this endeavor.
Safeguarding the border: The Trump Administration secured $1.6 billion for border wall construction in the March 2018 omnibus bill, and is currently battling against stubborn Senate Democrats for at least $5 billion in additional funds. Construction of a 14-mile long border wall has already begun in San Diego and is being constructed in other key entry points shared with Mexico. Trump has been instrumental in strengthening ICE and border patrol officials in arresting (796 in 2017 alone = an 83% increase from 2016) and deporting violent MS-13 gang members.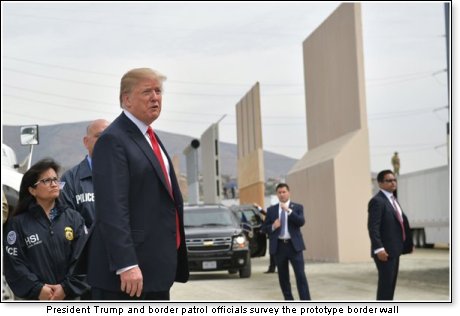 In addition to this, the Department of Justice allied with Central American authorities in filing criminal charges against 4,000 MS-13 gang members. Since 2017, ICE officials have seized over 900,000 pounds of dangerous drugs (heroin, cocaine and fentanyl) from captured criminal aliens. The President has even authorized the deployment of the National Guard to protect and preserve the southern border from harm, especially amid the recent migrant caravan invasion from Honduras.
President Trump has fulfilled a key campaign promise in the implementation of stricter vetting measures to ensure greater border security against illegal migrants. These measures better reveal the identities of those seeking to enter, revealing whether or not they bear a criminal record. According to statistics by the
Department of Homeland Security
, 96,448 people were initially booked into an ICE detention facility, an increase of 22.5% over 2017 along with 256,086 illegal migrants removed after crossing the border.
Trade and Energy: President Trump is consistently making good on one of his most important campaign promises in negotiating and renegotiating better trade deals, achieving free, fair, and reciprocal trade for the United States. Trump made a deal to increase U.S energy exports to European Union member countries. And the Trump Administration successfully litigated multiple WTO disputes targeting unfair trade practices and upholding our right to enact fair trade laws. With South Korea, Trump revised a trade agreement that resulted in increases toward automobile exports from the U.S. On November 30th 2018, President Trump, former Mexican President Enrique Pena Nieto and Prime Minister Justin Trudeau all signed the U.S. Mexico Canada Agreement – or USMCA. Signed during the G-20 summit, this historic trade deal looks to replace the failing NAFTA deal and create renewed trade between the North American countries. President Trump has also secured new negotiations to trade with Japan. In maintaining a key promise, Trump has enforced multiple restrictive tariffs (heavily on aluminum and steel) against Communist China, checking the authoritarian nation for their criminal trading tendencies (currency manipulation, forced technology transfers, rampant IP theft, ludicrous trade barriers, etc.).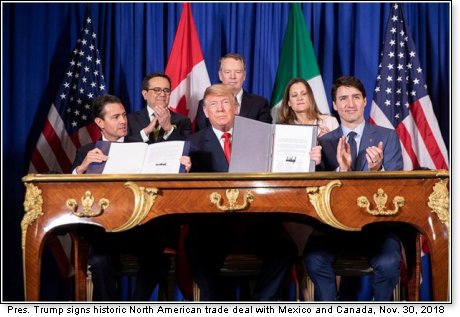 The trade war between U.S and China includes a 25% tariff on $50 billion of goods imported from China, along with an additional 10% tariff on $200 billion of Chinese goods. Following negotiations at the G-20 summit, The United States has most recently secured a potential new trade deal with the Chinese that amounts to $250 billion, in addition to a removing recent tariffs, so long as President Jinping agrees to end his nation's criminal trading practices. In addition to tariffs against China, Trump has also made a recent agreement with the E.U that will reduce trade barriers and increase trade of American soybeans to Europe. In the fall of 2018, President Trump successfully won a major dispute with the WTO regarding Indonesia's unfair denial of U.S agricultural exports.
President Trump torpedoed the Obama Administration's restrictive Clean Air Act and replaced the plan with something far more efficient toward reducing harmful emissions – the Clean Power Plan, passed August 21st, 2018. As a result of reinvesting in American energy independence, the United States has produced more oil now than ever before. Triumphantly, the U.S is now the largest crude oil producer in the World, while becoming a net natural gas producer for the first time in nearly 6 decades. Trump has turned down Obama's hydraulic fracturing rule, which would have cost the fracking industry a burdensome $32 million per year. President Trump has drastically expanded U.S offshore drilling and opened a lease sale on oil and gas in the Gulf of Mexico in August 2018.
Foreign Relations and Defense: On May 14th 2018, the nation of
Israel celebrated its 70th anniversary
as an independent country, praising the Trump Administration for moving the American Embassy from Tel Aviv to Jerusalem, the God-ordained capital of the Jewish state. President Trump also continues to safeguard Israel through maintaining his decision to scrap the Iranian nuclear deal and re-impose sanctions, ensuring that the United States does not honor the billions paid to the leading sponsor of global terrorism – Iran. On June 12th, 2018, the United States hosted the
historic peace summit
with North Korean President Kim Jong-Un, ushering in the beginnings of peace and denuclearization to the Korean Peninsula and an end to the ongoing Korean War (1950-present). This meeting resulted in North Korea halting its nuclear weapons testing facilities and agreeing to substantial peace-keeping measures with American and South Korean officials.
President Trump passed sweeping sanctions against corrupt Venezuelan dictator Nicholas Maduro and his collapsing socialist regime, while passing measures to ensure that the U.S does not pay for Venezuela's debt. In April 2018, President Trump launched air strikes against Syria's chemical weapons facilities in lieu of a devastating chemical attack, presumably launched by Bashar al-Assad. In December 2018, Trump announced the withdraw of all American troops from Syria after the successful defeat of the demonic terror group, ISIS. Under Trump, the rebuilt U.S military conquered nearly all of ISIS's forces and recaptured key territory that had been formerly lost under Obama's presidency.
On January 30th 2018, President Trump signs an executive order to keep Guantanamo bay open. In order to full rebuild the formerly dilapidated U.S military, $700 billion in military funding was approved by Congress for 2018 and $716 billion for 2019, along with passing the largest military pay raise in history. The Trump Administration implemented the first fully articulated cyber security strategy in nearly 15 years. And, in a historic move, President Trump and Vice-President Pence unveiled the creation of a sixth branch of government: the Space Force. Trump encouraged North Atlantic Treaty Organization (NATO) allies to increase defense spending to their agree-upon levels, agreeing to pay their fair share instead of allowing the United States to pay an overwhelming amount in their stead. Eight NATO countries promised to reach the 2% benchmark by the end of 2018 while 15 other nations vow to do so by 2024.
Conclusion
The second year of the Trump Presidency has profoundly reinforced a record-breaking year of triumph and success which began in 2017. The Trump Administration surpasses all other former Presidencies in the renowned progress attained for the United States, creating a new era of national exceptionalism and greatness unseen in the 242 years of American history. Whether in defense, the economy, trade, or foreign relations, President Trump has delivered many of his powerful promises for the benefit of the American people at an unprecedented pace. Minus the Fake News inspired "crises" involving the Robert Mueller witch-hunt investigation along with the tax evasion and illegal payoffs by disgraced former lawyer Michael Cohen, the President's record accomplishments are largely left out of the scope of mainstream media. Thanks only to the few balanced, more conservative news sources like: the Washington Examiner, Fox News, InfoWars, the Daily Caller, and Breitbart, are Americans more aware of the increasingly immense scope of President Trump's achievements and the current state of American prosperity. Truly, the second year of the Trump Presidency marked a historic age for restored excellence in the United States and charts another 6 years to for even greater success to follow.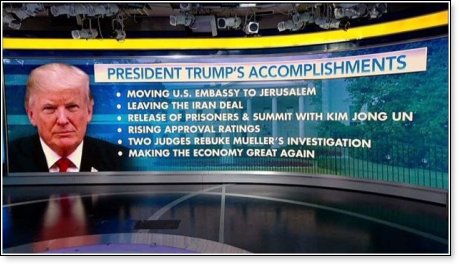 © Stone Washington
---
The views expressed by RenewAmerica columnists are their own and do not necessarily reflect the position of RenewAmerica or its affiliates.
---