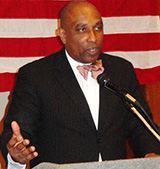 Ellis Washington
NAACP=National Association for the Abortion of Colored People

By
Ellis Washington
May 6, 2013
"During the reign of the Ku Klux Klan, they documented 5,000 deaths, during that 100-year reign [1865-1965]. In one week, 8,000 black people die, but they're babies so they're not counted."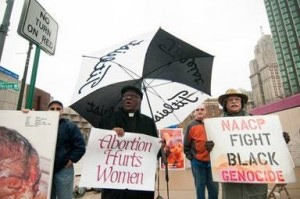 ~ Pastor Levon Yuille
Last Sunday in downtown Detroit, about 45 anti-abortion protesters lined up outside Cobo Hall, where U.S. House Minority Leader Nancy Pelosi was the keynote speaker at the Detroit NAACP's 58th Annual Freedom Fund Dinner – over 10,000 attendees. The protesters carried signs with slogans such as "Abortion Hurts Women," "De-Fund Planned Parenthood" and "NAACP Wake Up! Abortion is Black Genocide."
My radio show co-host and intellectual godfather, Rev. Levon R. Yuille, is also the director of the National Pro-Life Congress and the leader of the protest. He called on the NAACP to stop supporting "black genocide." Pastor Yuille said he has led similar protests for the last six years at each of the Detroit NAACP's annual diners. Of his reception to his protests, he said, "This crowd is very indoctrinated that's coming to this dinner, to be perfectly honest. But there are some breakthroughs every now and then."
The screaming headlines on the DrudgeReport told the tragic tale:
"FDA LOWERS AGE FOR BUYERS OF PLAN B PILL TO 15."
America, now a 15-year-old little girl can go to her local drugstore, and right next to the candy bars, bubble gum and Tic-Tacs she can freely purchase the morning-after pill called "Plan B One-Step" to cleans her womb of all unwanted baby materials from "partying" the night before. Statics are demonstrative: 40 years since Roe v. Wade (1973) about 17 million little black babies have been murdered out of 58-60 million babies aborted in America. The worldwide abortion estimate since Roe is a staggering 1.72-1.80 billion babies!
The legalization of this genocide pill will make future abortion estimates impossible.
When did this black genocide start in America? About 104 years ago, the great black intellectual and founding member of the NAACP, Dr. W.E.B. Du Bois, was frustrated by Republican President Taft's failure to address widespread lynching of blacks. Du Bois, who was Socialist Party member from 1910-12, therefore endorsed Democratic candidate Woodrow Wilson in the 1912 presidential race, in exchange for Wilson's promise to support black causes. He was also secretly promised a job in the Wilson administration, which never materialized.
In a 1938 letter to Dr. Clarence Gamble, Margaret Sanger, the racist, eugenicist and founder of Planned Parenthood whose techniques and writings Hitler and the Nazis would later exploit to eradicate the Jews during World War II and the Holocaust, stated, "We should hire three or four colored ministers, preferably with social-service backgrounds, and with engaging personalities. The most successful educational approach to the Negro is through a religious appeal.
We don't want the word to go out that we want to exterminate the Negro population.
And the minister is the man who can straighten out that idea if it ever occurs to any of their more rebellious members."
Notice that Sanger said the ministers should be "hired." There are many black ministers today who support abortion, and most of them still receive money from Planned Parenthood. These black false prophets have treacherously sold out tens of millions of little black babies for the Judas price of a traitor – "30 pieces of silver."
Jonah Goldberg, in his milestone 2007 book,
"Liberal Fascism,"
wrote about progressives like Theodore Roosevelt, Woodrow Wilson, Walter Lippmann, Rexford Tugwell, Herbert Croly and even noted black socialists and progressives like Paul Robeson, W.E.B. Du Bois, Countee Cullen, Langston Hughes and other young writers of the socialist-contrived "Harlem Renaissance" who openly praised 20th-century tyrants.
For example, Goldberg chronicles Du Bois' flattering admiration of Mussolini, Hitler and Nazism:
Before the Holocaust and Stalin's doctrine of social fascism, liberals could be more honest about their fondness for fascism. During the "pragmatic" era of the 1920s and early 1930s, a host of Western liberal intellectuals and journalists were quite impressed with Mussolini's "experiment." More than a few progressives were intrigued by Nazism as well. W.E.B. Du Bois, for example, had very complex and mixed emotions about the rise of Hitler and the plight of the Jews, believing that National Socialism could be the model for economic organization. The formation of the Nazi dictatorship, he wrote, had been "absolutely necessary to get the state in order." Hewing to the progressive definition of "democracy" as egalitarian statism, Du Bois delivered a speech in Harlem in 1937 proclaiming that "there is today, in some respects, more democracy in Germany than there has been in years past."

As if celebrating Stalin, Mussolini, Hitler and the Nazis as a model for black improvement in America weren't fanatical enough, for an encore, recalling his 1927 visit to the Soviet Union, Du Bois continued his servile propaganda of a Potemkin Progressive – "I am writing this in Russia," he wrote back to his readers in the Crisis. "I am sitting in Revolution Square. ... I stand in astonishment and wonder at the revelation of Russia that has come to me. I may be partially deceived and half-informed. But if what I have seen with my eyes and heard with my ears in Russia is Bolshevism, I am a Bolshevik [e.g., Communist]."
Remember, this man was the founding father of the NAACP. This communist demagogue even proudly accepted the Lenin Peace Prize in 1959!
President Obama, just Thursday, said that "he was comfortable" with his administrations' decision to allow over-the-counter purchases of a morning-after pill for anyone 15 and older. Obama's Nazi-like disregard for human life was foreshadowed in his presidential campaign rhetoric in March 2008 when he remarked about the possibility of his two young daughters getting pregnant:
"I don't want them punished with a baby."
Since Roe v. Wade, 17 million little black babies denied their 14th Amendment due process rights disagree with you, Mr. President and Dr. Gosnell. I call
that
a majority opinion.
In 1909, Du Bois and a group of largely white progressives founded the NAACP, which in addition to championing "civil rights" has given black America 104 years of perpetual ghetto life, promoting tribal groupthink, Nazi-like fidelity to black infanticide and voluntary servitude on the Democrat Party plantation. Thanks NAACP – the National Association for the
Abortion
of Colored Peoples. You have made Margaret Sanger and the KKK proud.
---
Book Notice
Please purchase my latest opus dedicated to that Conservative Colossus, Supreme Court Justice Clarence Thomas. Here are the latest two new volumes from my ongoing historical series –
THE PROGRESSIVE REVOLUTION: History of Liberal Fascism through the Ages
(University Press of America, 2015):
Please circulate
this flyer
to all your email contacts & Facebook/Twitter followers who may be interested in purchasing this opus which will serve as a ready apologetic against the rampant Marxist-Progressive propaganda taught in America's public schools, colleges, universities, graduate schools, and law schools. Thanks in advance to all my friends, associates and colleagues for your invaluable support! Law and History Blog:
www.EllisWashingtonReport.com
---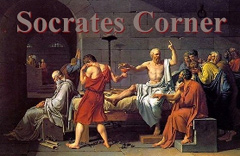 Invitation for manuscripts
I am starting a new a program on
my blog
dedicated to giving young conservatives (ages 14-35) a regular place to display and publish their ideas called
Socrates Corner.
If you know of any young person who wants to publish their ideas on any subject, have them send their essay manuscripts to my email at ewashington@wnd.com.
© Ellis Washington
---
The views expressed by RenewAmerica columnists are their own and do not necessarily reflect the position of RenewAmerica or its affiliates.
---