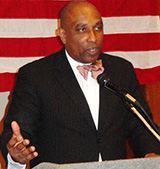 Ellis Washington
Is there not a cause?

By
Ellis Washington
September 21, 2013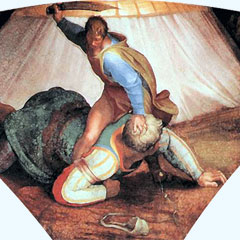 David vs. Goliath, Michelangelo's Sistine Chapel ceiling
"When injustice becomes a law, rebellion becomes a duty."
~Jefferson
The Bible story of David and Goliath is one of the most popular and enduring narratives ever told. Unlike Greek mythology it has the added advantage of being an actual historical event proven to have occurred by biblical archeologists, theologians and historians and written by contemporaries of those ancient times concurrent with the time those events actually occurred (e.g., Samuel, David).
Here are excerpts from the David and Goliath battle found in I Samuel 17:
3 And the Philistines stood on a mountain on the one side, and Israel stood on a mountain on the other side: and there was a valley between them.

4 And there went out a champion out of the camp of the Philistines, named Goliath, of Gath, whose height was six cubits and a span.

24 And all the men of Israel, when they saw the man, fled from him, and were sore afraid.

28 And Eliab his eldest brother heard when he spake unto the men; and Eliab's anger was kindled against David, and he said, Why camest thou down hither? ...

29 And David said, What have I now done? Is there not a cause?

40 And he took his staff in his hand, and chose him five smooth stones out of the brook, and put them in a shepherd's bag which he had, even in a scrip; and his sling was in his hand: and he drew near to the Philistine.

43 And the Philistine said unto David, Am I a dog, that thou comest to me with staves? And the Philistine cursed David by his gods.

44 And the Philistine said to David, Come to me, and I will give thy flesh unto the fowls of the air, and to the beasts of the field.

45 Then said David to the Philistine, Thou comest to me with a sword, and with a spear, and with a shield: but I come to thee in the name of the LORD of hosts, the God of the armies of Israel, whom thou hast defied.

49 And David put his hand in his bag, and took thence a stone, and slang it, and smote the Philistine in his forehead, that the stone sunk into his forehead; and he fell upon his face to the earth.

50 So David prevailed over the Philistine with a sling and with a stone, and smote the Philistine, and slew him; but there was no sword in the hand of David.

51 Therefore David ran, and stood upon the Philistine, and took his sword, and drew it out of the sheath thereof, and slew him, and cut off his head therewith. And when the Philistines saw their champion was dead, they fled.

What lessons from history can America learn from the David and Goliath story that will help this country overcome today's tyrants, regressive progressives and socialist sympathizers who plot in secret places against everything good, honorable and righteous in America?
In Old Testament times God's chosen people, the Jews were in perpetual battles against their numerous godless, pagan neighbors that surrounded them; that sought to "wipe them off the face of the earth" as Iran has repeatedly threatened Israel today. However in ancient times, Israel had an unlikely champion who literally came from nowhere (God repeatedly says of David, "I took thee from the sheepcote...") stepped from the shepherd's field, stepped into the battlefield, into history, into the Ages, picked up 5 stones and with his slingshot and a lot of faith in God killed the greatest warrior of the ancient world, the 9 ft. 6' in. behemoth called Goliath.
Yes, David defeated Goliath with a slingshot stone to the giant's head, but on a metaphysical level David really defeated Goliath with transcendent words that have resonated down through the Ages, with a Socratic dialectical question containing five simple words...
Is there not a cause?
To demonstrate the critical importance of David's question, let's take a short tour of key moments in American history from Columbus-John Adams based on those words:
When in Oct. 1492 Christopher Columbus' ship landed in the New World later called America he did it "for the glory of God" and to evangelize the native peoples; When in 1607 Capt. John Smith founded the Jamestown Settlement in Virginia it was "for the glory of God"; When the early colonist's seven year experiment in socialism signed by
William Bradford July 1, 1620
miserably failed because it was government-produced famine and thievery, the colonists repented and abandoned socialism for the glory of God for over 300 years until FDR's New Deal (1933-45) became America's new God-State.
Is there not a cause?
When the Mayflower Compact was signed Nov. 11, 1620 it was filled with numerous references to God; When in 1636 America's first college (Harvard) was founded on the holy trinity –
Christos
(Christ)
Veritas
(truth) and
Ecclesiae
(church), because they understood (until the advent of Darwin's evolution atheism in the 1860s) that you cannot have truth
without
Christ and the church; When out of the first 126 colleges established in America, 123 were Christian; When We the People rose up against Puritanical religious zealotry of the Salem Witch trials of 1692 to reestablish a just and fair judicial system ... all the Children of History asked...
Is there not a cause?
When in 1752 Benjamin Franklin kite experiments took place leading to the discovery of electricity launching a scientific Age of Enlightenment; When King George III came to power in 1763 and soon established the tyrannical taxes: Sugar Act, Currency Act, Stamp Act, Quartering Act, Declaratory Act, and the Tea Act, the colonists rose up in outrage to dump the kings tea into the Boston Harbor launching the Boston Tea Party (Dec. 16, 1773); when the Boston Massacre (1770) launched the American Revolutionary War, the Declaration of Independence, Thomas Paine's
Common Sense
, First (1774) and Second (1776) Constitutional Congress, Philadelphia Convention (1787), Bill of Rights (1791), Presidency of George Washington (1789-97), John Adams (1797-1801), thus birthing America, the greatest nation in the history of the world ...and the Children of History asked...
Is there not a cause?
Who is America's Goliath in modern times? What intractable, malevolent forces are always at work seeking to undermine, pervert, deconstruct and destroy all of the moral precepts, values and culture that this country was built upon?
Where is young David today? Who will rise up like a strong man of destiny to be our champion to deliver America from regressive minded people who want to keep Black people on the Democrat Party plantation languishing in ghettos, entombed behind iron bars and concrete prisons called projects, worshipping each Sunday morning inside progressive churches at the altar of the golden donkey, and enslaving children's minds in the public schools? Is there not a cause? Who wants to keep Indians on the reservation, drunk, violent and addicted to gambling? Who wants to keep Hispanics perpetual illegal aliens, stuck in servant jobs as drawers of water and hewers of wood by learning only Spanish in America?
Is there not a cause?
To Jews, Christians, conservatives and classical liberals, the apotheosis of liberty enshrined in the American Revolution (1775-83) was our
cause célèbre
. For the progressive left, all roads lead to the mob rule of the French Revolution (1789-99) which was the first totalitarian revolution, the origin of modern totalitarianism, and the divine foundation for the Russian Communist, Italian Fascist and German Nazi revolutions. The French Revolution was always ruled by the mob bloodlust, the Jacobins tyranny and the self-righteous fanaticism of Robespierre. A godless revolution controlled by an oligarchy braintrust hell bent on killing God, Christianity, capitalism and objective truth thus deconstructing America's Judeo-Christian traditions, natural law and natural rights of the individual while creating pagan policies for the collectivist group.
Jefferson said it best, "When injustice becomes a law, rebellion becomes a duty."
Is there not a cause?
---
Book Notice
Please purchase my latest opus dedicated to that Conservative Colossus, Supreme Court Justice Clarence Thomas. Here are the latest two new volumes from my ongoing historical series –
THE PROGRESSIVE REVOLUTION: History of Liberal Fascism through the Ages
(University Press of America, 2015):
Please circulate
this flyer
to all your email contacts & Facebook/Twitter followers who may be interested in purchasing this opus which will serve as a ready apologetic against the rampant Marxist-Progressive propaganda taught in America's public schools, colleges, universities, graduate schools, and law schools. Thanks in advance to all my friends, associates and colleagues for your invaluable support! Law and History Blog:
www.EllisWashingtonReport.com
---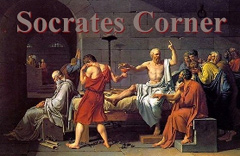 Invitation for manuscripts
I am starting a new a program on
my blog
dedicated to giving young conservatives (ages 14-35) a regular place to display and publish their ideas called
Socrates Corner.
If you know of any young person who wants to publish their ideas on any subject, have them send their essay manuscripts to my email at ewashington@wnd.com.
© Ellis Washington
---
The views expressed by RenewAmerica columnists are their own and do not necessarily reflect the position of RenewAmerica or its affiliates.
---