Kevin J. Banet
Welcoming the dictator

By
Kevin J. Banet
May 28, 2014
After one of his most astounding miracles – feeding five thousand people – Jesus realized that the people wanted to make him an earthly king. (John 6:15)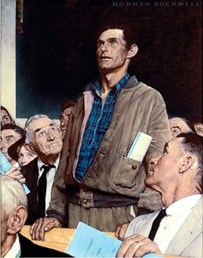 Centuries before, the people of Israel demanded that God allow them to have a king, like the other nations. God gave them what they wanted, but said that there would be a cost. The king would draft their sons into the military, take their daughters for servile work, and take the best of their fields and farmland. (1 Samuel 8:10–18)
And today, many Americans fawn over a president whose office has amassed more power than any king on earth – and they are willing to give up these same possessions and freedoms to have this one man and his minions rule over them.
When the ancient Romans started their republic, they despised the idea of a king. They came up with a senate and two consuls, who would take turns reigning. Eventually, that system gave way to a very powerful emperor.
Giving up their freedoms
Why are ordinary people so willing to give up their rights, their freedoms, to someone who has tremendous power over them?
At the beginning of America, the Founders foresaw the tendency of any government to acquire tremendous power. Thomas Jefferson warned, "Every government degenerates when trusted to the rulers of the people alone. The people themselves, therefore, are its only safe depositories."
A few years later, he said in a personal letter, "Preach, my dear Sir, a crusade against ignorance; establish & improve the law for educating the common people. Let our countrymen know that the people alone can protect us against these evils [tyranny, oppression, etc.]...." (Brackets are in original.)
The education of the common man is vital to a self-governing nation like America. One may recall the 1943 Normal Rockwell painting, "Freedom of Speech," in which a humbly-dressed man stands firmly and respectfully at a town hall meeting, and plainly speaks his mind. His worn jacket and dirty fingernails shows that he is a laborer. And yet he has the same freedoms and right to self-governance as the well-dressed fellow citizens around him.
Are people willing to grasp at any far-fetched offer of hope when economic times are bad? Or are they simply lazy, voting only for those who give them more benefits, rather than for the common good? Only history will tell.
Warns young Americans
One outspoken preacher and prophet of our day is Bradlee Dean, a drummer in a heavy-metal rock band, who years ago saw the light of Christ in his life, and who now preaches to young Americans. He educates them about the Biblical and Constitutional foundations of our great country, and warns them about an encroaching federal government that grows so ominously larger and more powerful.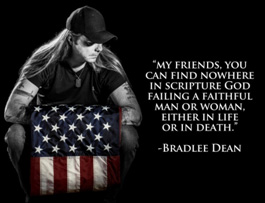 He recently toured the state of Georgia and talked with national leaders at a "Restoring our Promise" conference. He said, "I had the opportunity to see with my own eyes the fact that God is now sending foreigners into this country to warn us about the similarities and signs of dictators when they take the reigns of a nation: all of the way from the media's control, to the pushing of a state-run message over and over again, to the attack on Christianity, euthanasia, to the disarmament of the people in their respective countries and more."
Bradlee is the top-rated talk show host on
GCN Live
, where his show is aired six days a week. Read more about his ministry at
SonsofLibertyRadio.com
.
A Christianity-inspired civilization
The twentieth-century philosopher Jacques Maritain, a keen observer of American democracy, offers these words of hope:
"Those Christians who are turned toward the future and who hope – even though it be a long-range hope – for a new Christendom, a new Christianity-inspired civilization, know that the world has done with neutrality. Willingly or unwillingly, states will be obliged to make a choice for or against the Gospel. They will be shaped either by the totalitarian spirit or by the Christian spirit. They know that a new Christianity-inspired civilization, if and when it evolves in history, will be not a return to the Middle Ages, but a new attempt to make the leaven of the Gospel quicken the depths of temporal existence."
© Kevin J. Banet
---
The views expressed by RenewAmerica columnists are their own and do not necessarily reflect the position of RenewAmerica or its affiliates.
---