Stella Lohmann
Will Van Jones join Wright, Biden, Israel, Gates, and even Grandma under the bus!

By
Stella Lohmann
September 5, 2009
Bet the Van Jones uproar will force Obama to throw yet another colleague
under the bus
since he will have lost his luster and usefulness toward the Obama illustrious agenda. Jones is the President's special Advisor for Green Jobs (for now), who also created the Cash for Clunkers initiative. But Jones is now public relations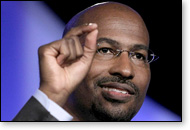 collateral for the Obama iconic image since videos as recent as a few months ago surfaced exposing him as an openly defiant opponent to capitalism? So why would Obama change his mode of operation now like he did with his ailing Grandmother, the Vice President, Israel, Skip Gates and now most likely Jones? Do you hear the hum of the bus rolling down Pennsylvania Avenue? It's that time to play
throw another under the bus
!
The analogy fits: "One is thrown
under the bus
when they are made the scapegoat or blamed for something that wasn't their responsibility in the first place. A cover-up for your mistake."
http://www.urbandictionary.com/define.php?term=throw+under+the+bus
In less than one year, how many Obama confidants have met the same demise'?
Obama preparing to throw Israel under the bus
Barack Throws His Ailing Grandmother Under the Bus to Score Political Points
Obama Throws Gates Under Bus
Obama Throws Wright Under the Bus
Barack Obama is Willing to Throw Children Under his Bus to Appease Special Interest Groups
Did Obama Throw Biden Under the Bus?
Will Obama throw Van Jones under the Bus?
What Barack Obama has done is defile our Constitution and the office of the Presidency with disregard to his oath of office. He is to defend both on behalf of the American people and his conduct in appointing like-minded Marxist friends like Jones — a self proclaimed communist — toward a set goal is contrary to both. True to his words from his First 100 Days speech, intentionally he is ignoring the wishes of the citizenry in order to achieve selfish gain — "remake America." No other explanation makes sense.
The American people clearly did not want to own the car, banking, housing, and now health care industries. He's now trying to dismantle the CIA by discrediting agents and their activities in a criminal light. He instituted his own panel within the agency without even Senator Diane Feinstein's knowledge. (Feinstein, a fellow Democrat, chairs the Judiciary Subcommittee) It's a page right out of the communist playbook of overthrowing democracy to Marxism. And let us not forget the forthcoming Cap and Trade bills that would seal the deal on an economic collapse into the arms of government to save us all. Do we really believe he will take note of his dipping job performance ratings and turn back the iron hand on his agenda?
Obama is like a cat that treads softly and then turns its back on those who just get in the way or bother his subtle cover. He does what he wants to do. Under any other Administration in any other time of history, impeachment would be a given. But then, BHO has been able to skate past normal scrutiny and vetting processes like no other President in recent history. He may have skyrocketed to the Presidency having never owned or managed a business but he may descend as quickly as a Roman candle does after travelling great heights on the Fourth of July. Hopefully, it will be the deliverance and subsequent I
ndependence Day
from pending socialism in America.
© Stella Lohmann
---
The views expressed by RenewAmerica columnists are their own and do not necessarily reflect the position of RenewAmerica or its affiliates.
---