Matt C. Abbott
Bishop has parish remove controversial sign

By
Matt C. Abbott
November 9, 2015
I commend Bishop Richard J. Malone of Buffalo for having a parish in his diocese remove a large sign that read "Jesus had two dads and he turned out just fine."
The sign was featured in a blog post at
Catholic Family News
.
Click here
to view it.
John Vennari, editor of
Catholic Family News
, wrote:
Yesterday a friend sent me a photo of the sign at St. Columba-Brigid R. C. Church in Buffalo. The sign was so scandalous I had a hard time believing it was not photo-shopped.

This morning I drove to the church to see for myself. With great sadness I report it is true. I snapped the [photo below] this morning.

This pro-homosexual sign effectively mocks the Blessed Trinity, mocks the Hypostatic Union, mocks the Holy Family of Jesus, Mary and Joseph – some of the most sacred components of our Catholic Faith.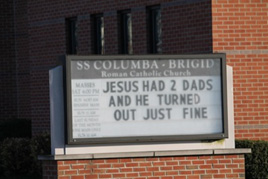 I contacted the Catholic Diocese of Buffalo for comment and received the following response (attributed to Bishop Malone):
Thank you for your message regarding the sign at SS Columba – Brigid Church here in Buffalo. As soon as I learned of this sign, I took immediate action to have it removed. The pastor of SS Columba – Brigid Church told me that the '2 Dads' were meant to refer to a child who has both a father and stepfather. There are several children in his parish who have both a father and stepfather. However, given the potential for the meaning of this message to be misunderstood and even perceived in a heretical way, it was immediately removed.

My comments:
The pastor's explanation for the offensive sign is almost laughable.
It reminds me of the explanation I received (this was several years ago) from a public relations firm working for a Catholic seminary whose official magazine, in at least one issue, contained ads for businesses catering to openly-homosexual men (one ad featured two men in a hot tub).
The seminary insisted it was merely a printer's error and that only a couple of copies were in circulation. I had been provided with a copy by a source. The seminary then released a statement accusing me of being "irresponsible" and posted on its website the letter from the printer apologizing for the "error." Interestingly, the printer's letterhead featured a drawing of a muscular man.
The bottom line: the gay mafia is essentially running a large segment of the Church, and it's tragic to see.
Our Lady of Fatima, pray for us.
---
Related link
:
"
Homosexuality and the Church Crisis
"
© Matt C. Abbott
---
The views expressed by RenewAmerica columnists are their own and do not necessarily reflect the position of RenewAmerica or its affiliates.
---