Fr. Tom Bartolomeo
Palm Sunday and the commemoration of the Lord's entrance into Jerusalem

By
Fr. Tom Bartolomeo
March 22, 2018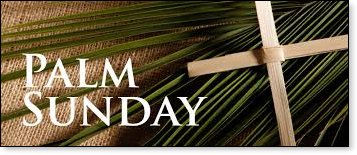 This, the holiest week of the year, commemorates Christ's sacrifices for our salvation on Holy Thursday, the Lord's Supper; on Good Friday, the Passion of the Lord; and on Easter Sunday, the Resurrection of the Lord which we will celebrate in the Liturgy of the Mass and the Liturgy of the Office of the Hours.
God has so ordained that I follow Christ as Jesus instructed, "If anyone wishes to come after me, he must deny himself and take up his cross daily and follow me." (Luke 9:23)

Today's Reflection for Lent, Psalm 27, prepares me for my passage from death to eternal life. And – after all the hoopla of exchanging palms – asks me these questions:
"The Lord is my light and my help;
whom shall I fear?
The Lord is the stronghold of my life;
before whom shall I shrink?"
The remaining eleven stanzas of the Psalm point out what should concern me, personally, and my preparations to deal with them:
One,
"When evildoers draw near to devour my flesh,
it is they, my enemies and foes, who stumble and fall."
[Specifically, what should I do?]
Two,
"Though an army encamp against me
my heart would not fear.
Though war break out against me
even then would I trust."
[Specifically, how should I prepare for this?]
Three,
"There is one thing I ask of the Lord, for this I long,
to live in the house of the Lord, all the days of my life,
to savor the sweetness of the Lord,
to behold his temple."
[Specifically, how do I assume I am 'good' or 'nice' or 'lucky' enough about "this one thing I ask of the Lord . . . to live in the house of the Lord, all the days of my life" etcetera ?]
Were Jesus to tell me, "Not everyone who says to me, 'Lord, Lord,' will enter the kingdom of heaven, but only the one who does the will of my Father in heaven" ( Matthew 7:11 ) Or were I "outside knocking and saying, 'Lord, open the door . . . ' [and he replies] 'I do not know you . . . ." (Luke 13:25) . Or had I lived a comfortable life and I tell Jesus, "I follow all the commandments" would I walk away sad when Jesus says, "sell what you have and give to the poor." Would I presume that God – somehow – will make the impossible happen? (Mark 10:17-22).
Four,
"For there he keeps me safe in his tent
in the day of evil.
He hides me in the shelter of his tent,
on a rock he sets me safe."
[Specifically, how would I avoid evil and find my way to safety "in his tent"?]
Five,
"And now my head shall be raised
above my foes who surround me,
and I shall offer within his tent
a sacrifice of joy."
[And, specifically, what sacrifice of joy would I offer?]
"I will sing and make music for the Lord.
O Lord, hear my voice when I call;
have mercy and answer.
Of you my heart has spoken:
"Seek his face."
It is your face, O Lord, that I seek;
hide not your face.
Dismiss not your servant in anger;
you have been my help.
Do not abandon or forsake me, O God my help!
Though father and mother forsake me,
the Lord will receive me.
Instruct me, Lord, in your way;
on an even path lead me.
When they lie in ambush,
protect me from my enemy's greed.
False witnesses rise against me,
breathing out fury.
I am sure I shall see the Lord's goodness
in the land of the living.
Hope in him, hold firm and take heart.
Hope in the Lord!"
Last question. If I do not "seek his face" in this world why would he invite me to "live in his house" when all the while he had been asking me, "Who is good?"
Will the palms I received today be enough?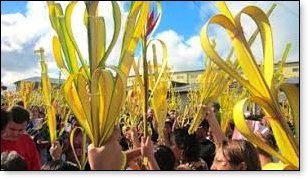 © Fr. Tom Bartolomeo
---
The views expressed by RenewAmerica columnists are their own and do not necessarily reflect the position of RenewAmerica or its affiliates.
---