Michael Bresciani
Fentanyl kills America's kids while Joe Biden fights imaginary MAGA monster

By
Michael Bresciani
September 11, 2022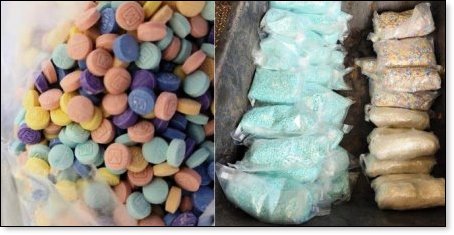 Fentanyl seizures at the southern border have increased 233% since Joe Biden took office. It is easy to see this as just another statistic waiting to be balanced out by the continued pressure from the agencies and laws that are in place to deal with it, but with the present administration that is not likely to happen.
The Biden border policy is no policy at all, but the death and mayhem it is bringing to America is a complete catastrophe.
Rep. Chip Roy, R-Texas and Sen. Ted Cruz R-Texas have addressed the problem at a roundtable. Cruz clearly outlines the top three reasons for the crisis and Rep. Roy describes the "human cost" according to Fox News.
Fentanyl is 100 times more potent than morphine and almost completely undetectable to the human eye. Often the kids taking the fentanyl don't know they are taking it. They may purchase some amphetamine or other drug in small quantities, without realizing that the pills have been laced with the deadly fentanyl. Death may be instantaneous and medical help is often way too late to successfully intervene.
According to the National Center for Drug Abuse Statistics (NCDAS), fentanyl is "the world's deadliest opioid, causing almost half of all overdose deaths nationwide." In fact, less than 0.007% of an ounce is a path to certain death. Almost 50,000 kids lost out to fentanyl in 2020 alone.
Where's Joe Biden on this great scourge?
The White House website provides an explanation of the Biden-Harris efforts to deter addictions and overdoses. It is sparse, and it is full of promises to work with communities and law enforcement.
But for all it says, it is negated and left ineffective and moot by Biden's open border policies. It is a case of policy cancelling policy. It is a Biden type action, that like most of his policies, accomplishes nothing even when fully implemented.
We might advise the White House to close the borders or close their mouths.
Many people feel that Joe Biden is responsible for the deaths of the kids falling dead, from this fentanyl foolishness.
One such person is Sheriff Kieran Donahue from Canyon County, Idaho.
In a video Sheriff Donahue said he is especially disturbed by the dangers associated with the "rainbow fentanyl" which is a new and very deadly form of the drug.
"Newsweek says, "During a recent appearance on Fox News' Fox & Friends First, Canyon County Sheriff Kieran Donahue spoke about rainbow fentanyl, as border agents and other law enforcement officials have recently seized large quantities of the new drug. During his interview, Donahue said that he met with former President Donald Trump twice to discuss ways to combat the spread of fentanyl, but went on to criticize the current president, saying, "Unfortunately, this administration simply has shut the door on us."
Kids are dying – Hurry, go to the basement and wake the "President"
There is little room for humor in this crisis, but to even be slightly facetious is horrifying because of the truth in the severity of Biden's aloofness and disconnection to the problem.
Perhaps Peter Doocy is not asking the hardest questions after all. He may want to ask the White House Press Secretary, if Joe Biden is prepared to take responsibility for his border policies, when kids are dying every day from opioid overdoses.
King Herod didn't care about other people's children either, he had 200 of them killed, just to stay in power. (Matthew 2:1f)
Almost all despots suspend feelings of paternity for the glories of power.
Related
President Trump loves Americans, Biden and the Left Love Power – Any Questions?
To read more articles by Michael Bresciani click here.
President Trump loves Americans, Biden and the Left Love Power – Any Questions?
© Michael Bresciani
---
The views expressed by RenewAmerica columnists are their own and do not necessarily reflect the position of RenewAmerica or its affiliates.
---