Alan Caruba
The gay attack on American values

By
Alan Caruba
February 6, 2014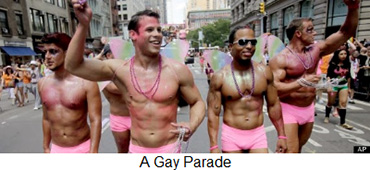 In societies around the world, homosexuals encounter not just resistance, but the threat of death for their sexual orientation. In the West we regard this as barbarian and it is. I concluded long ago that gays – using their own term – have no choice over this sexual aberration from the norm of heterosexuality.
In America, gays – male and female homosexuals – represent about 3% of the population. That leaves 97% in a majority and that majority is now under a full assault on their traditional values concerning marriage – intended only for the opposite sexes – and in some cases on their religious faith that deems homosexuality a sin.
In recent years we have seen gays achieve a legal status for same-sex marriage, thus undermining centuries of tradition that understands marriage to be for the purpose of procreation and as the keystone of society. We have a President who changed his mind from his 2008 political campaign and announced that he not only approved of gay marriage but that his administration, the Department of Justice, would not enforce the Defense of Marriage law passed by Congress.
The Obama administration has pressed hard to alter the military that went from "Don't Ask, Don't Tell" under the Clinton administration, to the present status that sees no problem in the close living conditions under which heterosexual and homosexual troops must live and work together. This was always regarded as a problem of unit cohesion in the long years leading up to the 1990s and it likely still is. In a similar fashion, the infusion of women into combat units poses problems that the military understandably avoided for most of the last two hundred and twenty-eight years of the nation's history.
The passage of Obamacare has posed significant problems for religious groups that oppose abortion and related practices. It has particularly affected Catholic institutions and, most recently, the Little Sisters of the Poor, a group of nuns who do not want to signal any concurrence with the law as it is written. The Supreme Court has granted that some respite, but their issue and others will surely have to be addressed by the Court at some point.
In Massachusetts, a homosexual legal group has filed papers to force a Catholic school to hire a man who is "married" to another man. As reported by
MassResistance.org
, "Back in July, Matthew Barrett of Dorchester applied for a job as the food service director at Fontbonne Academy, a Roman Catholic girls' high school in Milton, Mass, and was subsequently offered the job. When he filled out a pre-employment form listing his 'husband' as an emergency contact the school told him that 'the Catholic religion doesn't recognize same-sex marriage. We cannot hire you.'"
"Barratt claimed to be shocked by the school's action," noted MassResistance, "But it appears that he was purposefully dishonest. He told the Boston Globe that he was raised a Catholic and that he was informed by school officials during the interview process that employees are
expected to follow Catholic doctrine.
However, he did not tell the school that he was openly involved with homosexual behavior and was in a 'gay marriage.'"
MassResistance regards the case as "the beginning of the homosexual movement's legal assault on conservative churches, particularly Catholic, that have steadfastly refused to modify their religious convictions and comply with the homosexual movement's demands on society. Up until now they've been largely left alone. But that is about to change."
As the Boston Globe noted, "Barrett's complaint, which may be the first of its kind in the country, comes at a time when religion-based schools in the increasing number of states where gay marriage is legal have been scrutinizing hiring and firing practices to ensure they conform with the pillars of their faiths"
"School administrators," the Globe reported, "have been fired from Catholic schools and universities in Arkansas, California, New York, and Washington, among other states, after marrying their same-sex partners or announcing plans to do so."
Bennett Klein, the lawyer for the Gay and Lesbian Advocates and Defenders (GLAD) filed a complaint with the Massachusetts Commission against Discrimination, asserts that "Our laws carefully balance the important values of religious liberty and non-discrimination. When Fontbonne Academy fired Matt from a job that has nothing to do with religion, they came down on the wrong side of the law." It has
everything
to do with the free practice of religion.
"We're seeing religion-affiliated entities more and more trying to push the line toward discriminating against gay, lesbian, and transgendered people," said Klein.
No, it is the homosexuals who are pushing the line against religious groups who believe that their belief in God and their faith precludes the destruction of the construct of marriage is a sin against mankind and society.
It is 3% of the population demanding that 97% toss aside their faith and their values to accommodate the aberration called homosexuality. And, yes, it is an aberration because homosexuality cannot be interpreted as "normal" in any species.
MassResistance correctly says "This is madness and should not have any legal leg to stand on."
If the homosexual assault on values and practices that have existed for centuries in the Catholic Church and in other religious faiths succeeds, the whole of our society will suffer for it. The Supreme Court decision to legalize abortion – murder – has resulted in the deaths of millions of unborn children who had a right to life.
Now, in Massachusetts and other States where same-sex marriage is deemed to be legal, the whole of the nation's defense of marriage is under assault.
© Alan Caruba
---
The views expressed by RenewAmerica columnists are their own and do not necessarily reflect the position of RenewAmerica or its affiliates.
---