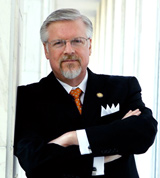 Rev. Mark H. Creech
Why the Christian Action League has not called on the governor to close the ABC stores

By
Rev. Mark H. Creech
April 13, 2020
It may sound a bit hyperbolic to say that alcohol policy is some of the most complicated legislation lawmakers consider, but the statement is not an exaggeration. Every year legislators in North Carolina address it, and even when they seek to make it better in one way, they usually inadvertently make it worse in another. Whether one believes it is acceptable to drink or not, there is no escaping that alcohol is inherently problematic.
The place of acceptance alcohol has in our society is best described as "a beloved enemy." It's a severe threat to public health and safety. It's a luxury that costs us much more than it provides. Nevertheless, the public insists on having their booze.
It's even considered an "essential business" nowadays. One would think that an "essential business" would be something necessary for the common good. At best, no objective argument could be effectively made that liquor is absolutely necessary, or that the so-called good it may bring doesn't come at the expense of most people, even those who abstain. Yet liquor stores remain open in the Tar Heel state during the COVID 19 crisis as "essential," and that just doesn't seem right.
But unfortunately, alcohol, more specifically, liquor, also has that "damned if you do, and damned if you don't" dynamic to it, once embraced. Cities, towns, and counties across North Carolina that voted for a local ABC store have now become quite addicted to the money that liquor sales bring to their municipal coffers. Shutter the doors, and a considerable amount of funding is cut off.
Shutter the doors, and people with alcohol use disorders (AUDs) will likely suffer serious bouts with withdrawal symptoms that endanger their lives.
Max Jordon Nguemeni Tiako and Kelsy C. Priest in an op-ed for the
Scientific American
correctly contend that "[f]orward thinking about how to reduce harms to people with AUD is critical" during the pandemic. They write:
"Because so few people have access to medications for AUD, access to alcohol becomes a matter of life or death. If alcohol is unavailable, particularly liquor, people may find alcohol from other unsafe sources, specifically non-beverage alcohol ([NBA], e.g., rubbing alcohol, mouthwash, alcohol-based hand sanitizers). A particularly dangerous NBA is car coolant, which can lead to renal failure and require admission to the intensive care unit (ICU).
"Withdrawal from alcohol is also dangerous, and can result in tremors, hallucinations, and seizures that can progress to requiring admission to the ICU, and may ultimately lead to death. At the same time, predictive models show that 5 percent of COVID 19-infected patients will require hospital admission, while 2 percent will require ICU admissions. As hospitals become strained from the surging number of COVID 19 patients, preventing and mitigating the risk of additional ICU admissions is paramount."
According to AA-Carolina.org, the people in North Carolina who suffer from alcohol addiction and abuse is no small number. It's more than 450,000, and nearly 40,000 of them are teenagers.
Of course, one could also argue allowing liquor stores to remain open amid isolation orders works in some ways to exacerbate alcohol-related harms. Media reports say that alcohol sales are booming during the pandemic. Nationwide, the purchase of spirits is up by 75 percent. The Charlotte Observer reports that Mecklenburg County ABC store sales are up by 29 percent. One way that people are getting through the crisis is by turning to booze.
God help the family members who are stuck in a house, sheltered in place, with someone who has a drinking problem. It can be a living hell – especially when that individual is drinking to cope – the arguments – the spousal and child abuse (both emotional and physical) – the domestic violence, etc. Accessibility to liquor in times such as these only works to make such problems worse than they are already.
Someone might also legitimately contend keeping liquor stores open creates a scenario that puts people who abuse alcohol at higher risk of not being able to fight off the coronavirus. This is true! Drinking alcohol in large quantities not only undermines the immune system, but has a dehydrating effect on the body. In the midst of a world-wide pandemic, the immune system needs to be strong, and the body needs to be well-hydrated to fight off infection.
There is still one other consideration. If ABC stores were not open at this time, it would likely intensify the demand for online sales of liquor. Online sales of liquor can be very dangerous because the products can be fraudulent or tainted, and the research shows they often end up in the hands of minors. Liquor, which is generally higher in alcohol content, and has more potential for harms, doesn't need to be widely available over the internet. Good regulation and control doesn't afford that kind of easy accessibility.
Close the liquor stores because they aren't "essential"? Yeah, they actually are non-essential! But we're damned if we close them and damned if we don't. And it isn't clear which solution balanced with a primary objective of protecting people from the spread of COVID 19, if applied only temporarily (as it would be), could simultaneously have the most significant impact on minimizing alcohol-related harms.
Thus, the complicated nature of alcohol policy. Thus, the no win-win scenario for our society's embrace of alcohol, our nation's beloved enemy.
For these reasons, the Christian Action League has not called upon Governor Roy Cooper to close down the liquor stores during the pandemic. However, the League did join with other pro-life groups in calling upon the Governor to shutter abortion clinics, which are definitely non-essential! If the Governor isn't willing to shut down an abortion clinic, surely he isn't going to close any ABC stores, even if closing the ABC stores were a clear reason for saving more lives during the current emergency.
© Rev. Mark H. Creech
---
The views expressed by RenewAmerica columnists are their own and do not necessarily reflect the position of RenewAmerica or its affiliates.
---