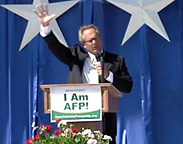 Jake Jacobs
Justices Scalia, Thomas & The Supreme Judge of the World!

By
Jake Jacobs
February 22, 2016
What a contrast....between Worldview principles of LIFE vs. a Worldview of Death.....In 1991 then Senator Joe Biden(2nd pic) angrily attacked Judge Thomas and his belief in the Declaration of Independence's "laws of Nature & Nature's GOD" called our Creator, Divine Providence and the Supreme Judge of the World, in that wonderful 1776 document...
The pro-death, or so called "choicer's" lobby led by Ted "Chappaquiddick" Kennedy & Joe "I'm a good Catholic" Biden try to destroy Thomas with ugly and vile attacks on his character...if a Republican would have done what he did to Thomas, the media hounds would have shouted from the roof-tops, "the GOP is racist!"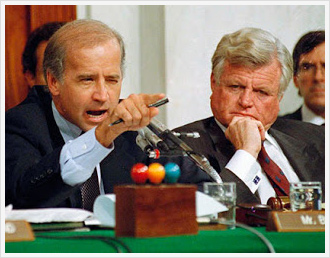 Look @ the 1st pic from Justice Scalia's funeral on 2/20/2016 A.D.
SCOTUS Justice Thomas is reading from the WORD OF GOD....which is the source of Ultimate LAW given to humanity through Moses, the Hebrew Prophets and the Jewish Apostles....We are truly in a crucial year for America as there are VERY corrupt & powerful forces that want to accelerate the demise of our REPUBLIC under our Creator...
READ this short article: NAZIS, NUREMBERG & the LAW of GOD...http://www.wnd.com/2007/04/41028/ In it you will find the ultimate source of LAW for all Nations. This next SCOTUS appointment will be a profound one, affecting America for a long time. Will our Limited government representatives stand up to those who would deny the Declaration of Independence?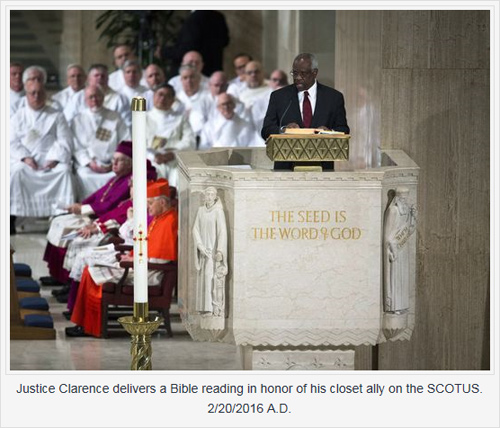 © Jake Jacobs
---
The views expressed by RenewAmerica columnists are their own and do not necessarily reflect the position of RenewAmerica or its affiliates.
---