Frank Maguire
Our new national anthem: "So Opaque You Can't See"

By
Frank Maguire
June 1, 2010
The alternate domination of one faction over another, sharpened by the spirit of revenge, natural to Party dissension, which in different ages and countries has perpetrated the most horrid enormities, is itself a frightful despotism. But this leads at length to a more formal and permanent despotism. The disorders and miseries, which result, gradually incline the minds of men to seek security and repose in the absolute power of an individual; and sooner or later the chief of some prevailing faction, more able or more fortunate than his competitors, turns this disposition to the purposes of his own elevation, on the ruins of Public Liberty.
From
George Washington's Farewell Address
We all know that the "Peter Principle" is the axiom that persons, in this case Congress, "rise to the level of their incompetence." Sadly, if those we elect are incompetents, then what does it say about our incompetence in having elected them?
I was recently listening to Phoenix, Arizona's (KFYI 550 a.m.) Barry Young and he had some interesting revelations. We know that one "Republican" (with a voting record 70% Democrat) voted for ObamaCare. The RINOs name is Cao, and he was elected to replace the crooked Looziana congressman William Jefferson who was taking money for special favors, and pandering for bribes. Yawn?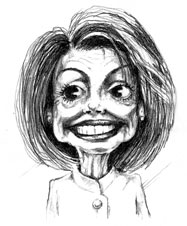 Well, Talker of the House Nancy (the non-pellucid) Pelosi said, after the vote, that the passage of ObamaCare by the House was "bi-partisan." Meaning 219 Democrats and 1 Republican had voted for it.
Young also said that though there were 39 Democrats who voted against the bill, this bunch of vandals had been "freed-up" by Pelosi to vote in their own best interests (after the necessary 218 votes needed for passage was assured), giving primary consideration to their re-election vulnerability in their own district.
These are the self-preserving, pragmatic Partisans who, allegedly, represent America. Above, I called them "vandals." So, what is a vandal? The Oxford Dictionary defines a vandal as "a person who deliberately destroys or damages public or private property." Deliberately destroying this "public" nation of the people, for the people, and by the people for partisan preservation and personal gain is, in my book, flagrant vandalism.
Then, Young played the comments of some 'Bama D'crat who was asked "where in the Constitution does it give Congress the power to mandate that the citizens must buy health insurance?" This incompetent doofus hemmed and hawed and finally came up with "well, all citizens are entitled under the Constitution to health and welfare." Young then pointed out "just as a starter, the word 'health' is nowhere to be found in the Constitution."
To be meticulously bi-partisan, Young then played a clip from Ohio Republican John Boehner, spoken at a Tea Party rally. Boehner "dropped a can" (the Britishism for "pulled a boner");"I have here in my hand a copy of the Constitution. It makes it clear that all men are created equal and 'endowed by their Creator with life, liberty, and the pursuit of happiness.'" It makes...what clear? What, Mr. Boehner is "It?"
Barry Young retaliated with "Well, I have my copy of the Constitution in my hand also...but...but, congressman Boehner, what you recited is not from the Constitution, it is from the Declaration of Independence." Boehner had better bone-up on his civics. Not only has congress not read the flaking Obamacare magnum opus, but they obviously have not read the Constitution. There you have it, America. It's called "progressive change."
(
Artwork by Thom Maguire
)
© Frank Maguire
---
The views expressed by RenewAmerica columnists are their own and do not necessarily reflect the position of RenewAmerica or its affiliates.
---