Frank Maguire
An essay on the human race

By
Frank Maguire
June 17, 2010
"Contrary to the belief of evolutionists, there is actually only one race — Adam's race. And Adam's race includes 'black' people, 'white' people — all human beings, everywhere."
Evolutions Racist Roots: Darwin's Plantation
, by Ken Ham and Rev. A. Charles Ware, Master Books, P.O. Box 726, Green Forest, AR 72638.
In the late 70's, I was back in college completing my music degree and working toward a second degree in writing. One day, that turned out to be quite educational, I was in an advanced history class. The professor was a woman I knew well and whom I respected for her character and intelligence. Her name is Barbara Hoffman, now retired.
On that particular day, we were discussing the Civil War or what the Confederate states call the Second War for Independence. If your position is that the essential cause of the war between the States was States' rights as originally agreed to in the U.S. Constitution, then you can have some tolerance toward the Confederacy.
If, on the other hand, you placed opposition to the inhumane, hypocritical institution of slavery, and the words of Jefferson (et al) Declaration of Independence, i.e., that "all men are created equal and endowed by their Creator with certain inalienable right...life, liberty, and the pursuit of happiness" above all other considerations, then you would disregard the Confederacy's right to secede position. (See Note at end of article: The Crittenden Compromise.)
Such were the questions raised in Dr. Hoffman's course, and were presented in the text used. As I recall, there were four Black members in the class of about twenty students. At one point, debate became heated. The Black students chose to listen rather than engage in the debate. Judicious discretion is, sometimes, "the better part of valor." Wisdom is not always displayed
fortissimo
on one's wind instrument.
The text displayed no sympathy for the position of the Confederacy. Uniformity under Federal hegemony was justifiable, a position that one would expect. The Civil War had settled the matter, and the United States had been born. A bloody birth indeed!
The issue over which I objected, that created a display of belligerence, had to do with the text's assertion that Blacks are valued contributors to American culture
"because of...
." The content that irked me, caused my objection, was that Blacks are
"extraordinary athletes and they invented jazz
." I found this cliché to be not only objectionable, but typical of the patronizing attitude of the white "liberal." Following is how the debate proceeded.
"Dr. Hoffman
," I interjected,
"this is supposed to be an upper level history class. Why is this condescension of any value? Are Blacks supposed to be pleased that the white race accepts then for such superficial reasons as their perceived relative athletic superiority
?" Needless to say, there was a moment of stunned silence.
I, a music major, and a professional jazz musician for many years, added,
"And Blacks did not invent jazz."
I presented a discriminating (not discriminatory) definition of jazz. The scatological word
"jazz"
is the unfortunate term for the unique style of music produced by Black musicians. But the essential component of jazz is improvisation and syncopation. I explained that these musical devices exist in the folk music of all nations, and was practiced in what we call "classical" music produced by European composers." (Carl Philip Emmanuel Bach [1714-1788] cautioned
"Improvising must not be technical virtuosity with scale-runs and arpeggios dominating the piece. Improvising to be worth anything good, must come from the Soul."
Seems like "soul music" antedated "jazz?" (See note below) There is no question that African peoples-groups did create complex, skillfully-crafted rhythms, and applied them in their music.
This is when the dynamic level went to double-forté. One female theater-arts student, enraged at my comments, jumped to her feet and berated me as some sort of crypto-racist. The rest of the class kept silent. The battle line had been clearly drawn.
It was impossible for me to be angered by her
ff
diatribe, for she was advancing my argument. When she had had her say, I made my summation, thanking her for aptly describing the "White-persons-burden" position — essentially racist — held by those who call themselves "liberals."
I offered that Blacks don't need a defense by Whites in order to be considered worthy members of the human race. They don't need such a misguided defense of their full humanity. Blacks are G-d-created, as are we all, and are to be valued by that fact alone (
Genesis 1:27
"So God created man in His own image, in the image of G-d He created them; male and female, He created them.")
The attitude that Blacks justify their human worth by their athleticism and musical contributions if persisted in can only perpetuate racism.
The hour-long class ended on this note. With a dissonance of harmony and an unresolved tension! The students had heard my canon for classical-liberals (i.e., "conservatives") and her fantasy for "'liberal' progressives."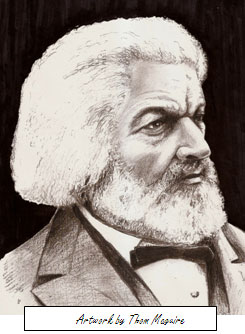 Years later, I was fortunate to have come upon the enlightening wisdom of Frederick Douglass, former slave, and superlative intellect, in his Narrative of the Life. After reading his autobiography, essays, and speeches, I had one, deep regret — that I had not read his wisdom thirty years earlier.
Here, I share with you some of Douglass' unquestionable wisdom. In his essay
"The Color Line
," Douglass makes the point I was trying to make in that history class. Douglass' knowledge and eloquence is infinitely superior to my own. But my commentary, a weak echo of his own, matches his perfectly. Douglass wrote (in 1881),
"A good but simple-minded Abolitionist said to me that he was not ashamed to walk with me down Broadway, arm-in-arm, in open daylight, and evidently thought he was saying something that must be very pleasing to my self-importance, but it occurred to me, at that moment, that this man does not dream of any reason why I might be ashamed to walk arm-in-arm with him through Broadway in open daylight
."
I can only hope, had I enjoyed the privilege of being in the presence of Frederick Douglass, that he would have found no reason to be ashamed of my brotherly company.
Note: The Crittenden Compromise,
www.americancivilwar.com/documents/crittendencompromise.html
Note
: Improvising as a Lost Art,
www.community.middlebury.edu/~harris/music.essarys.html
© Frank Maguire
---
The views expressed by RenewAmerica columnists are their own and do not necessarily reflect the position of RenewAmerica or its affiliates.
---