Frank Maguire
Democrat "loyal lap-dogs" and incredulous NRA endorsements

By
Frank Maguire
November 6, 2010
Joshua 1:7
"Be strong and very courageous. Be careful to obey all the law my servant Moses gave you; do not turn from it to the right or to the left...."

"We have a systematic problem in the country and electing a wave of conservatives to federal office is a start, but will not sweep away the predicament. The country's ills are beyond the remedy of ordinary governance."
Monte Kuligowski, "
Out with central control, in with constitutional liberty
"
www.renewamerica.com
(Nov. 5, 2010)
"If y'intend to have a party, political or otherwise, yer guest of honor needs always be God Himself." Deacon Francis of Fermanagh

"As a proud, conservative Hispanic who is deeply offended by Democratic patronization and hypocrisy, I am tired of being viewed as some clueless canine simply waiting for my Democratic master's orders or, worse yet, so ignorant as to not see the way these liberals manipulate, disrespect, and take Hispanics for granted as loyal lap dogs."
Gabriel Garnica
,
www.renewamerica.com
(Nov. 3, 2010)
Arizona completed a virtual sweep, electing non-Democrats to the AZ Senate and House.
One race I was particularly interested in was State Senator incumbent Rebecca Rios, daughter of Democrat power-broker Pete Rios, who ran against newcomer Steve Smith. Why my interest?
Rios' campaign signs declared that the police, fire department, and NRA endorsed her. Well, almost! The NRA did endorse her. More on this, later.
And, as I expected, because I've seen the ploy often, it was the police and fire
unions
that supported her. Given that Rios was trounced, I would guess that a ratio of real policemen and firemen equivalent to percentage of the general population of voters, voted for Smith and against Rios. After all, though one is forced to assume that union officials are not conscience-plagued because their Party of preference advocates and pushes a thoroughly secular-humanist agenda, it is perfectly reasonable to assume that some of their dues-payers might be obedient Christians and, perhaps, even Republicans.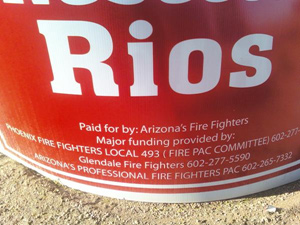 I tested a few policemen and firemen not with the question "Are you supporting Rebecca Rios?" for that was none of my business, but with "Do you always vote for those candidates endorsed by your union?" As expected, I got about 50-50 response, though the policeman was more likely to answer "No."
My wife Helen and I are registered Independents. Helen is Hispanic. Her father was born in Spain, and her mother, a Mexican-Yaqui was born in Roosevelt, AZ., when the Dam was being constructed. We had been inundated with campaign calls, some of which are especially relevant.
I'll start with the call we received (recording) from Rebecca Rios on the eve prior to the election. Ms. Rios explained to us why we should vote for her. Well, actually, she explained why we should vote against Mr. Smith. The reason? "He is a liar." That was about it. "Vote for me because he is a liar."
Another phone call that gives you a hint as to what was going on here in AZ was at least a "live" call. There was a person there. Helen answered the phone. "Hello, Mrs. Maguirre. I'm calling for (
groups cited in subsequent paragraph
) and I'd like to ask you what is your feeling about AZ. Senate Bill 1070?"
I heard Helen chuckle. She said, "First, my name is Maguire...like 'mag' and 'wire.' It isn't Mah-gui-ray, like the Spanish name Aguirre." Helen then added "I'm Hispanic, a native Arizonan, and I fully support AZ HB-1070." She went on to give the young, male caller — who said he is a citizen but many of his friends are "undocumented" — a lesson in civics.
We received more calls from groups like "One Arizona," "Arizona Center for Empowerment," "Mi Familia Vota," and others, including CASE: Central Arizonans for a Sustanable Economy, a Hispanic anti-SB 1070 organization whose board includes Stan Chavira (Chairman), who is Community Affairs Director, United Food and Commercial Workers Union Local 99, and Gail Gabler, Director of Representation at
SEIU
, the Service Employees International Union.
Obviously as Independents, with an unpronounceable name thought to be Hispanic, we had made some shared list.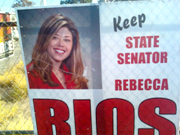 So, back to the cute but now lame-duck Arizona State Senator Rebecca Rios. She had served as Arizona State Senator for District 23 since 2004. She was the Minority Whip. She had also been a member of the Arizona House of Representatives from 1994-2000.
Arizona District 23 encompasses the wealthy communities of Fountain Hills and Scottsdale on the north, down through Phoenix to the AkChin (Pima) Indian reservation on the eastern boundary, southward through farmland towns with large Hispanic populations, Florence (location of the massive Arizona Department of Corrections prison), Casa Grande and my own unincorporated community of Arizona City. The District's southern boundary is a few miles north of Tucson, home of the University of Arizona.
The District 23 demographic has a voting-age population of "White," 49.95%; Hispanic, 34.59%; Native American, 8.85%; "Black," 2.85%; Asian, 0.66%; and Other, 1.07%.
The unemployment level is 9.5%,
the Median Per Capital Income is $13,932, and the population of Poverty Level is 20.4% (
The unemployment figure is somewhat deceiving because on some Indian reservations the unemployment is around 30%.)
Rios had the endorsement of the National Rifle Association. Why? Because she did such a great job? By Rios' own admission, she had missed 63 votes "mostly because she was in Washington D.C., advocating (lobbying ?) for job-creating policies." Rios didn't need the NRA endorsement, but she didn't want to see the NRA endorse her social-conservative, Republican opponent.
Curiously, Rios interest on "gun issues" recently elevated. The NRA gave her an
A-
rating in 2010. Her rating in 2008 was
B
. In 2006 she was assigned a
0
(zero).
The Arizona State Rifle Association Political Victory Fund gave her a
42%
in 2004. And, in 1998, based on a questionnaire and the votes considered to be the most important, the National Rifle Association Political Victory Fund assigned Rios an
F
. Seems that Rebecca is good at adjusting based on the prevailing winds.
The nominally-Catholic Rios received from
Planned Parenthood Advocates of Arizona
(PPAofA) a 100% rating in 2010, a 60% in 2008, a 100% in 2007, and 100% in 2005. The pro-life organization
Arizona Right to Life PAC
assigned Rios a 0% in 2005.
The Rios family has represented this Pinal County area for three decades. Until now, this region has been considered a safe-district by the Democrats. Rebecca Rios is wise to the reality that in Arizona it is not politically healthy to be seen as an opponent of gun rights. An actual endorsement by the NRA was seen to be a positive.
Here, I skip to Nevada and Harry Reid and the NRA support of Reid. Reid, like Rios, is a Progressive Democrat with a long history of voting against all social issues that conflict with the Progressive agenda.
So, why did the NRA endorse politicians like Reid and Rios? The rationale was cited by NRA
panjandrum
Andre Arulanandam. "(The NRA is)
always one bad incident away from politicians like Chuck Schumer and Dick Durbin exploiting the agenda of gun control."
This is patently absurd — a dissembling disguise. The NRA is obviously unconcerned with the moral-social issues. My response to such nonsense is that NRA places the 2nd Amendment above the 10 Commandments.
Reid endeared himself to NRA when he earmarked a $61 million "pork bill" for the Clark County (NV) Shooting Park, which led the chief executive officer of the NRA Wayne La Pierre to call Reid "a true champion" of the Second Amendment.
Politico.com
points out that Reid has been a
"down-the-line liberal since taking over the leadership of the Democrat Party in the Senate
." Contrary to La Pierre's glowing praise of Reid, the Senator from Nevada was one of the principal supporters of the Brady Bill.
It is absurd for the NRA to believe that assisting persons like Reid and Rios will keep the Democrats in line with the 2nd Amendment. Reid is essentially a Left-wing, Progressive Democrat. Were the Democrats able to get a strangle-hold on our government, they would make the 2nd Amendment one of their main targets. Reid and his Progressive Democrat colleagues would undoubtedly join forces against the 2nd Amendment.
It is incredulous to think that the NRA doesn't seem to understand this potential inevitability — foolish to think that Democrat politicians, like Reid and Rios, who are four-square Obama Progressives, favor the original-intent position of conservative Republicans.
This begs the legitimate question "What is the real agenda of the NRA? Self-preservation at any cost?"
Since I oppose the social agenda of politicians like Rios and Reid, an agenda that doesn't seem to trouble those at the NRA, I am surrendering my NRA membership. What other NRA members choose to do is between them and their conscience.
Politico: NRA on firing line over Reid, by Manu Raju and Jonathan Allen


"Out with central control, in with constitutional liberty," Monte Kuligowski, www.renewamerica.com (Nov. 5, 2010)


ONE Arizona, www.wpusa.org


"We are not Pavlov's Chihuahuas!" by Gabriel Garnica, www.renewamerica.com, Nov. 3, 2010


"Rios dynasty threatened by tough GOP challenge," Arizona Capitol Times, by Luige del Puerto, Oct. 13, 2010


Project Vote Smart http.www.votesmart.org


© Frank Maguire
---
The views expressed by RenewAmerica columnists are their own and do not necessarily reflect the position of RenewAmerica or its affiliates.
---