Marielena Montesino de Stuart
SPECIAL REPORT: Francis: First "Pope" to have favored homosexual civil unions

By
Marielena Montesino de Stuart
March 20, 2013
Special edition of
Clarín
, Argentina's largest newspaper, with a special report by Bergoglio's biographer, Sergio Rubin
.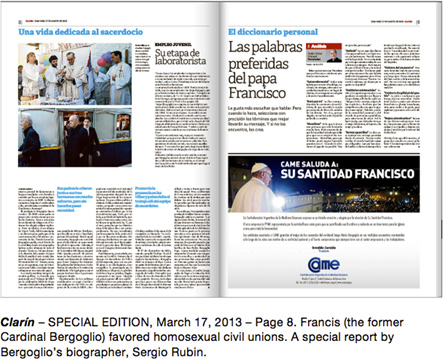 Francis, the first Cardinal from the Western Hemisphere to be elected as a successor of St. Peter, is being painted as a staunch conservative and traditionalist, mostly in Europe and the United States.
I have been saying from the first moment, that such reports are inaccurate,
based on Bergoglio's record
.
Since Wednesday, March 13, when the former Cardinal Bergoglio received the majority of votes in the Conclave and became Francis – I immediately began to report on his background, providing detailed information, which shows Bergoglio's betrayal of sacred and non-negotiable Roman Catholic traditions and teachings.
http://romancatholicworld.wordpress.com/2013/03/13/francis-i-jorge-mario-bergoglio-a-jesuit-from-the-end-of-the-world/
http://romancatholicworld.wordpress.com/2013/03/16/the-erosion-of-solemnity-francis-banters-about-exchange-with-cardinals-inside-the-conclave/
Clarín
is Argentina's largest newspaper. On Sunday, March 17
Clarín
published a special edition on Francis and his life, leading up to his last day as Cardinal Jorge Mario Bergoglio, of Buenos Aires.
Bergoglio's biographer, Sergio Rubin, wrote a special report in the aforementioned edition of
Clarín,
outlining (on page 8) how Bergoglio had shrewdly approached the issue of gay marriage, by taking a "moderate" approach in support of homosexual civil unions – and instructing his peers to do the same. The Episcopate of Argentina (the equivalent of the USCCB) opposed him – and Bergoglio was forced to confront the issue.
This is unprecedented – and makes Francis the first "Pope" to have favored homosexual unions.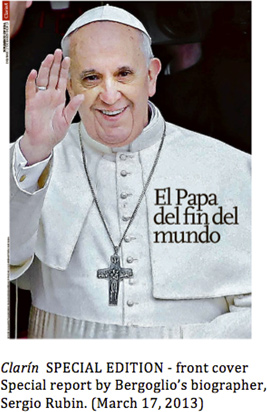 The following is a translation of the original
Clarín
text in Spanish:
TRANSLATION INTO ENGLISH by Marielena Montesino de Stuart. [My comments appear inside brackets]:
"Bergoglio became the leading exponent of the moderate wing of the Church in Argentina, after a long conservative dominance. Bergoglio applied great political shrewdness and distanced himself from reactionary policies
[traditional / conservative policies]
and proposed to his peers an accommodating attitude when approaching the debate over the gay marriage law. He believed, first, that Kirchner
[Argentina's president]
would resort to everything, by any means possible, in order to pass the law. On the other hand, he thought that a tough stance by the Church would be counterproductive. This is why he favored the acceptance of civil unions and a moderate approach. However, this was the only time he lost a vote in the Episcopate. The hardliners won
."
ORIGINAL TEXT IN SPANISH:
«Bergoglio se convirtió en el principal exponente del ala moderada de la Iglesia argentina después de una larga hegemonía de los conservadores. De gran olfato político y distante de las posiciones reaccionarias, propuso a sus pares una actitud contemporizadora cuando se avecinaba el debate por la ley de matrimonio gay. Creía, por un lado, que Kirchner haría todo, apelando a buenas y malas artes, con tal de que se aprobara la ley. Y, por el otro lado, pensaba que un discurso duro de la Iglesia iba a ser contraproducente. Por eso, se inclinaba por la aceptación de la unión civil y por un discurso moderado. Sin embargo, fue la única vez que perdió una votación en el Episcopado
.
Ganó la posición dura
.»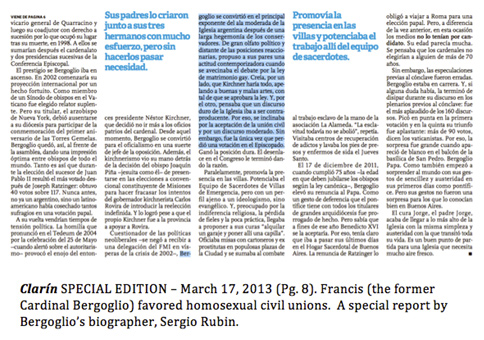 Special issue of
Clarín
in PDF:
http://contenidos2.clarin.com/edicion-electronica/20130317/index.html#/1/zoomed
Also available here:
THE POPE FROM THE END OF THE WORLD – EL PAPA DEL FIN DEL MUNDO – EL CLARIN, BUENOS AIRES, ARGENTINA
© Marielena Montesino de Stuart
---
The views expressed by RenewAmerica columnists are their own and do not necessarily reflect the position of RenewAmerica or its affiliates.
---