Marielena Montesino de Stuart
American taxpayers, U.S. bishops and Cuban sex change operations

Castro's "New Man" now wants to be a woman

By
Marielena Montesino de Stuart
October 17, 2013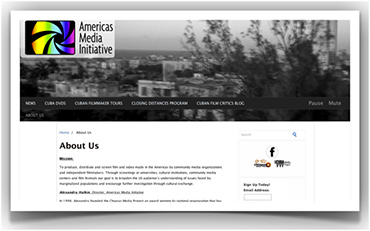 The Cuban government is paying for sex change operations, while the USCCB (U.S. Conference of Catholic Bishops)
blames
Cuban poverty and the abysmal state of socialized health care, on the
symbolic
U.S. embargo.
Meanwhile, a Cuban filmmaker is conducting a tour across America, to promote her film about a man who underwent a government-funded sex change operation in Cuba:
Cuban director discusses new film in campus visit | The Daily.
The U.S. promotion of this Cuban filmmaker's "tour de force" is carried out with the support of Americas Media Initiative – which is funded
in part
by various foundations, including the Ford Foundation, and individual donors:
About Us | Americas Media Initiative.
And where does
the other part
of the funding for Americas Media Initiative come from?
The American taxpayer?
Check out Americas Media Initiative's
public record.
Are American taxpayers actually paying for this Cuban woman to promote such a film in front of American college students?
Have they considered changing venues to the Venice Biennale? – which accepts this cinematographic
genre.
If they hurry, they may even get a space next to the Holy See's bizarre pavilion, where they can rub elbows with the Vatican's
ultra-modernist Cardinal Gianfranco Ravasi.
Ravasi will find "enlightenment" in just about
anything
.
Here is the public announcement on Americas Media Initiative's website, with the schedule of university campuses included in this tour:
NEWS | Americas Media Initiative
Cuba's Communist government is laughing all the way to the bank, as it lines its pockets with tourism dollars pouring into Cuba from the U.S., as well as from the international community – which has maintained friendly relations with Castro, for decades.
 The "cultural exchange" programs with Cuba are another source of revenue, which helps Castro's criminal government continue its relentless oppression inside the island prison.
Click on this
link
to read the facts about Cuba's government and how it is starving and persecuting the Cuban people, while it fills its coffers.
But the Catholic Church continues to "dialogue" with Cuba's Communist thugs – instead of condemning the hellish reality of the Cuban people, resulting from almost 54 years of communism and atheism.
A reality that includes government-funded operations for Castro's "Hombre Nuevo" (New Man) – who now wants to be a woman.
Someone has to say the truth
...
REFERENCE:
http://non-profit-organizations.findthebest.com/l/1605072/Americas-Media-Initiative-Nfp
PDF of
Americas Media Initiative Nfp Nonprofit – Burlington, Vermont | Form 990, Details
© Marielena Montesino de Stuart
---
The views expressed by RenewAmerica columnists are their own and do not necessarily reflect the position of RenewAmerica or its affiliates.
---