Marielena Montesino de Stuart
Socialists eat caviar

Oh, oui, je me souviens de ces plaisirs... (oh, yes, I remember these pleasures)

By
Marielena Montesino de Stuart
February 13, 2014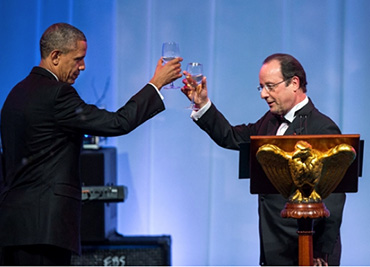 Rue Cler, Paris
I remember the day I walked into a gourmet shop on Rue Cler in Paris' 7th
arrondissement.
The shop owner gave me a taste test of his finest caviar. And because life is nothing but one contrast after another, I chatted with him about growing up during Cuba's Stalinist period – and spending seven months eating garbanzo beans (which I do not touch to this day). My mother became an expert at preparing garbanzo beans in every possible way. Today she would put to shame the most creative chef at
Noma
, in Copenhagen – ranked the best restaurant in the world for its inventive cuisine.
Castro and Caviar
While we were surviving on garbanzo beans, Fidel Castro was eating Russian caviar. Yes caviar – with his former eastern block comrades – and the usual repulsive entourage of European and Latin American socialists.
So I am not shocked by the
White House State Dinner
menu, which included Osetra caviar, the connoisseur's choice of caviar (current market price, approximately $60.00
per ounce
for American Osetra). This prohibitive delicacy, the stuff of Kings, was served to the very socialist François Hollande – who has been rated as the worst president in France's history.
Let's take a look at the menu served to these self-declared martyrs of the proletariat: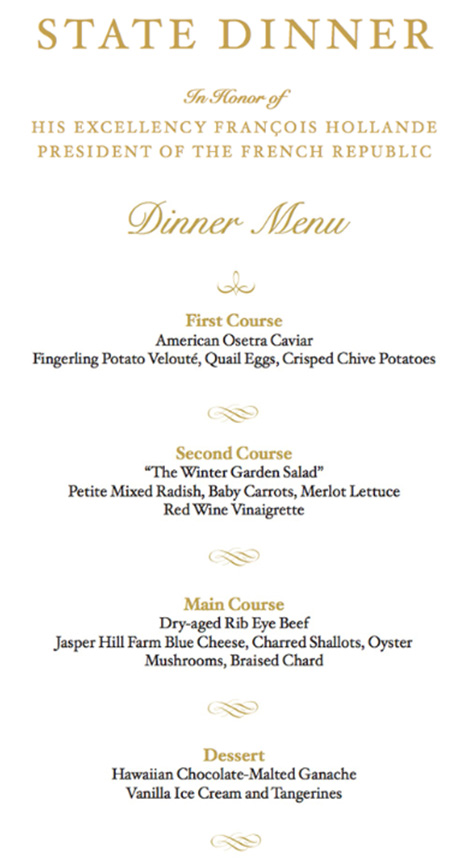 Obama and caviar
As someone who survived communism, I am dismayed by the socialist takeover of America – a country that I love. America is the country that saved my life from the horrors of Marxism.
But President Barack Obama, as a socialist, will continue to enjoy his exclusive caviar – while the national catastrophe continues, with staggering numbers of Americans on public assistance. This scenario is what defines a socialist state.
What are you having for dinner?
Someone has to say the truth...
+++
Please click HERE for copyright terms and conditions, including important instructions, if you wish to quote excerpts of this article.

Please click HERE to submit a comment.
© Marielena Montesino de Stuart
---
The views expressed by RenewAmerica columnists are their own and do not necessarily reflect the position of RenewAmerica or its affiliates.
---