Desmond McGrath
Colin Kaepernick, Nike's indentured poster boy Marxist.

Another useful idiot for the Globalist Elite.

By
Desmond McGrath
July 6, 2019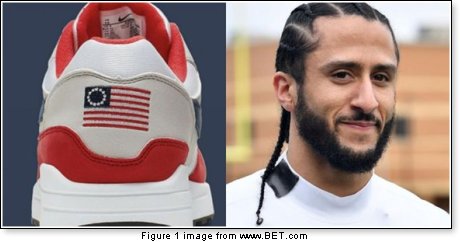 I thought long and hard about that title, wondering what my late friend and Civil Rights Champion,
Lanier Phillips
would have to say about it. In final analysis, I am convinced Lanier would have also disagreed with Colin's stand on the Betsy Ross flag, as Lanier's message was always one of charity, love, compassion and acceptance while Colin's is one of greed, anger, grievance and derision.
The real irony of Colin's stand is that Nike's footwear is all produced outside the USA: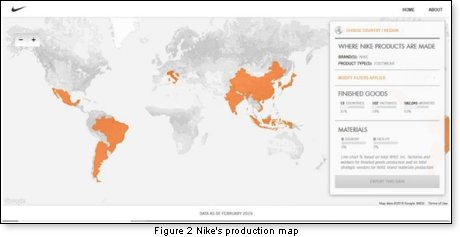 Even more ironical, is when you compare the source of Nike's production with the map of the current Global Incidence of Slavery: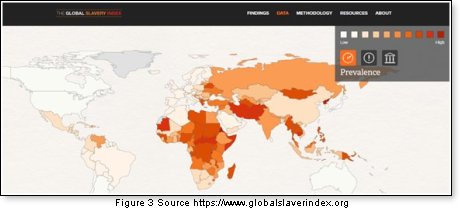 The
Clean Clothes Campaign
found in 2016 that in Indonesia, where Nike has 39 finished goods factories and nearly 200,000 workers, the minimum wage was $95.50 per month, but workers surveyed said they would need $310.24 to meet their basic needs. Oh; the Irony of Colin's command performance.
Did Colin Kaepernick Force Nike to Cancel 'Offensive' Betsy Ross American Flag Sneakers?
Or did Nike use the economic chains that they have enslaved him with to entice him do a command performance to enhance their bottom line? Consider the Mercury News Article:
Nike rakes in $3 billion after Colin Kaepernick calls foul on shoe
Originally $120, Nike's Betsy Ross Flag Air Max 1 USA is fetching $2,500 – if you can find it.
If you read the Fox Business article:
Colin Kaepernick and Nike: A timeline of ex-NFL QB's relationship with brand
By Thomas Barrabi, July 03, 2019, it can cast seeds of doubt. Did Kaepernick choose his well remunerated activist's path as an escape hatch or golden parachute from his floundering career? (Lanier Phillips rejected monetary enticements that were used to dissuade him from becoming the US Navy's first Black Sonar Technician) Did Nike pull off a PR Coup to divert attention from the impoverishment of those who slave away well below living wages producing foot ware for them? The goal being to maximize Nike's profit enabling Nike to handsomely reward Kaepernick for his Indentured Servitude diverting the attention away from the real present day of issue of sweatshops, made anywhere but in America and the approximately 35 million currently enslaved worldwide, via stoking up false grievances over America's Founding?
We may never know the true story, but Kaepernick is no latter day Mahatma Gandhi weaving his own clothes nor Nike,
Mother Teresa's Missionaries of Charity
, tending to the human debris of Globalization; they are both addicted to large sums of money, the socioeconomic crack of the 22nd Century.
"I saw the best minds of my generation destroyed by madness, starving hysterical naked, dragging themselves through the negro streets at dawn looking for an angry fix"
― Allen Ginsberg, The Howl
It does not matter If Kaepernick yanked Nike's chain or Vice Versa, the resulting howl diverts attention from the real slavery that Nike clandestinely promotes outside America.
Former NFL Star Burgess Owens hit the nail on the head:
Colin Kaepernick is a 'Marxist, Pro-Cuba Communist'
. The real irony of Kaepernick's praise of Castro and Cuba is that
Fidel's Chief Executioner Che Guevara was a Sadistic Racist
, who said "The negro is indolent and lazy, and spends his money on frivolities, whereas the European is forward-looking, organized and intelligent."
The controversy over the Nike Sneakers and the Media's refusal to provide live coverage of President Trumps July 4th speech have a common goal in undermining the President and the country by causing chaos. The American Thinker article
The Left's Endgame Is Not Chaos. It's Worse.
By Robert Vincent, July 3, 2019 (Please Read) attributes all the noise and chaos since 2016 as a diversion:
First, at present, leftists want to create a state of political cultural chaos in the U.S. for a specific reason. They need chaos as a smokescreen to defend their current leaders – that is to say, Obama, Hillary & Co. – from prosecution. Make no mistake: Obama, Hillary, and their cohorts committed some serious crimes of an unprecedented nature for people at their level. We executed Julius and Ethel Rosenberg for far less. Their degree of culpability is suggested in an October 2016 email from Hilary Clinton to then DNC Chair Donna Brazile, revealed by WikiLeaks, in which Hillary shrieked to the effect that "if that f –––––– b ––––––– wins, we're all going to hang from nooses. You better fix this s––– !"
The end game is:
Writ large, what the self-styled "progressive left" is selling amounts to a modern version of feudalism, in which a self-appointed elite, whose status is maintained by the promotion of a self-serving "progressive," neo-Marxist dogma, is anointed to tell the rest of us peasants how we must live our lives, not unlike the Divine Right of Kings. The Rest of Us will be compelled to create wealth for them, as they enjoy an opulent existence without earning it; the likes of Obama, Hillary, Macron, Merkel, etc., couldn't produce something genuinely useful if their lives depended on it. In their world, over-educated uselessness becomes a virtue, as they are simply "above" having to produce anything. It certainly beats actual work.

That is what the Left wants. It isn't chaos. It is integration into global feudalism. In the end, if they are "successful," American society will be saddled with a permanent belligerent parasite immigrant class (brought about by "open borders"), a greatly reduced standard of living for most citizens, our Constitution made an irrelevant relic, Islamism unbound, and subservience to a China-dominated world.
So; in reality, Colin Kaepernick, despite trying to be a social justice warrior, is just another "Uncle Tom" for the feudal slave masters of the New World Order, who was unable to produce as a quarterback. A useful idiot who turns a blind eye to
the oppression in Cuba
, Venezuela and his globalist overseer's overseas plantations. He is not a social justice warrior trying to lead by example but part of the well-paid race huckster elite who are paid handsomely to keep his fellow black Americans on what Star Parker calls
"Uncle Sam's Plantation"
. His protest against the Flag of the American Revolution denies the real roots of the Declaration of Independence: Independence from Feudal Tyranny; while he is well paid as a Judas Goat leading us back to the very Feudal Slavery the Betsy Ross Flag represents America's hard-won victory against.
Reporting from the Athens
-
Boonesboro Turnpike
© Desmond McGrath
---
The views expressed by RenewAmerica columnists are their own and do not necessarily reflect the position of RenewAmerica or its affiliates.
---