Jen Shroder
Revelation 12: A Gentile woman travailing

By
Jen Shroder
May 24, 2011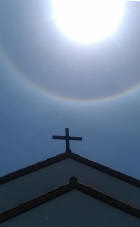 I wrestled with writing the following, I finally wrote it this morning but knew I couldn't post it. So I went to church where the pastor kept emphasizing that whatever God tells you to speak, SPEAK! Whatever God tells you to do, DO! Moments later after the sermon, someone said LOOK UP! Directly over the church and behind the cross was the only other halo I've ever seen. I had written about the first halo that morning (below). It was a supernatural halo 25 years ago, one that I am now very concerned was "a crown of twelve stars. "
A second halo when I was in such prayer for direction is enough. It's time to post.
---
It's not my job to convince people. All I'm required to do is admit it. If it's God's purpose to do anything with it, He will. It's all in His hands (thank God!)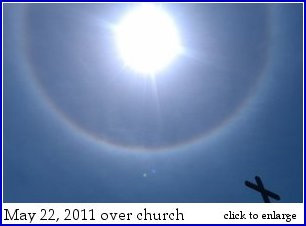 Bible scholars that I've come to respect believe that the Revelation 12 woman is Israel and her child is Christ. Their conclusion makes sense and I like to believe it, but something happened to me 25 years ago and in the years since that remind me of what the Bible describes.
I was "clothed in the sun." You have been too if you ever "bathed in the sun." How else would a modest Biblical man describe a person with barely anything on, reflecting the sun? But that's not all. A distinct oval-shaped halo appeared and stretched out over the sky. I mentioned it to the girl laying next to me and we wondered if scientists were "freaking out somewhere," it was so distinct and amazing. I tried to go back to reading a booklet about Jesus but I couldn't stop staring at it, it seemed to be calling to me. I kept thinking, "What? WHAT?" and then I felt drawn to the reflecting lights dancing on the water just past my feet. I had to jump in.
I fought it. My mind was on completely worldly things except for reading this booklet about Christ, a booklet I picked up that day without knowing why. But the calling was irresistible and I finally jumped in, feet first, angry at myself for doing such a thing. My head was under water for only a split second and when I came out, the sky was blackened with bees. I forgot about everything that was happening up to that point and defensively sank back into the water at eye-level as people were diving and scrambling for cover. Bees were everywhere! I didn't notice a single one before jumping in, not one.
I felt horribly ashamed and stunned. Ten years later,
I wrote about it in The Mammoth Times
just because I had an overwhelming sense I was supposed to do something with it. (
more details & source
)
Time passed. I'd like to say I was changed that day, but for a time I continued with my "modern feminist lifestyle," which is more like the woman-at-the-well than anyone pure and holy. It wasn't until this divorced single mom was dragged to a Bible study that God exploded into my life and I was restored.
Years passed. God became so important that I felt drawn to start a
footwashing ministry
. We shared the Gospel, gave away Bibles, prayed for people and washed and perfumed feet at various events. Then one day my son missed a day of school and I picked up his in-class assignment. It invited him to weave his life into other religions. I started
researching his textbook
and was struck by the misrepresentations of Christ and Christians while inviting my son to participate in other religions and worshipping gods. Outraged, I started BlessedCause. Through the website and news media, parents were alerted, CEOs lost their jobs, a corporation lost millions and textbooks were changed. Only God could do all that, only God.
Then one day I asked, "What now Lord? What's next?" and He told me to pay attention to my family even though my sons were now teenagers with little time for me. It was in these days that I read
Revelation 12
, "clothed in the sun...moon under her feet...crown of twelve stars" and for some reason, the halo in the sky, the reflection of that light at my feet, bathing in the sun...that day almost 25 years ago came to my mind.
I wrestled with it. None of my sons were "caught up unto God" so I had nothing to worry about. After all, the Revelation 12 woman apparently misses the rapture and her family is targeted, who could hope for that fate? But over time I looked up some of the Bible words in the original Greek and it fit in so many ways.
Rev. 2:25-29
and
Genesis 41:40
knocked my arguments down and Paul wrote about his own "travailing in birth pains." It didn't necessarily mean what I imagined and what everyone assumes. The word for "birth" commonly used is "gennesis" or "genete," but the word used in Revelation is "odino," and Paul used it to say, "My little children, of whom I travail in birth again until Christ be formed in you..." (Gal 4:19)
So I prayed, "Lord, I'm not
travailing
. I am not pained. This can't be me because I'm just not." And then it hit me, what is my website, BlessedCause, if not my travailing?
(shock) I have hundreds of pages of outrage over blasphemies taught to our children. For years I was unable to stop writing about so MANY affronts even though I was threatened, hacked and my home broken into. Somehow my website has had
dozens of search words on the first pages of Google
that I can't explain but for God. I
have
been travailing and heard worldwide through this website, averaging more than 120 different countries per month. But if what I know about that day 25 years ago has anything to do with prophesies... okay, I admit it, I am petrified. So I block it all out and lead a quiet life but when I sit down to write, it's back again. I can't escape it, this is what I am given to write. That this generation of Gentiles do not understand the magnitude of our sins and yet it is to this generation, so deeply entrenched in Sodom, that Christ offers hope, an escape. The "
great wonder in heaven
" is not a woman clothed in the sun,
the miracle is Christ and what He does
!
"Wherefore gird up the loins of your mind, be sober, and hope to the end for the grace that is to be brought unto you at the revelation of Jesus Christ;" (1 Peter 1:13)

"To whom God would make known what is the riches of the glory of this mystery among the Gentiles; which is Christ in you, the hope of glory." (Col 1:27)


Part II: After church
Before finishing the above, I left for church. After an hour of listening to an
amazing sermon all about doing what God tells us to do
and clinging to my reluctance, I just about fell over when I saw another halo so close and hovering over this little church. A woman near me took a couple of pictures of it with her cell phone from the side and emailed them to me. This kind of halo is created by ice crystals and light, but the halo I saw 25 years ago was in a cloudless sky, it was oblong and white without all the colors so it cannot be explained away. But
today's halo
was enough. How could I write this but now, how could I not?
I believe I am the Revelation 12 woman, not because I deserve it,
far from it
. But because I know it's not from anything I ever did, it's all about Christ and what He has done for us all. It is His mercy poured out for any of us that receive Him. He is the Good Shepherd that laid down His life and picked it up again. He redeemed us, He cleanses us of all unrighteousness and gives us a robe of righteousness and a ring of authority though none of us deserve it, but because of His great mercy, grace and agape love. All glory and power to the Lord most high! God came down in the flesh and paid a debt we could not pay!
The prophesies of Revelation are true. I'm not saying He is coming tomorrow for no one knows the day or hour. But if you have been misled by our public schools into believing this nonsense that all faiths are equal, that there are many ways to God, then you believe Christ suffered the cross for nothing. It's a lie straight out of hell! Christ suffered, died and rose again in three days and three nights. He went through it because there is no other way to be reconciled to Him. It is not intolerance, it is the mercy of God! Christ came for you. Don't miss Him. His arms are open wide!
"For God so loved the world, that He gave his only begotten Son, that whosoever believeth in Him should not perish, but have everlasting life. For God sent not His Son into the world to condemn the world; but that the world through Him might be saved. He that believeth on Him is not condemned: but he that believeth not is condemned already, because he hath not believed in the name of the only begotten Son of God. And this is the condemnation, that light is come into the world, and men loved darkness rather than light, because their deeds were evil." (John 3)

"I beseech you therefore, brethren, by the mercies of God, that ye present your bodies a living sacrifice, holy, acceptable unto God, which is your reasonable service." (Romans 12)


Seek God while you still can.
Receive Jesus Christ and live
.
May God protect our children.
See also
Part I: Study of the Revelation 12 woman
Part II: (replaced) A Gentile woman travailing
Part III: King of my heart
This Silly Woman — as written 25 years ago
© Jen Shroder
---
The views expressed by RenewAmerica columnists are their own and do not necessarily reflect the position of RenewAmerica or its affiliates.
---