Gabriel Garnica
Look who's pointing fingers

By
Gabriel Garnica
June 6, 2012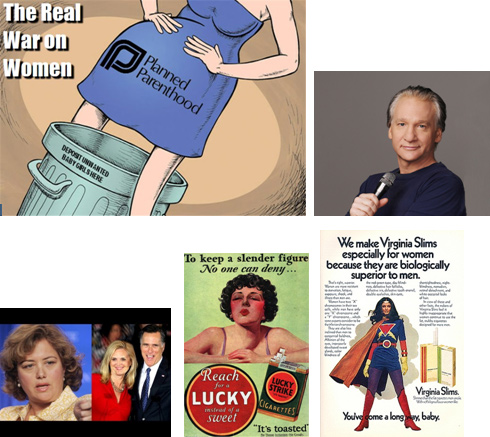 The Smoking Gun
The notion of sinister forces manipulating women through simplistic yet shrewdly marketed and biased media propaganda and hype is nothing new. History shows that the tobacco industry recruited women by portraying cigarettes as a symbol of feminism, independence, modernity, and defiance of men.
http://gender.stanford.edu/people/robert-jackler
and
http://tobacco.stanford.edu/tobacco_main/search_results.php
. Women were lured into seeing smoking as a symbol of their struggle against society and, eventually, to defend that symbol, literally, to the death.
http://archive.tobacco.org/resources/history/Tobacco_History20-1.html
Salvation for a Vote
Many wise thinkers have reminded us that those who do not learn from history are doomed to repeat it, and so we have new sinister forces rallying women around new windmills as symbolized by new emblems and themes. There is no doubt that women have been victimized, and continue to be so, throughout history. There is likewise no doubt that we should muster every effort possible to attack and eliminate such abuse of women. However, common intelligence, rational thought, and decency mandate, indeed beg, that we step back from superficial, twisted, hypocritical, selective and, above all, insulting propaganda which pretends to defend women even while it conveniently ignores, conceals, or even inflicts, the very harm and worse that it pretends to protest.
Recently, the Left has dragged out one of its favorite victimization themes designed to convince enough gullible people toward its ranks. Any superficial student of history knows that one of the Left's favorite ploys is the victimization tag. The Left relishes portraying itself as the champion of the downtrodden, the voiceless, the weak, the marginalized, the poor, and the discriminated. Not surprisingly, this portrayal includes the convenient benefit of then presenting oneself as the savior of such groups for the price of votes.
The Wolves Defending the Sheep
Every time I see or hear another screeching protest from the Left about the Right's War on Women, I am reminded of those inane, imbecilic, and utterly offensive yet pathetic tobacco industry ads from the past century luring women like mindless mice into a sinister trap all in the name of an agenda far removed from helping the very women snared. First, they brainwashed women into wanting what they wanted women to want. Second, they seduced women to want the symbol of that lifestyle, the cigarette, knowing full well that this symbol was harmful. Third, they then sold that symbol to women, eager to wring a buck from the pain and suffering of the very victims of their seduction even as they pretended to be their defenders and supporters. Fourth, threatened by revelations of their evil, they turned the tables and tried their best to concoct a greater enemy, out to destroy women's new found freedom and rights.
We have the Left declaring the Right's War on Women seeking recruits to its cause even as its spiritual temple, Planned Parenthood, is caught peddling the abortion of girls simply because they are girls and, even worse, fighting legislation to outlaw such gender-based abortion as an attack on, you guessed it, women. We have the Left spewing against Rush Limbaugh's portrayal of Sandra Fluke as a slut even as its own Bill Maher, Ed Schultz, Hilary Rosen, David Letterman, and Tina Fey spew derogatory, mocking, and vile characterizations of conservative women such as Sarah Palin, Michelle Backman, Laura Ingraham, and Ann Romney. We have the Left screeching about choice and misogyny even as they ignore women in China being forced to abort against their will and Arab women being tortured in ways far worse than anything seen in this country.
My personal favorite is seeing Leftist, radical feminist propaganda sites selling themselves as moral lighthouses waxing poetic of their defense of women. These sites harp on the Right's misogyny, the virtue of their prayer, and the morality of ripping the unborn from the womb, even as they totally ignore the plight of women in China, the Arab world and, you can bet on it, the abortion of girls simply because they are girls. They venerate George Tiller, who admitted to killing 100 babies a week to the tune of 60,000 over a lifetime, as a saint, and Planned Parenthood's founder, the racist Margaret Sanger, as a hero, even as their supporters like the "Reverend" Al Sharpton equate the Right with Hitler because, supposedly, the Right wants to wipe out innocent people simply because of who they are and treats them as if they were not human. If the Right dares to compare the Left with Hitler, heads roll and the media has a seizure. However, have a Leftist stumble through the English language on the way to haphazardly making the same accusation and you can hear a pin drop with no consequences.
Useful Idiots and Inconvenient Facts
So-called women's rights activists have banded together to "Rock the Slut Vote" complete with a website and gift shop. According to this site, the Right labels any woman who disagrees with its positions a "slut" and asks all such women and their supporters to band together and defeat the Right. By pathetically attempting to represent all, or even most, women, these people hope to scratch some legitimacy out of their occupy-Wall Street-level intelligence argument. Thankfully, the American public and, women in particular, are too intelligent to buy this drivel wrapped in fertilizer.
All indications are that this so-called "Right's War on Women" is nothing more than the Left's latest attempt to distract, to divide, to create a cause it can champion, even if those annoying things called facts betray the lies. Obama pays female White House employees 18% less than their male counterparts. Women account for 92% of the jobs lost since 2008. Unemployment among black and Hispanic women is up 3% during that time. All indications are that most people are not buying the Left's accusations that the Right is staging a "War on Women."
http://www.lifenews.com/2012/05/18/obamas-war-on-women-campaign-strategy-is-imploding/
. Tellingly, polls show that more people believe that Romney respects working women than believe that Obama respects women who stay at home. These polls also show that Obama's popularity among women is largely centered on single women.
http://thehill.com/polls/222967-hill-poll-romney-leads-in-respect-on-working-women-issue
Conclusion
Recent history and common sense clearly show that the Left is increasingly desperate. From its highest level throughout its ranks down to its most menial minions, the Left is waging a war of division and distraction, manipulation and mayhem, hypocrisy and hype, rhetoric and revolt and, above all, distortion. Its so-called Right-Wing War on Women claim is nothing more than its latest swipe at relevance. This audacity of dopes pretends legitimacy even as it ignores the abuses, injustice, economic troubles, disrespect, and misogyny inflicted upon women by its own side here at home and its international friends in the Arab world and China.
There is no doubt that we need to work unceasingly to promote women's rights here and abroad. It is a given fact that women are a vital and necessary component of our society whose voice always needs to be heard and respected. It is clear that we should all work to eradicate the abuse, disrespect, and manipulation of women in this country and elsewhere, regardless of our political affiliations and consistent with the moral foundations upon which our nation was built. In fact, a bi-partisan and wide-scale effort to stand for the rights of all women in all nations would be a noble goal. The struggle for women is a legitimate and righteous one.
However, we owe truth, legitimacy, and integrity to this struggle. It is an insult to that struggle and to women in general to wave abortion as a woman's right even as one condones the use of abortion to selectively terminate females. It is an insult to portray oneself as the champion of all women even as one condones and promotes the abuse and disrespect of conservative, stay-at-home, or foreign women simply because they happen to disagree with one's political position or live in a society one favors. It is an insult to use religion to defend women's views one agrees with even as one ignores the plight of women who not fit one's political agenda. It is an insult to confine one's dialogue with women to fawning fans posing as journalists asking mindless questions who ignore the sorry statistics regarding how one treats one's own female employees as well as the sorry economic state of precisely those women who fill one's political base.
At the end of the day, the Left's claim of a Right-Wing War on Women is a despicable, pathetic, deceptive, and losing strategy built on the kind of superficial, mindless, and empty marketing propaganda that once lured women to take up smoking for a slimmer look or to show men who was in charge. If truth be told, as confirmed by polls and rarely practiced by the Left, this so-called war on women is more accurately a war on single, liberal, working women who happen to think that abortion is some sacred cigarette they are entitled to smoke as they please and the hero they worship and vote for.
© Gabriel Garnica
---
The views expressed by RenewAmerica columnists are their own and do not necessarily reflect the position of RenewAmerica or its affiliates.
---