Gabriel Garnica
"The Last Days of Christ" is typical PBS religious trash

By
Gabriel Garnica
April 6, 2017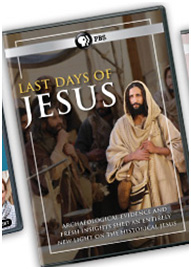 As we approach Holy Week, I fondly remember what television used to be like during this time of year way back in ancient times, say 1968 to 1972. In those days, you could see "King of Kings" or "The Robe" on the ABC's 4:30 Movie in New York during Holy Week and really get into the mood of a special time for Christians. This memory reminds me that respect for traditional Christianity in American media still remained 45 years ago. Let us recall that "Song of Bernadette" won four Oscars in 1943 including Best Actress for Jennifer Jones and was a financial and critical success. Also, remember the era of the religious epics such as "Quo Vadis," "The Robe," "The Ten Commandments," "Ben Hur," and the aforementioned "King of Kings" in the 50s and early 60s.
Contrast the above classics with the trash that I just saw last night. Hoping against hope, I turned on "The Last Days of Christ" to see how the subject was dealt. Needless to say, I was disgusted by the experience. Claiming to contain the story told by "leading scholars" of history and religion, the documentary basically depicts Christ as a brave religious zealot with connections who became a political pawn between Rome and the Jews and was sacrificed to ease tensions erupting when the second most powerful Roman on earth, Lucias Aelius Sejanus, was revealed as a traitor to Tiberius and executed.
Gone is any reference to Christ's divinity, his resurrection, and the Last Supper as the first mass. We are told by these so-called experts that Christ entered Jerusalem six months before his death, held the Last Supper as a political strategy meeting, screamed at a disillusioned Judas as Judas left the Last Supper in disgust with Christ's failure to prove his worth, and basically prayed in the garden having no clue of his fate. The ultimate target, of course, are the Gospels, which are once again presented as fables with a pragmatic, biased strategy written by who knows who.
We should not be surprised that the liberal PBS is presenting this garbage right before Holy Week. The present times are clear evidence of liberals' two favorite hobbies, mocking conservatives and mocking Christians. We have also heard of these types of experts whose main objective is to discredit Christianity and The Gospels and turn Christians' most cherished beliefs into superstitious, clueless, ignorant ramblings of naïve fools. Didn't our friend Hillary say something similar about Christians after all?
If one looks hard enough, one can find a slew of obnoxious scholars ready, willing, and able to blaspheme everything Christians hold dear. Being presented in the media as an expert today, of course, means nothing given the reality that said media only lies when its shows are turned on.
What is most annoying, of course, is that these fools would never present similar conjectures regarding certain religious books from certain other religions, lest they need security the rest of their lives. Cowardice seems like such an appropriate topping to hypocrisy and bias in these programs.
"The Last Days of Christ" is yet another reminder that PBS should stick to presenting documentaries about Broadway musicals and themed music concerts and stop dabbling in Christianity.
© Gabriel Garnica
---
The views expressed by RenewAmerica columnists are their own and do not necessarily reflect the position of RenewAmerica or its affiliates.
---