Gabriel Garnica
Temar Boggs, inconvenient hero

By
Gabriel Garnica
July 24, 2013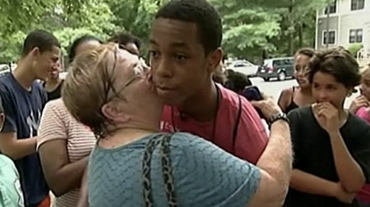 Every once in a while, stories emerge which crystallize our collective national disconnect, and this is one of those times. Amid all of the despicable hypocrisy, selective outrage, reverse racism, race peddling, divisive opportunism, and nauseating mob mentality, we find the story of Temar Boggs and friends. In case you missed it amid the wall-to-wall wailing regarding the Zimmerman decision,
Temar
and his friends
heroically
saved a missing 5-year-old white girl named Jocelyn Rojas from a 50-70 year-old white male kidnapper by pursuing the kidnapper's car on a bike until the fiend gave up and dumped the girl. The relatively scant media coverage of this incredible act of heroism was drowned out in the waves of racial agitation stirred by the Radical Left to foment one of its most fundamental agendas...race war.
There are no photos of Temar which contradict the image above. There are no
photos
of him smoking weed, holding guns, or
spewing racial rants
. I have not read accounts of a girlfriend lecturing us on ghetto practice and language or how she and her friends belong to a new generation to fawning liberal talk show hosts. In short, there is nothing to hide, spin, manipulate, or use to foment or perpetuate a despicable, divisive, selfish, or opportunistic agenda which uses others' pain for personal and political gain. The only possible use of the image and story of Temar Boggs is constructive, unifying, inspiring, and hopeful. These are all kryptonite to
anyone
even remotely following the Saul Alinsky script of fomenting protest and agitating division for political, social, and financial profit. In short, anyone running away from introducing us to Temar is most likely running toward stirring trouble not solving it.
By all accounts, Temar Boggs seems to be a fantastic, inspiring young man who selflessly risked his life to save an innocent girl from a monster. However, let us not deceive ourselves into thinking that Temar is perfect, for he is missing one ingredient. He is clearly not full of hatred, resentment, mindless rage, oblivious adulation for race peddlers, obnoxious self-entitlement, or a burning desire to blame others and avoid personal responsibility. After listening to one of his interviews, I did not see a hint of hypocrisy or opportunism.
This is why you will not likely see Al Sharpton, Jesse Jackson, Maxine Waters, Benjamin Todd Jealous, the Congressional Black Caucus, the NAACP, the ACLU, the socialist-oriented SEIU union, the Dream Defenders, or Barack Obama paying Temar a visit anytime soon. I do not know about you, but it boggles my mind as to what prevents any of the above from lifting Temar up as an example which betrays the profiling of young, African-Americans. After all, here is as fine a young man as you could ever want powerfully disproving the notion that all young African Americans are thugs in gangs out to hurt white people. I always believed that you fight ignorance and racism with truth, and this is about as true and sincere a kid that I have ever seen.
The problem, you see, is that the above individuals and groups have no interest in truth and in sincere solutions to alleviate racism any more than oil companies want an invention that turns tap water into gasoline. Regardless of what they say, their real purpose in marching, chanting, agitating, ranting, and protesting is not to fight racism as much as to fan the flames of their own importance, relevance, and validity; politically, socially, and otherwise. If they truly cared about the racism they pretend to abhor but privately fill their coffers with, they would be all over Temar like, dare I say it, white on rice.
However, since these folks are using racism and racial discord to further their own agendas, Temar is at best useless and at worst harmful to their strategy of depicting African-Americans as uniformly innocent victims of white people with only sad tales to tell. Truth be told, there are many Temars out there whose very existence proves the great and wonderful potential of the African-American community if only given a chance to shed its victim garb.
So save us the speeches by an NAACP crying out against the violation of a young African-American's right to life while ignoring the black genocide of abortion and the reality of black on black crime. Spare us the despicable and hypocritical opportunism of race peddlers whose own past is brimming with racism and personal profit from lies and others' pain. Save us the mindless rants of African-American singers and entertainers whose own conduct and work demonstrates racism even as they live the illusion that their drivel adds a drop of intelligence to the discourse of race in this country. I know that when I am looking for perceptive legal and social analysis, Beyonce, Rihanna, and Jaime Foxx are the ones I look for.
I have personally experienced prejudice, and I realize that there is still much work to be done to fight racism in all directions. Any so-called leader who only rants when his or her race is harmed is a hypocrite and a racist. There are no easy answers to this problem, and we will shed more tears of pain before we welcome tears of joy here. What I do know is that we can at least begin constructive healing and progress by honoring and highlighting the exceptional and inspiring examples of just how ignorant and blind racism in all directions can truly be.
I remember many years ago seeing many African-Americans cheer when a jury found O.J. Simpson not guilty in the murder of two innocent, white lives despite strong evidence regarding his guilt. I now witness many minorities rant in protest when the tables are turned. I see people who were not at the scene of the crime nor in the jury listening to the evidence pass judgment purely and clearly in terms of race, and I wonder if the utter hypocrisy of it all escapes them.
Barack Obama is right. He should identify with Trayvon Martin on many levels. There are many parallels on how the media and the Left have handled Martin and how they handle Obama on a regular basis. I believe him when he says that Martin could have been his son, and he could have been Martin 35 years ago. As for me, I will proudly say that I would have been proud to have a son like Temar Boggs, whose humble, sincere, spontaneous, selfless and, above all, color-blind bravery moves me to the upmost respect and admiration. It is an almost laughable irony that ranting mobs steered by opportunistic hypocrites seek answers while ignoring the truth and demand justice for Trayvon while ignoring the injustice of ignoring the wonderful example of Temar. I guess therein lies my problem in all of this; I am looking for justice and truth.
© Gabriel Garnica
---
The views expressed by RenewAmerica columnists are their own and do not necessarily reflect the position of RenewAmerica or its affiliates.
---