Gabriel Garnica
Welcome to the international abortion lobby's definition of choice

By
Gabriel Garnica
January 29, 2014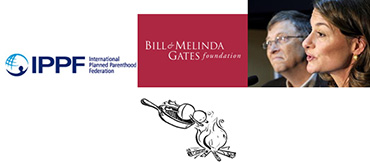 A cursory scan of the website for the Bill and Melinda Gates Foundation would lead you to think that this international philanthropic organization is simply a powerful, benevolent blessing to mankind. Upon closer inspection, and a little research, however, one will see the intimate, historical
relationship
between the Gates family and the eugenics movement, whose mission has always been population control through selective abortion, contraception, and subjective determinations of who deserves to live and who does not. In the furtherance of that effort, this organization, and the international abortion lobby it is a part of, remind me of a pots and pans salesman who tried to sell my wife and I kitchen items long ago.
Sales Techniques Applied to Human Life
I am a terrible salesman, but I have tried from time to time to improve. Common sales gimmicks suggested by successful salesmen include: establishing trust; leading with the positive; connecting with the buyer; avoiding obvious aggression; creating a sense of urgency; targeting the obstacles directly and indirectly and, my personal favorites; creating perceptions of honesty, self-benefit, and apparent choice.
What this all means, of course, is something everyone knows all too well. Salespeople, at least the most successful ones, trick you into choosing what they want you to choose while making you think that you made that decision for your own good. Now, that is not to say that all salespeople are evil or out to defraud you but, what this does mean is that selling something is less about choice and more about competitive manipulation of minds, people and, in the case of the international abortion lobby, governments.
Broken Promises To Push Hidden Agendas
Upon the formation of the Gates Foundation, Melinda Gates repeatedly assured the public that this was not about abortion, but the Foundation's
actions
,
associations
, and
words
since the start make Gates' promises seem almost Obamaesque. Ultimately, this is about very rich people investing
billions
of dollars to subjectively control the world's
food supply
, population, governments, laws, family decisions, and life itself, all under the guise of knowing what is and what is not in the best interests of people in other nations.
Revealing, this is also about a very rich woman who claims to be Catholic picking and choosing what
pieces
of her religion she agrees with and investing billions of dollars against the losing pieces. The only thing more dangerous and harmful than cafeteria Catholicism is cafeteria Catholicism where you can buy the cafeteria.
Choose Our Way, or Else
The Gates Foundation and Planned Parenthood portray countries such as Costa Rica, Panama, and Mexico as begging for their saving intervention to free them of a vicious cycle of poverty through enlightened family planning and "reproductive rights" technologies. However, speak to many people in those countries and you will see the real story behind the hype.
First, while there are certainly many people in those countries and similar nations throughout the world who want contraception and abortion, there are many more who do not for many reasons, most notably their religious faith and upbringing. Now the organizations noted here treat religious concerns in this debate as a cross between superstition and stupidity, constantly patronizing such views as ignorance or misinformation. Regardless of how you want to spin this, we are talking about disrespecting and brushing off the religious choices of many people as nothing more than annoying obstacles in the path of one's overall plan. So much for respecting the choices of people, especially women, to follow their own conscience and faith in making their own health and moral decisions.
Second, knowing that in order to get people to do what you want, it helps to force them to do what you want, these organizations have resorted to using the U.N. and international human rights organizations to
punish
those governments which do not follow their "suggestions." So much for respecting the choices of governments to follow their own laws. Think of it as the Godfather with political and monetary clout making governments an offer they cannot refuse.
Pro-life activists in nations such the three above constantly mention the intense and pervasive media techniques used by these pro-abortion groups to brainwash each nation's young into accepting abortion, contraception, and many other techniques and methods which disrespect human life. Increasingly these groups have infiltrated the media and young minds of these nations to promote and implant the seeds of opinions and beliefs which favor their side. So much for transparency and respect for letting individuals make their own decisions and choices without trickery or coercion. Think of it as The Shopping Channel for abortion.
Ultimately, these so-called servants of choice are only purveyors of fixed choice. They are not unlike the invaders who start a fire, declare the inhabitants incapable of putting the fire out, and then march into town under the pretext that they are saving lives by stopping the fire. Insidiously, however, these troops of hypocrisy and deception pretend to be noble angels of assistance, even as they impose and bully their subjective intellectualism into the most intimate and sacred of human choices and arenas, from another country!
Conclusion
One of the most pervasive truths about the secular Left is its audacious habit of portraying precisely the evil they purport to be fighting. In that vein, the abortion lobby fawns and drools about choice when, typically, the only choice which they are interested in is their choice. Their cries in favor of listening to the voiceless or powerless quickly turn to a deaf ear when those which they pretend to be helping do not follow their pro-abortion script. The Gates Foundation, and the abortion lobby as a whole, including its international arms, push abortion with a diabolic passion even as they pretend to be benevolent saviors of the world's poor.
That pots and pans salesman I mentioned earlier, brimming with sales drivel and hype, offered us the amazing choice to choose between black and silver pots and pans, pretending that he was doing us such a favor by providing his choice, his way. He was enraged, however, when we told him where he could take his pots and pans, and showed him what true choice is all about. Unless we speak out against these wolves of abortion dressed as lambs of benevolence, our world will truly end up in a frying pan we did not all knowingly choose.
© Gabriel Garnica
---
The views expressed by RenewAmerica columnists are their own and do not necessarily reflect the position of RenewAmerica or its affiliates.
---