Gabriel Garnica
When guests become crashers: the Synod puzzle

By
Gabriel Garnica
October 16, 2014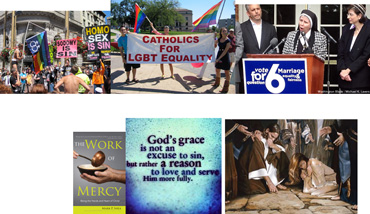 Much has been written and said about the ongoing Synod in Rome and, as expected, each side in this debate has been quick to claim validation of its agenda. On one side we have those Catholics, probably well represented by people such as Pope Benedict, who favor a very strict and unwavering interpretation and application of Church teaching. At the other extreme we have those folks calling themselves Catholics, perfectly
illustrated
by people such as Jeannine Gramick, who demand total and unconditional equality, acceptance, validation, and even promotion of non-traditional marriage and, by extension, other agendas such as female priests and abortion. Between these two camps, we find the more moderate view wrapped in tones of mercy and charity represented by individuals such as Mark Shea and Simcha Fischer, who argue for a softer, more moderate approach and strategy to this issue. While I can appreciate Shea and Fischer's call for mercy and charity, I question its ultimate goal given current political and social realities.
In a recent
piece
on this issue, Mark Shea identifies the two polar opposites in this debate as those traditional folks he patronizingly calls Reactionaries, and those modernist types he neutrally labels as progressives. While he depicts the latter group as hopeful, starry-eyed dreamers foolish enough to think that the Catholic Church can become a modern, institutionalized depiction of the Left's social justice values, Shea reserves the majority of his venom for the former side, whom he depicts as hysterical, hypocritical, judgmental, ignorant, and counterproductive fools pretending to champion Christ while actually merely championing their own self-perceived devotion and loyalty to their faith. I suggest that Shea is guilty of patronizing the traditional folks and underestimating the danger of the progressives. While I agree with him that Christ teaches us to reach out to the wayward and dissident in loving acceptance of their humanity and potential for good, I do not agree with his slant on that acceptance.
Shea
recruits
Simcha Fischer to support his notion that this Synod, and much of what Pope Francis has said on this topic, is simply the normal, productive, and constructive evolution of a Church exploring how to shepherd its people without further alienating, marginalizing, and abandoning them. Fischer employs the powerful parable of the king inviting guests to represent the Church inviting its people and suggests that all of this is simply the Church trying to get people into the room so it can figure a way to sell them toward Christ. Fischer adds, thankfully, that getting people into the party implies that said guests will, at some point, be willing to change and follow the house rules. Both Shea and Fischer seem to tell us that our job is to recruit, invite, accept, and welcome guests, and then trust that the Holy Spirit will do His thing through us and His own power. They suggest that we are called to accept the wayward and dissident as human beings, therefore imperfect, yet still made in the image of God except for that imperfection. They further suggest that is that very same imperfection which can provide the means, the vehicle, by which we can demonstrate God's unconditional love, mercy, and acceptance. Thus, they seem to argue, the ultimate act of mercy, charity, and love is the acceptance and validation of our warts as part of who we are and, by extension, a valuable means through which we may find Christ.
I have no problem with Shea and Fischer's basic imagery and argument. Certainly, the adulterous woman's adultery provided the means by which Christ showed her His unconditional and loving mercy and charity. Had she been a respected, well-off, popular woman, it may have been infinitely more difficult to win her over since, unfortunately, we most often seek God when we are lacking, confused, marginalized, desperate, or in trouble. Likewise, the father of the prodigal son was able to demonstrate his unconditional and forgiving love for his wayward son, and exemplify it for his loyal son, only because the prodigal son strayed. Clearly, it is not a radical idea to say that our sins provide the opportunity for our very own return from exile, and should therefore be valued for that role.
My problem with Shea and Fischer's argument, then, is not with its basic premise but, rather, with its logic given today's political and social realities. The Synod language made public so far demonstrates a series of degrees which perfectly crystallize this logical distortion. First, the language speaks of welcoming and accepting people, which neatly fits Fischer's banquet analogy. Second, we see language of guaranteeing comfort, which seems to contradict Fischer's admission that, eventually, we want these guests to actually follow the banquet rules. How can I guarantee your comfort by striving to make you follow my rules, regardless of how you feel about them?
Third, and most troubling, we see talk of accepting and valuing the very same traits in people that contradict the banquet rules as part of who they are. It is one thing for me to accept that you are a smoker, and to even invite and welcome you to be my tenant with the hope of eventually convincing you to stop smoking, but it is quite another thing for me to then accept and even uphold your smoking as a valuable part of who you are, because then how am I supposed to then try to change that very essence of who you are? It is absurd for me to uphold something about you while trying to change it. Likewise, it seems to me, it is equally absurd and naïve for Shea and Fischer to ask us to accept, validate, and even honor traits about people which we eventually want to change about them.
Shea and Fischer speak of gradualism as the reality that conversion takes a lot of time and sinners must take baby steps toward that conversion. Connecting this idea to Fischer's banquet analogy, we are supposed to believe that we can guarantee comfort, acceptance, and even validation to people while slowly grinding them toward our way of thinking, guided by the Holy Spirit, and with their gleeful, non-defiant acceptance, all while guaranteeing that we will not shift our rules to appease them. Shea mocks the traditional folks' view of gradualism as the view that the host, aka The Church, will eventually compromise and dilute the rules of the banquet to appease the uncomfortable, restless, and defiant guests.
The key trap here is that Shea, Fischer, and their ilk are, in one way or the other, buying the contention of folks like Gramick, the media, and our society that one cannot love people without fully accepting, embracing, validating, and even honoring what they do, say, and believe.
Leon Festinger was a famous psychologist who proposed the very perceptive notion of Cognitive Dissonance, which basically suggests that, faced with discomfort, people will shift to reduce that discomfort, rationalizing as much as they need to along the way. Even a cursory review of Church history over the past one hundred years, and especially in the last half century, will show that the Church is the one doing all the shifting to appease its uncomfortable, defiant guests. Given this historical reality, it is the height of absurdity to believe that the Synod's logically contradictory and cunningly manipulative language is not merely a pretext and a context from which further dilution and shifting will occur.
What will begin as moderate acceptance will move to wide acceptance, then to total validation and enforcement, then to persecution of anyone who does not comply to the new rules. This has already been seen in other areas, and will be the case here. The ultimate goal of this Synod, then, is not mere discussion of how to accommodate and shepherd dissidents and wayward souls without compromising Church teaching, because that is ultimately impossible unless those dissidents and wayward souls want to change. Neither is it accepting and upholding who people are while hoping to change who they are, because that is a logical absurdity. Rather, it is merely the first step of how those who would dismantle core Church teaching do their work. First, you merely discuss things, and then, the fact that you have begun discussing those things implies that they are up for debate and changeable. Then, you gradually change them to suit your taste, citing that evolution as part of inspired discussion and growth.
Shea rightly argues that we need to trust in the Holy Spirit, but he misplaces that trust by pretending that the Holy Spirit will help these logical contradictions somehow make sense, rather than help us eventually overcome their damage.
At the end of the day, this Synod and this leadership will change the rules of the banquet to suit the comfort of those guests it originally invited out of charity and mercy. Yes, many willing souls will be thankfully brought back into the fold but, sadly, for every soul converted there will be ten souls fighting to convert the Church. Imagine that the prodigal son returned to the father only to dictate how the father should run his house. Pretend that the adulterous woman eventually convinced Christ to uphold and validate her continued life in adultery as valuable and inherent of who she was. Now you are living in the dream world of Mark Shea and Simcha Fischer, and in the trap being set by this Synod and everything else that will follow.
© Gabriel Garnica
---
The views expressed by RenewAmerica columnists are their own and do not necessarily reflect the position of RenewAmerica or its affiliates.
---