Eric Giunta
Rising star Ted Yoho, "Republican with libertarian slant"

By
Eric Giunta
August 20, 2012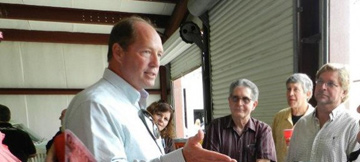 North Central Florida's new Republican congressional nominee is a self-styled "conservative Christian Republican with a libertarian slant" who plans to take a hatchet to thousands of pages of federal regulations, beginning with the Patient Protection and Affordable Care Act.
He's avowedly antagonistic to the foreign policy orientation of the last several presidential administrations, including his own party's "neoconservative wing," wants to return America's troops home from abroad, and is a staunch civil libertarian who calls for the repeal of the Patriot Act and the latest incarnation of the National Defense Authorization Act (NDAA).
In what is being hailed in many quarters as the biggest upset of Florida's primary election season, and quite possibly one of the greatest congressional upsets in state history, large-animal veterinarian and political newcomer Ted Yoho scored a very narrow victory over 12-term congressman Cliff Stearns, R-Ocala, in one of Tuesday's most hotly contested races.
Catch the rest of the story at Sunshine State News.
© Eric Giunta
---
The views expressed by RenewAmerica columnists are their own and do not necessarily reflect the position of RenewAmerica or its affiliates.
---