Eric Giunta
Special feature: Ron Paul supporters get ready for pre-convention festivities

By
Eric Giunta
August 22, 2012
As Republican speakers and delegates gear up for their national convention in Tampa, Aug. 27-30, the party's libertarian faction is getting ready to put its own unique stamp on the week's proceedings: Ron Paul Festival 2012.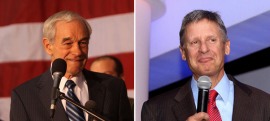 The three-day festival honoring the 12-term Texas congressman, at the Florida State Fairgrounds, Aug. 24-26, is taking place just before the Republican National Convention (RNC) kicks off. But an organizer for the event cautions that participants are not necessarily ready to rubber-stamp the GOP presidential ticket.
"Those people present who are rather new to the liberty message might be supporting the GOP," predicted Tracy Diaz, a member of the festival's planning committee, in an interview with Sunshine State News. "But I think the staunch supporters of the movement will be voting either Libertarian or not at all in the election. I don't think a single one of them will be supporting the Romney ticket."
Catch the rest of the story at
Sunshine State News.
© Eric Giunta
---
The views expressed by RenewAmerica columnists are their own and do not necessarily reflect the position of RenewAmerica or its affiliates.
---