Eric Giunta
Democratic candidate Keith Fitzgerald fires spokeswoman after X-rated, anti-Catholic rants exposed

By
Eric Giunta
October 2, 2012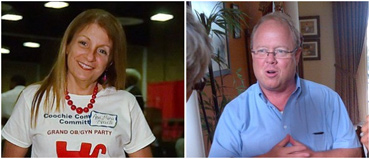 On Monday, U.S. congressional candidate Keith Fitzgerald, D-Sarasota, announced the firing of new communications director Ana Maria Rosato barely 90 minutes after Sunshine State News brought to light a string of recent pornographic and anti-Catholic tirades on her blog.
Fitzgerald is running against Republican incumbent U.S. Rep. Vern Buchanan for Florida's 16th Congressional District.
Rosato, who was hired just last week to be Fitzgerald's chief spokesperson, is the operator of "Sassy Political Insights," a leftist blog containing numerous rants accusing Republicans of being racist, sex-repressed misogynists. The blog promotes and sells "Coochie Compliance T-Shirts" which identify the Republican Party (i.e., the GOP) as the "Grand OB/GYN Party," and contain the caption, "Demanding government small enough to fit into your coochie". . . .
Catch the rest of the story at
Sunshine State News
.
© Eric Giunta
---
The views expressed by RenewAmerica columnists are their own and do not necessarily reflect the position of RenewAmerica or its affiliates.
---