Eric Giunta
Florida Supreme Court justices: vote for us on our behavior, not our rulings

By
Eric Giunta
October 8, 2012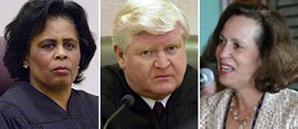 The school billed it as "a forum to educate voters about merit retention and the process by which judges in Florida are selected," but Friday's forum at FSU College of Law was anything but an unbiased look at the system: It was a one-sided campaign stop by three justices pitching for votes.
The hour-long "forum," titled "Who Will Be the Judge?" was sponsored by the League of Women Voters of Florida, the Florida State University Alpha Phi Omega Community Service Fraternity, and the Florida State University Women in Pre-Law Society.
The panel consisted exclusively of the three Florida Supreme Court justices up for merit retention on the November ballot: Barbara Pariente, R. Fred Lewis, and Peggy Quince. And the "discussion" was moderated by Kelly Overstreet Johnson, a former president of the Florida Bar who at present is working on Quince's retention committee.
The justices' joint retention campaign was in full swing at the event, distributing literature and asking each of the 50-or-so audience attendees to register their names and email addresses at the door. Brief concluding remarks were delivered by the justices' campaign manager, Dan Newman, who urged all those in attendance to "find [the justices' campaign] Facebook pages, 'Like' them, and share them with your friends and colleagues, because we really do face a challenge in getting the word out to all Floridians, and this is a really important way we can do that". . . .
Catch the rest of the story at
Sunshine State News
.
© Eric Giunta
---
The views expressed by RenewAmerica columnists are their own and do not necessarily reflect the position of RenewAmerica or its affiliates.
---