Eric Giunta
Is Palm Beach Elections Supervisor Susan Bucher disenfranchising GOP absentee voters?

By
Eric Giunta
October 13, 2012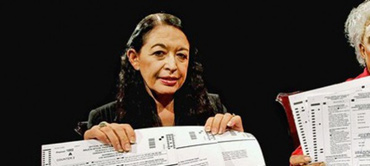 Amid reports that Palm Beach County Elections Supervisor Susan Bucher sent out some 60,000 faulty absentee ballots, there's one question no one else seems to be asking — and which Bucher hasn't mentioned: What did she know, and when did she know it?
The latest elections kerfuffle, in a county that has seen more than half a dozen election irregularities since 2000, now involves 60,000 absentee ballots sent out — all of them missing the proper headings for the merit-retention races of three controversial state Supreme Court justices: Barbara Pariente, R. Fred Lewis, and Peggy Quince. The three justices are accused by critics of being left-wing judicial activists, and because absentee voters are traditionally Republican-leaning, this latest error raises concerns that they might miss out on receiving several "NO" votes.
Sunshine State News contacted ballot printer Runbeck Elections Services and spoke to Kevin Bannon, the company's president. He said earlier this year, Bucher's office had sent Runbeck faulty drafts and later corrected them, but that a printing error on the part of the company resulted in the defective ballots. Runbeck has taken responsibility for the misprints, and will foot the cost for the measures the supervisor's office will take to manually count the returns. Recipients of the defective ballots will not be receiving new, corrected ones.
Bucher's office announced the mistake Wednesday, nearly a week after the ballots began arriving at voters' residences.
Did Bucher's office know the ballots were defective before they were mailed out? If not, then why weren't the ballots reviewed beforehand, especially given the fact that mistakes had already been made in the drafting process? . . .
Catch the rest of the story at
Sunshine State News
.
© Eric Giunta
---
The views expressed by RenewAmerica columnists are their own and do not necessarily reflect the position of RenewAmerica or its affiliates.
---