Eric Giunta
Civil rights experts: Florida universities prime offenders against students' free speech

By
Eric Giunta
November 14, 2012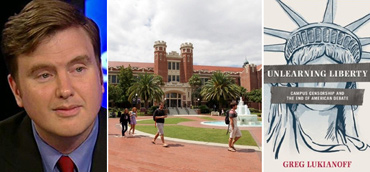 Each of the ten public Florida colleges and universities evaluated by a major civil liberties organization has "some policies that could ban or excessively regulate protected speech," and nearly all of them have "at least one policy that both clearly and substantially restricts freedom of speech.
That's the verdict of the Foundation for Individual Rights in Education (FIRE), a nonpartisan civil rights organization dedicated, in its own words, "to defending core constitutional rights on university campuses." Last week the foundation set its sights on Tallahassee's own Florida State University (FSU), in a memorandum addressed to libertarian student activist David Brunal.
Brunal, a senior at FSU who is active in both the College Republicans and College Libertarians, decided to scrutinize his university's speech codes after hearing a representative of FIRE speak at a recent conference hosted by Young Americans for Liberty. Finding several sections troubling, he reached out to FIRE for advice on what FSU could do to bring its speech code up to constitutional par.
FSU has been singled out for criticism by FIRE since at least 2005, and attorney Azhar Majeed, the foundation's associate director of legal and public advocacy, was more than happy to oblige Brunal's request for a review of the university's speech policies.
"In my experience, FSU has one of the highest counts [of unconstitutional speech policies] of any college or university out there," Majeed told Sunshine State News. . . .
Catch the rest of the story at
Sunshine State News
!
© Eric Giunta
---
The views expressed by RenewAmerica columnists are their own and do not necessarily reflect the position of RenewAmerica or its affiliates.
---