Eric Giunta
George LeMieux: I would have beat Nelson, I endorse Lenny Curry, and you haven't seen the last of me

By
Eric Giunta
November 30, 2012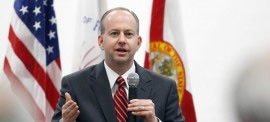 Former U.S. Sen. George LeMieux spoke to Sunshine State News Wednesday, his first interview since Election Day less than a month ago.
The Florida Republican, appointed to the Senate by then-Gov. Charlie Crist as a replacement for retiring Sen. Mel Martinez, tells the News he is glad to be back in the private sector, has no plans to run for elected office in the near future, but will stay engaged in statewide and nationwide debates over public policy, especially on the issue of Medicare fraud.
He won't be running for leadership within the Republican Party, either. In his interview, LeMieux for the first time makes public his endorsement of Republican Party of Florida (RPOF) Chairman Lenny Curry, calling him a "good man" who "in his next two or more years as chairman [is] going to have a chance to put his own stamp" on the state party.
He believes he would have had a better chance of beating incumbent Democratic Sen. Bill Nelson in the Senate race than primary victor — and general election loser — Connie Mack IV, and in the coming weeks he will be announcing reforms to give state and local Republican Party apparati a greater role in the selection of nominees in the primary process.
Finally, he insists he has no regrets for having introduced into the primary race attacks on opponent Mack's pre-congressional moral character. The attacks were taken up by Nelson during the general election. . . .
Catch the exclusive interview at
Sunshine State News
!
© Eric Giunta
---
The views expressed by RenewAmerica columnists are their own and do not necessarily reflect the position of RenewAmerica or its affiliates.
---