Eric Giunta
Progressive lobbying groups to new legislators: ignore lobbyists, unless they're leftist

By
Eric Giunta
December 19, 2012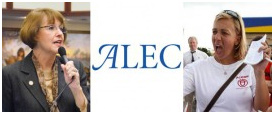 Two of Florida's most prominent progressive organizations have issued a warning to the Sunshine State's freshmen legislators: ignore and disassociate yourselves from conservative advocacy groups, but give your undivided attention to left-wing outfits.
That's the message Progress Florida and Florida Watch Action communicated in their letter Florida legislators to have nothing to do with the American Legislative Exchange Council (ALEC), a free-market, nonpartisan think-tank that brings together state legislators from around the country to discuss public policy and model legislation.
"[W]e are writing today to warn you about another organization that may contact you: the American Legislative Exchange Council, otherwise known as ALEC," the letter reads. "When it comes to out-of-state special interests exerting undue influence over Florida policy making, no group is more prolific than the bill mill known as ALEC."
The letter refers to ALEC's practice of crafting model legislation and proposing them to state legislatures, and says this amounts to "corporations hand[ing] state legislators the changes to the law they desire that directly benefit their bottom line, often at the expense of the public interest."
Rep. Gayle Harrell, R-Port St. Lucie, a longtime member of ALEC and its former Florida state chairwoman, dismisses such accusations as hypocritical nonsense. . . .
Catch the rest of the story at
Sunshine State News
!
© Eric Giunta
---
The views expressed by RenewAmerica columnists are their own and do not necessarily reflect the position of RenewAmerica or its affiliates.
---