Eric Giunta
Ron Paul supporters fail by just two votes to take control of Miami-Dade GOP

By
Eric Giunta
December 21, 2012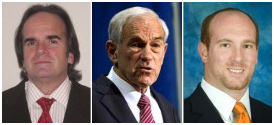 Republican grassroots activists, inspired by the message of former presidential candidate Ron Paul, failed to gain control of the Miami-Dade County GOP Tuesday night, but they have nevertheless won a record number of seats in the county party apparatus.
Most of these victories were won several months ago — and not only in Miami-Dade — but they are only being made public now.
Two Paul supporters were elected to the board of directors of Miami-Dade County's Republican Executive Committee, one of the largest RECs in the state: Rosa Palomino as vice chairwoman and Elizabeth Romney-Robayna as treasurer.
In addition, about 48 to 51 of the approximately 128 new committee persons seated Tuesday self-identify as supporters of the Texas congressman's libertarian conservatism.
Sources from within the Republican Party tell Sunshine State News that Ryan Anderson, state committeeman for the Broward GOP, is also a Paul supporter, as are others elected to local party offices across the Sunshine State.
Their gains are the fruit of a months-long stealth campaign that activists say is intended to return the Republican Party to its traditional small-government roots.
Nelson Diaz, an attorney and lobbyist who has been heavily involved with the campaigns of several Republican heavyweights since the 1990s (including now-U.S. Sen. Marco Rubio), beat out longtime grassroots activist and political consultant Emiliano Antunez for the position of county party chairman.
Diaz was reportedly the favored candidate of party leadership; Antunez supported Paul's candidacy in 2008 and 2012, and was the favorite of the Paul supporters.
Antunez reportedly lost by only two votes. . . .
Catch the rest of the story at
Sunshine State News
!
© Eric Giunta
---
The views expressed by RenewAmerica columnists are their own and do not necessarily reflect the position of RenewAmerica or its affiliates.
---