Ann "Babe" Huggett
Michelle Obama: It's good to be queen

By
Ann "Babe" Huggett
August 7, 2010
One of the fun games I used to play at cocktail parties was theorizing what a current politician had been in a former lifetime. Snickering over Henry Kissinger being a reincarnation of Cardinal Woolsey or Benito Mussolini popping back as Janet Napolitano only shows how obscure things can get after a few tequila shooters. However, there is nothing obscure about the current comparison between First Lady Michelle "Let 'em eat arugulla" Obama and France's 18th Century Queen, Marie "Let 'em eat cake" Antoinette.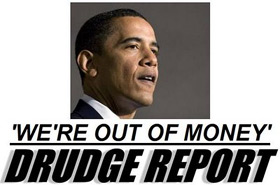 Unlike with Marie Antoinette, Michelle's critics don't have to go apophrycal when it comes to her living large on the taxpayers' dime. In a nation where food stamps, unemployment benefits, mortgage foreclosures and a steadily declining standard of living are fast becoming the norm, Michelle Obama is on her eighth vacation this year, living
la vida ultima maxima
with 40 of her closest gal pals at the Hotel Villa Padierna, one of the poshest hotels in the world let alone Marbella, Spain.
Estimates for the deluxe rooms, travel, food, Secret Service entourage, tourism, flight readiness/maintenance, local police action, like clearing off a public beach for Michelle and daughter, Sasha, are running close to half a million dollars. Limp excuses coming out of the White House Press Room like, "They're paying for their personal expenses out of their own pockets." (Like what? Toothpaste?) or "She's visiting the King and Queen of Spain so that makes Michelle's trip a public function." ring hollow. If Michelle was truly visiting Spain on a goodwill tour, she'd be parking herself and her daughter with a minimal staff at the American Embassy in Madrid.
Even Argentina's corrupt Eva Peron's "Rainbow" good will tour actually brought tourism dollars back to her country. The only thing Michelle Obama will bring back with her is resentment over having to return to Washington, DC.
Now add up all this tin-ear extravagance of the First Lady with Speaker of the House, Nancy Pelosi's taxpayer paid perks like $60,000 a year for office flowers alone, her commandeering of Air Force jets for private travel for herself and her family, the obscenely high rent of $18,736.00 per month she pays for her offices in San Francisco, and you have only scratched the surface marked "Waste of Taxpayers' Money."
Seriously, if those and thousands of other extravagant examples of fraud, waste and abuse are financed eagerly and without scrutiny by the General Services Administration, why are we being told that we must have our taxes raised? Just look at the utter surprise and shock on the faces of Congressman Charlie Rangel (D ó NY) and Congresswoman Maxine Waters (D ó CA) at being brought to task for what they consider "business as usual" fraud and ethics violations. Why isn't anyone pointing out that if the government has this much money to throw around on nonessentials then it is collecting too much money to begin with?
Is it truly necessary to pump another 10, 20, 30 billion US Dollars into the kleptocratic bank accounts of African leaders under the guise of foreign aid? To what end? Did all our bribe money to Kim Jong Il of North Korea ever buy one minute of his or his nation's good behavior? Why do we still need WWII military bases 65 years after hostilities ceased in countries that while they claim to still need our protection from whatever perceived political bogeymen are still out there, are openly hostile to our continued presence? What about all the US blood, ruined lives and treasure poured into Iraq and Afghanistan only to have those nations scheduled by the Democrats for abandonment next year?
Swinging back to more White House extravagance, do we really need to foot the bill for $100,000.00 plus Presidential date nights in New York or Chicago or photo ops buzzing the Statue of Liberty? Every third night there's some sort of unnecessary gala or banquet going on where the Obama's simply must be feted. All that expensive and distractive adoration leads one to wonder if the Obamas have yet to figure out how to operate the television remote control in their living quarters. Perhaps Michelle just calls down to one of 122 staff members to come up and switch channels for her.
The Obamas and their grotesque sense of entitlement are simply a sick manifestation of the socialist elites' mindset. One of the dirty little secrets of that parasitical class is that they don't really believe in socialism for themselves. It is simply a political tool with which to claw their way up what they see as the political dung heap. They are the roosters, if you will, of that dung heap. Standing proud and tall on the mess that they have created, dumping excrement on everyone beneath themselves, and crowing loudly in exultation as the sun warms their fine feathers all the while unaware that the
Gods of the Copybook Heading
are sharpening their axes for a Sunday dinner day of reckoning.
© Ann "Babe" Huggett
---
The views expressed by RenewAmerica columnists are their own and do not necessarily reflect the position of RenewAmerica or its affiliates.
---