Hassan Nurullah
President Obama's latest loss leader

By
Hassan Nurullah
March 28, 2013
I grew up in a home that by any measure would best be described as black nationalistic, politically, ideologically and spiritually. My father was a Muslim and he raised my sister and I as Muslims because Islam was a black man's religion and Christianity was the white man's religion and the vehicle used to oppress the black man.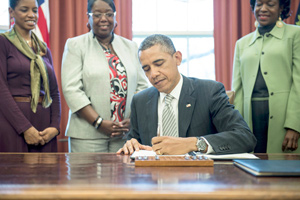 Christianity is the white man's religion, however I was assured that make no mistake, Christ himself was black as were all of the other men of the Bible. It never occurs to people who make spiritual decisions based on this reasoning that Christianity outdates Islam by some 600 years – and it was a Christian, African King, the Negus of Abyssinia, (Ethiopia) that kept the early Muslims from being slaughtered when they were forced to flee Mecca.
If Christianity is the white man's religion, why was it being practiced for centuries all over Asia Minor and in Africa for centuries before being imported to and spreading across Europe? We know from Scripture that one of the very first converts to Christianity was an Ethiopian (Acts chapter 8) which makes sense when you consider that 600 years later, the king and that very country were in fact Christian.
Further, if Christ and all the other Biblical figures are black as proclaimed by black nationalists – I as a black man would be more inclined to reclaim what was mine, rather than adopt a faith whose existence contemporaneously is owed to a lie of omission used to curry the Negus' favor in an act of Islamic self-preservation. (And thank God, I did choose Christ and I don't care if He's purple!)
Not to mention the fact that Islam's earliest practitioners, Arabs from the Saudi Peninsula, were then and are still to this day the parties most responsible for trading in African slaves. Thankfully I am not inclined to choose my faith based on something as arbitrary as race. A rather silly notion in light of what the Holy Bible says on such matters.
God that made the world and all things therein, seeing that he is Lord of heaven and earth, dwelleth not in temples made with hands; Neither is worshipped with men's hands, as though he needed any thing, seeing he giveth to all life, and breath, and all things; And hath made of one blood all nations of men for to dwell on all the face of the earth, and hath determined the times before appointed, and the bounds of their habitation; That they should seek the Lord, if haply they might feel after him, and find him, though he be not far from every one of us: Acts 17:24-27
Rather makes the whole race thing silly doesn't it?
Growing up in a black-centric home, I was fully immersed in all of the usual reading that such an upbringing entails – I was saturated with "From Superman to Man" and the history books penned by J.A. Rogers. Exposed to the writings of George G.M. James, the allegories of Ralph Ellison and Richard Wright... My interest in learning to fence came from stories of Chevalier de Saint-Georges and General Alexandre Dumas, fantasies of swashbuckling that ended with a torn lateral meniscus in my late thirties. There was no shortage of black history in my home.
One of my favorite giants of history has always been Harriet Tubman. She reminded me of my Granny – a tough little lady who brooked no insolence, taught me to cook and to behave myself. Perpetually aproned and in motion. With wire spectacles perched on her nose she regarded you and you were always happy when those eyes did not find you wanting. All this while being the sweetest creature to ever walk the earth in shoe leather.
That is how I imagined Harriet Tubman. The heroic eight years she spent as a conductor on the Underground Railroad and the life she lead afterwards should never be forgotten. I am very pleased the great lady is being recognized by having her memorial declared a national monument by President Obama. But the cynic in me can't see this action as anything more than a political loss leader.
In commerce, a loss leader is a product or service offered as a device to get a customer into the store so you can sell them something of greater value. It is generally something that costs the business very little, but is significant enough to garner attention.
That is precisely what the Harriet Tubman announcement has done. It has gotten lots of Black folks excited, sparking tweets and status updates praising President Obama for taking a memorial that already exists and elevating it. Praising Harriet Tubman costs the President absolutely nothing in political capital, but it gives the illusion that he cares about black history and by extension his black constituents.
This reminds me of what is probably Harriet Tubman's most famous quote:
"I freed a thousand slaves I could have freed a thousand more if only they knew they were slaves."
I can't think of a time in history when that reflection is truer than it is today!
So many of the President's apologists make excuses for why he doesn't address the ills of the black community, "After all" they say, "he is not just the President of black people." No he is not, but everyone who now says that in light of his perceived apathy towards the issues concerning black folks, were in their inward parts and amongst their own saying: "Now we'll get some stuff done!" when the President was first elected.
Well if naming Harriet Tubman's already existing memorial a national park is getting stuff done, more – power – to – you.
I'd prefer seeing President Obama support practical economic policies that would promote job growth! I'd like to see him cease advancing policies that increase the cost of energy, a promise he made on the campaign trail that he actually kept, though I wish he hadn't, it is adversely affecting the poor a great deal more than the elites he surrounds himself with.
How about not denouncing policies that give urban youth access to better educational alternatives like school vouchers? This way the inner city kids can go to the same kinds of schools the President sends his daughters to. If you are allotting funds for each student's education, why not allow those funds to be spent in the school of the parents choice instead of condemning them to the never-changing liberal petrie dish that public schools have become?
Or perhaps he could take a trip once a month to an urban area and deliver a speech denouncing the self-destructive behavior decimating the black community. Maybe get in the face of urban youth and send them a message that you care by telling them the truth.
He could find time to do this if the President dialed back a few of those golf trips he takes every month. Tiger Woods and the rest of his fairway cronies are already set, they have the resources to isolate themselves from the communities that could benefit most from his attention!
That doesn't appear to be the kind of venture the President is willing to risk his political capital on. Ah well, I suppose the inner city
could
always use another Rosa Parks Blvd.
Digital Publius
Join the Digital Publius community on FaceBook
© Hassan Nurullah
---
The views expressed by RenewAmerica columnists are their own and do not necessarily reflect the position of RenewAmerica or its affiliates.
---